A stunning live performance of Antonín Dvořák's chef-d'œuvre Piano Quintet No. 2 by an all-star ensemble of musicians: Polina Leschenko (piano), Janine Jansen (violin), Boris Brovtsyn (violin), Julian Rachlin (viola), and Mischa Maisky (cello). Recorded during the Internationaal Kamermuziek Festival (International Chamber Music Festival, Janine Jansen was the artistic leader of the festival) on December 28, 2007, in Utrecht, Netherlands.
Founded in 2003 by Janine Jansen, the International Chamber Music Festival Utrecht (Dutch: Internationaal Kamermuziek Festival Utrecht) is an annual event between Christmas and New Year featuring a different guest programmer each year.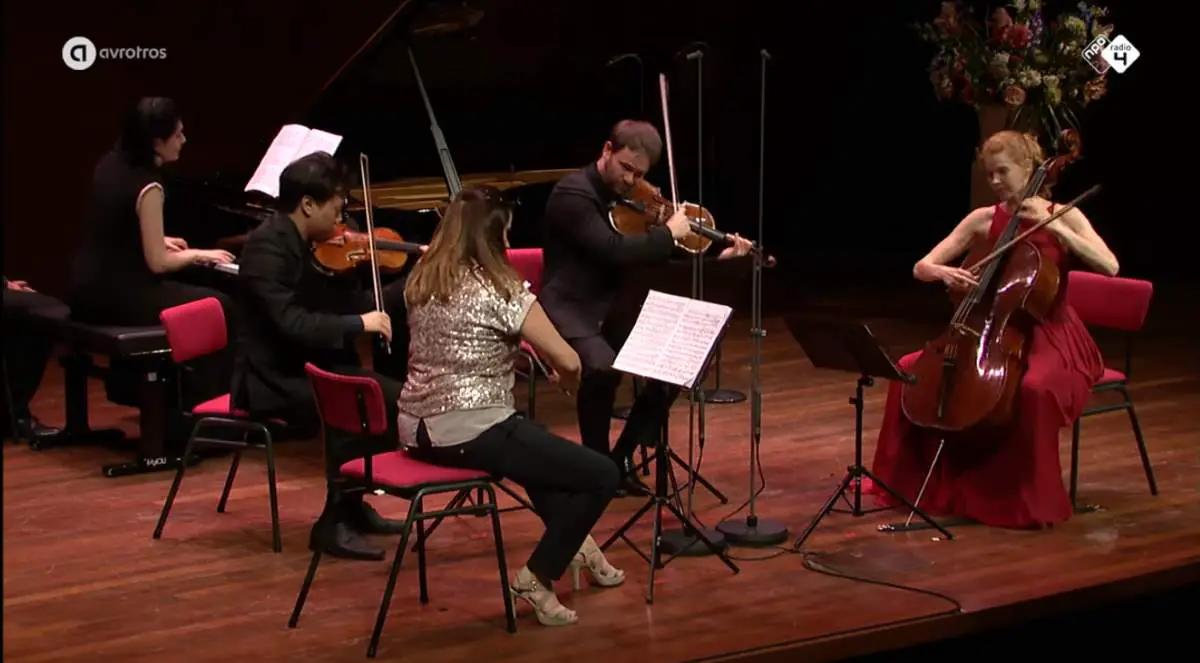 Dvořák's Piano Quintet No. 2 in A major, Op. 81
Czech composer Antonín Dvořák's (September 1841 – 1 May 1904) Piano Quintet No. 2 in A major, Op. 81, B. 155, is a quintet for piano, 2 violins, viola, and cello. The piece was composed between August 18 and October 8, 1887, and premiered in Prague on January 6, 1888.
The quintet is acknowledged as one of the masterpieces in the form, along with those of Robert Schumann, Johannes Brahms, and Dmitri Shostakovich.
There are four movements. With the starting times in the video::
00:00 Allegro, ma non tanto The first movement opens quietly with a lyrical cello theme over piano accompaniment which is followed by a series of elaborate transformations. The viola introduces the second subject which is another lyrical melody, but much busier than the cello's stately line. Both themes are developed extensively by the first and second violins and the movement closes with a free recapitulation and an exuberant coda.
14:17 Dumka: Andante con moto The second movement is labeled Dumka which is a form that Dvořák famously used in his Dumky piano trio and features a melancholy theme on the piano separated by fast, happy interludes. It follows the pattern A-B-A-C-A-B-A where A, in F-sharp minor, is the slow elegiac refrain on piano with variations, B is a bright D major section on violins and C is a quick and vigorous section derived from the opening refrain. Each time the Dumka (A) section returns its texture is enriched.
29:16 Scherzo (Furiant): molto vivace The third movement is marked as a Furiant which is a fast Bohemian folk dance. The cello and viola alternate a rhythmic pizzicato underneath the main tune of the first violin. The slower trio section of the scherzo is also derived from the furiant theme, with the piano and violin alternating between the main melodies. The fast Bohemian folk dance returns and the movement finishes aggressively, setting up for the polka in the last movement.
33:22 Finale: Allegro. The finale of Dvořák's Piano Quintet No. 2 is light-hearted and spirited. The second violin leads the theme into a fugue in the development section. In the coda, Dvořák writes tranquillo for a chorale-like section, which features the theme of the movement this time in augmentation and played pianissimo, before the pace quickens with an accelerando, and the quintet rushes to the finish.
Musicians
Polina Leschenko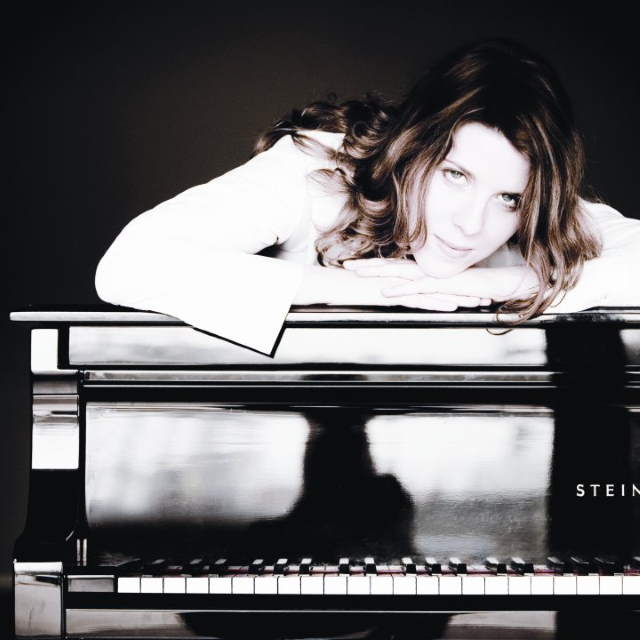 Polina Leschenko was born in St Petersburg into a family of musicians and began playing the piano under her father's guidance at the age of six. Two years later she made her solo début with the Leningrad Symphony Orchestra in St Petersburg. She studied with Sergei Leschenko, Vitali Margulis, Pavel Gililov, Alexandre Rabinovitch-Barakovsky, and Christopher Elton.
At the age of 16, she received her Higher Diploma with the greatest distinction from the Royal Conservatory of Brussels.
She has given major solo recitals in Vienna's Konzerthaus, Amsterdam's Concertgebouw, and New York's Carnegie Hall as well as in Salzburg, London, Paris, Brussels, Minnesota, and Atlanta. In September 2008 she toured South America with the Hallé Orchestra and Sir Mark Elder.
Robert Beale wrote in the Manchester Evening News, "Leschenko…combines power and lyrical fluency…the piece became a series of ever more vivid episodes held together by its melodic transformations as well as its keyboard histrionics. Chopin too was dazzling and charming at the same time."
2009 saw Leschenko commence a new position as International Chair in Piano at the Royal Welsh College of Music & Drama in Cardiff, where she began a three-year residency.
Polina Leschenko has recorded a début CD for EMI in the series 'Martha Argerich presents …' with works by Liszt, Chopin, Kreisler/Rachmaninov, Brahms, and Bach/Feinberg. The Gramophone described her as having 'technical dexterity in abundance, and signs of a major artist in the making'. She has also recorded a well-received disc of Prokofiev chamber music with Martha Argerich, Christian Poltéra, and Roby Lakatos, for Avanticlassic.
A Liszt recital, including the B minor Sonata – was released in May 2007 by Avanticlassic. Martine Dumont-Mergeay wrote in La Libre Belgique (4 July 2007): Polina Leschenko has matured without having lost any of her freedom. Now even more inspired, she turns her wonderful talents into a brilliant, almost improvisatory reading of the Liszt repertoire.
Beautifully acknowledging Bach, Busoni, and Gounod's Liszt transcriptions in the first half of the disc, she then offers a unique and personal version of the Sonata: a visionary reading full of lucidity. The disc has won several awards: a Choc du Monde de la Musique, Pizzicato magazine's Supersonic, and a Joker from Belgian magazine Crescendo.
Janine Jansen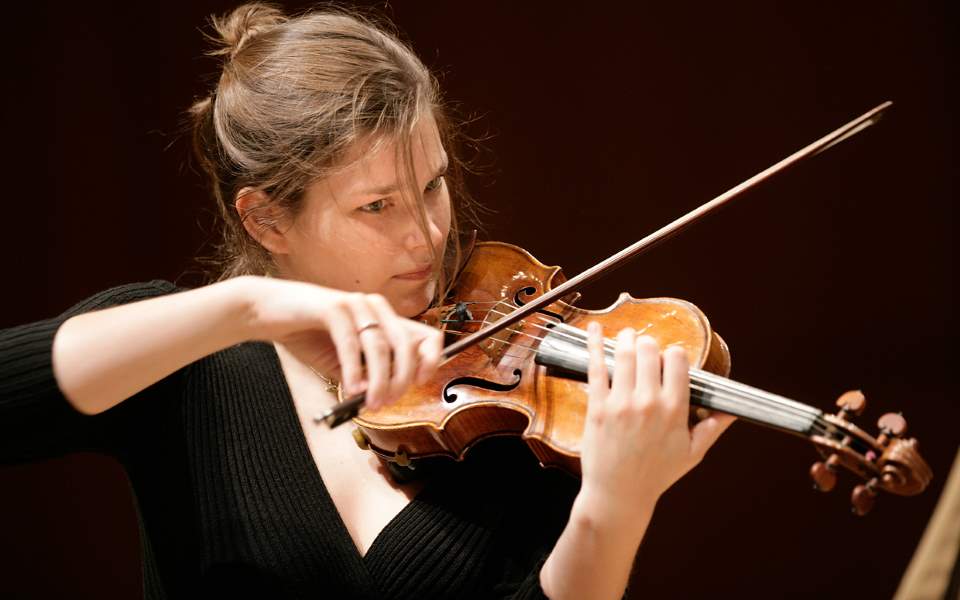 Jansen is considered one of the best violinists in the world. She began to study the violin at age 6.
She works regularly with the world's most eminent orchestras and conductors and has been described by the New York Times as being "riveting in silence as in sound".
Boris Brovtsyn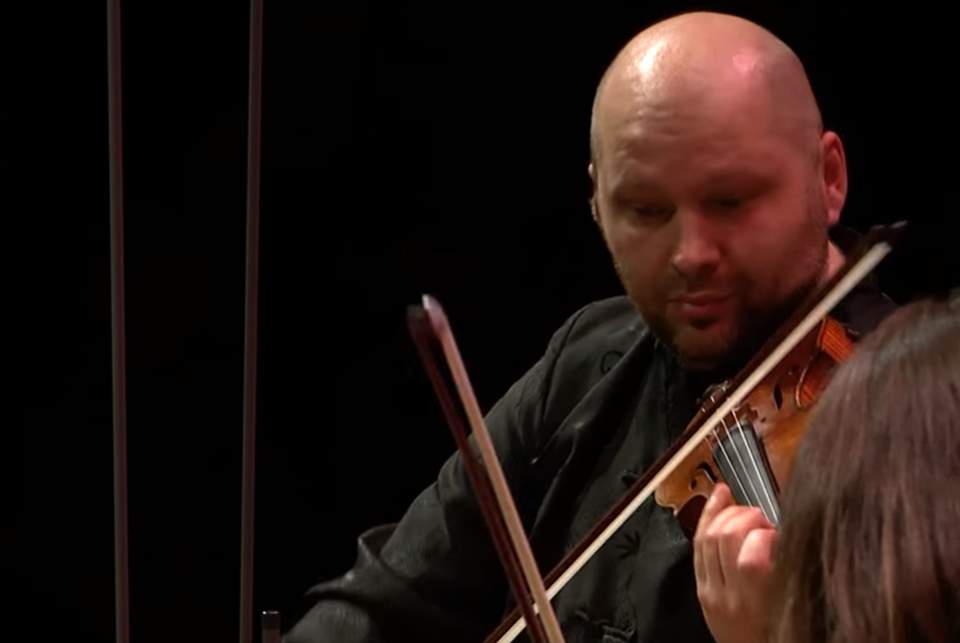 Boris Brovtsyn was born in 1977. After graduating from Moscow's Central Music School in 1994, he entered the Moscow Tchaikovsky Conservatory where he studied with Maya Glezarova. During his time there he became a laureate of international competitions, such as Georg Kulenkampf (1994, Cologne), Transnet (1996, Pretoria), and Yehudi Menuhin (1998), before graduating with top honors in 1999.
He made his UK debut in 1998 with the BBC Philharmonic conducted by Rumon Gamba. He became a student of David Takeno at the Guildhall School of Music and Drama in 2000 and since then has been spending most of his time in the UK. In 2004 he won the GSMD's highest award, the Gold Medal (past winners include Jacqueline du Pré, Tasmin Little, and Bryn Terfel).
Winner of the Tibor Varga International Violin Competition, Boris Brovtzyn appeared among others with Orchestre Philharmonique de Strasbourg, Orchestre Philharmonique de Monte-Carlo, Orchestre National de Lille, Orchestre BBC Philharmonic, English Classical Players, CBSO Birmingham, BBC Scottish Symphony Orchestra, Rundfunk-Sinfonieorchester Berlin, Orchestre Philharmonique de Liège, Orchestre de la Suisse Romande, Sinfonieorchester Basel, Orchestra della Svizzera Italiana, Berner Symphonieorchester, Orchestra Sinfonica Siciliana, Warsaw Philharmonic, Moscow State Symphony Orchestra, Sao Paulo Symphony Orchestra, and Utah Symphony Orchestra.
He has performed at the Verbier Festival, Lugano Festival, Edinburgh Festival, Oxford Chamber Music Festival, Ryedale Festival, Genius of the Violin Festival, Jerusalem Chamber Music Festival, and the "George Enescu" Festival among others.
As a soloist, Boris has worked with Sir Neville Marriner, Yuri Bashmet, Gerd Albrecht, Marek Janowski, Neeme Järvi, Louis Langrée, Yan Pascal Tortelier, Gilbert Varga, Antoni Wit, Alexander Lazarev, Vassily Sinaisky, Vladimir Fedoseev, Alain Lombard and Arvo Volmer to name but a few.
He plays regularly in chamber music concerts with such colleagues as Janine Jansen, Maxim Rysanov, Amihai Grosz, Boris Andrianov, Anastasia Voltchok, Denis Matsuev, and Alexei Ogrintchouk.
In 2001 he was a finalist at the Queen Elizabeth Violin Competition and won the 2001 Reuters Prize. The following year he won the Tibor Varga International Violin Competition.
Julian Rachlin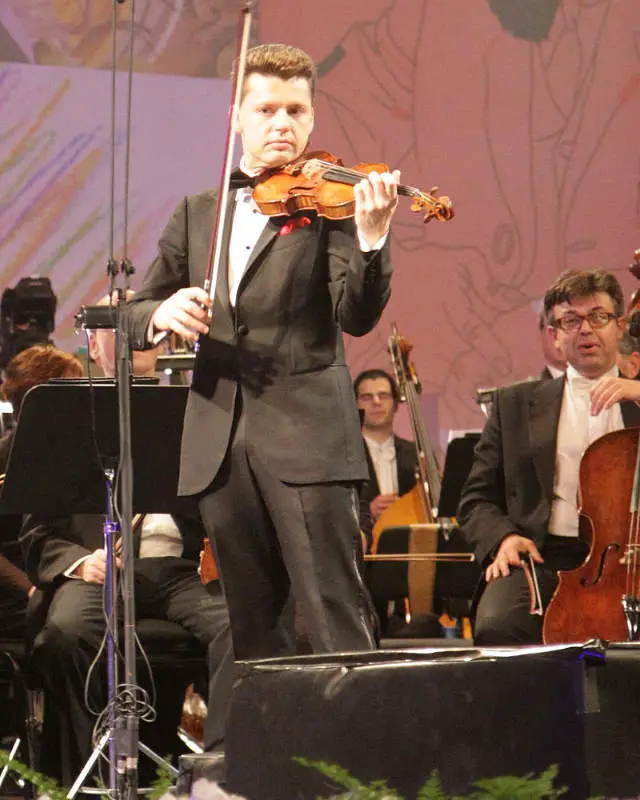 Julian Rachlin (born 8 December 1974) is a Lithuanian-born violinist, violist, and conductor.
Born in Vilnius, he emigrated in 1978 with his musician parents to Austria. In 1983, he entered the Konservatorium Wien and studied violin in the Soviet tradition with Boris Kuschnir, while also receiving private lessons from Pinchas Zukerman. His career as a child prodigy began with his first public concert in 1984.
In 1988, he took the title of Eurovision Young Musician of the Year, which led to his being invited to appear at the Berlin Festival with conductor Lorin Maazel and to his becoming the youngest soloist to ever play with the Vienna Philharmonic, under the direction of Riccardo Muti.
Mischa Maisky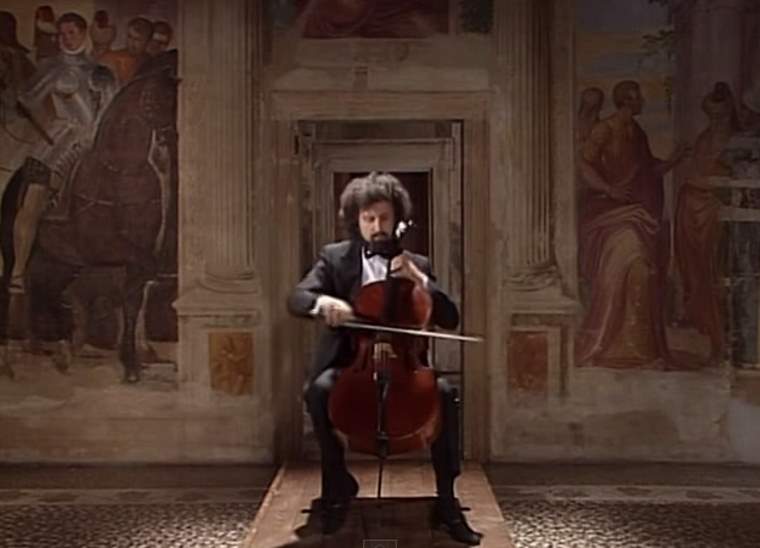 Mischa Maisky (born January 10, 1948) is a Soviet-born Israeli cellist. He is the younger brother of organist, harpsichordist, and musicologist Valery Maisky (1942-1981).
He was taught by Mstislav Rostropovich at the Moscow Conservatory from 1966 to 1970. In 1966 he won the sixth prize at the International Tchaikovsky Competition in Moscow. He currently lives in Belgium.
Maisky has worked with artists including the pianists Martha Argerich, Khatia Buniatishvili, Radu Lupu, Nelson Freire, Peter Serkin, Evgeny Kissin, Lang Lang, and Sergio Tiempo, the violinists Gidon Kremer, Itzhak Perlman, Vadim Repin, Maxim Vengerov, Joshua Bell, Julian Rachlin, and Janine Jansen, and the conductors Leonard Bernstein, Zubin Mehta, Carlo Maria Giulini, Lorin Maazel, Riccardo Muti, Giuseppe Sinopoli, Yuri Temirkanov, Vladimir Ashkenazy, Daniel Barenboim, James Levine, Charles Dutoit, Mariss Jansons, Valery Gergiev, and Gustavo Dudamel.
Maisky first performed in the United States at Carnegie Hall in 1973. In 1976, he made his first performance in London and performed a recital with Radu Lupu the following year. He returned to Russia in 1995 to perform and record with the Russian National Orchestra and Mikhail Pletnev.
Sources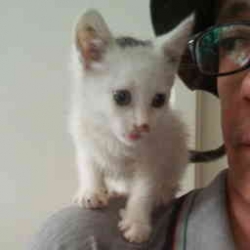 Latest posts by M. Özgür Nevres
(see all)