Accompanied by the French lutenist Thomas Dunford and his Jupiter ensemble, French-Italian mezzo-soprano Lea Desandre sings "Guardian Angels, Oh, Protect me" from Händel's The Triumph of Time and Truth, HWV 71, the final name of an oratorio by George Frideric Handel produced in three different versions across fifty years of the composer's career.
"Guardian Angels, Oh, Protect me" lyrics (text)
Guardian angels, oh, protect me,
And in Virtue's path direct me,
While resign'd to Heav'n above.
Let no more this world deceive me,
Nor let idle passions grieve me,
Strong in faith, in hope, in love.
Guardian angels…
Lea Desandre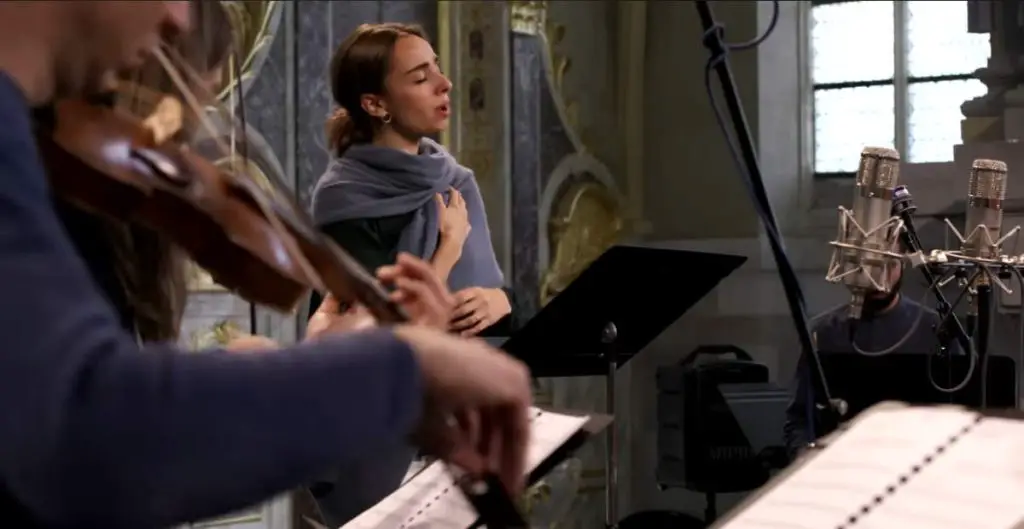 Lea Desandre studied in Venice with Sara Mingardo and was selected for William Christie's Jardin des Voix in 2015. She was awarded Vocal Discovery and Lyrical Artist of the Year at the Victoires de la Musique Awards in 2017 and 2021 respectively. In addition to her vocal talents, she is also a trained ballet dancer.
Most recently in 2021, she had huge success making her role debut as Cherubino (Le Nozze di Figaro/Mozart) in Aix-en-Provence. She has since sung it at Opéra de Paris, Zurich Opera House, Liceu Barcelona, and Opéra de Lausanne.
In 2017, she made her debut in the title role of Alcione at the Opéra Comique and returned the following season for a one-woman show (Et in Arcadie ego/Rameau). She sang at Festival d'Aix-en-Provence in 2017 in Erismena (Cavalli) and made her debut at the Salzburg Festival in 2018 in Incoronazione di Poppea (Valletto & Amore/Monteverdi).
She has been returning to Salzburg ever since Vénus (Orphée aux Enfers/Offenbach) and Abel (La Morte d'Abel/Caldara) in 2019, Despina (Cosi fan tutte/Mozart) in 2020 & 2021, Annio (La Clemenza di Tito/Mozart) in 2021, as well as numerous recitals of Mozart arias. Other roles have included Urbain (Les Huguenots/Meyerbeer) at Grand Théâtre de Genève; Idamante (Idomeneo/Mozart) at Staatsoper Berlin; Rosina (Il Barbiere di Siviglia/Rossini) at Opéra de Rouen, Amour (Orphée/Gluck-Berlioz) at Opéra Comique and Messaggiera (Orfeo/Monteverdi) at Harris Theater Chicago.
Concert appearances and song recitals have taken her to places such as New York's Carnegie Hall, London's Wigmore Hall, Vienna Musikverein, Walt Disney Concert Hall in Los Angeles, Berliner Philharmoniker, Théâtre des Champs-Élysées and Philharmonie de Paris, Mozarteum Salzburg, Sydney Opera House, Opéra National de Bordeaux, Alice Tully Hall NY, Tchaikovsky Concert Hall in Moscow, Shanghai Symphony Hall and Opéra de Versailles.
She has collaborated with conductors such as Gustavo Dudamel, Sir John Eliot Gardiner, Myung-Whun Chung, Enrique Mazzola, William Christie, Marc Minkowski, Joana Mallwitz, Raphaël Pichon, Jordi Savall, Emmanuelle Haïm, Laurence Equilbey and Christophe Rousset, and directors such as Barrie Kosky, Christof Loy, Netia Jones, Lotte de Beer, Jan Lawyers, Jossi Wieler and Jean-Yves Ruf.
Lea's first solo recital CD, Amazone (awarded Gramophone Editor's Choice in 2021) was recorded in exclusivity with Erato Warner and features the Jupiter Ensemble conducted by Thomas Dunford with guests Cecilia Bartoli, Véronique Gens, and William Christie.
Thomas Dunford
Thomas Dunford (born in Paris in 1988) is a French lutenist. He is the son of American viola da gambist Jonathan Dunford and viola da gambist Sylvia Abramowicz.
He discovered the lute at the age of nine, thanks to his first teacher Claire Antonini.
He completed his studies in 2006 at the Conservatoire de Paris (CRR), when he obtained a unanimous 1st Prize with honors in the class of Charles-Edouard Fantin.​
Thomas Dunford continued his studies at the Schola Cantorum in Basel with Hopkinson Smith and participated in several master classes with artists the caliber of Rolf Lislevand and Julian Bream, and in workshops with Eugène Ferré, Paul O'Dette, Pascale Boquet, Benjamin Perrot, and Eduardo Eguez. He was awarded his Bachelor's degree in 2009.​
From September 2003 through to January 2005, Thomas gave his first performances playing the role of the lutenist in Shakespeare's Twelfth Night on stage at the Comédie française.
Since then, Thomas has played recitals in New York's Carnegie Hall and Frick Collection, London's Wigmore Hall, the Washington Kennedy Center, the Vancouver Recital Society, Cal performances at Berkeley, the Banff center, the Palau de la Musica in Barcelona, the festivals of Saintes, Utrecht, Maguelone, Froville, TAP Poitiers, WDR Cologne, Radio France Montpellier, Saffron Hall.
He made numerous solo or ensemble appearances in the most prestigious European festivals including Ambronay, Arc La Bataille, Bozar, La Chaise-Dieu, Nantes, Saintes, Utrecht, and many others.
He has also performed further afield in England, Scotland, Ireland, Spain, Germany, Austria, Norway, Belgium, Netherlands, Switzerland, Poland, Hungary, Romania, Estonia, Czech Republic, Brazil, Colombia, Chili, Mexico, United States, Israel, China, Japan, and India.
Thomas Dunford's first solo CD Lachrimae recorded for the French label Alpha in 2012, was unanimously acclaimed by critics and was awarded the Caecilia prize of 2013, BBC Magazine called him the "Eric Clapton of the lute". His second CD "Labirinto d'Amore" was awarded the "Choc" from Classica magazine.​​​
Thomas Dunford is attracted to a wide variety of music including jazz and collaborates in chamber music projects with conductors and soloists.
Ensemble Jupiter
Thomas Dunford says:
"Within Jupiter, I wanted to bring together a collective of exceptional musicians of the new generation, met during collaborations with many ensembles. Each artist invited to join this project is brilliant in the mastery of his instrument and some are already renowned as soloists."
"The great freedom that everyone has been able to acquire over the course of their projects and the choice of research and a common understanding of music will make it possible to render the different repertoires covered with passion, strength, and emotion.​"
Early music experienced a great period of rediscovery, thanks to pioneers such as William Christie, Philippe Herreweghe, and Jordi Savall, with whom I had the chance to work. It is now our responsibility, the generation that grew up with this music, to continue to bring it to life while making it more modern, showing how accessible it can be and how much it can touch hearts.​
Listening, improvisation, and energy as well as a common global vision will be the key. All our past experiences, as well as our collective work within Jupiter, will allow us to acquire this great freedom which will make the music extremely lively and, I hope, touching."
Sources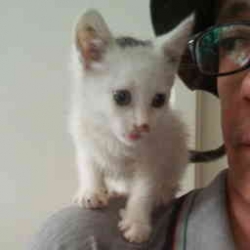 Latest posts by M. Özgür Nevres
(see all)