English countertenor Michael Chance performs "Erbarme dich, mein Gott" (English: Have mercy, my God), an aria for contralto, solo violin, strings (originally 2 violins and 1 viola), and basso continuo, from Johann Sebastian Bach's 1727 sacred oratorio "Matthäus-Passion" (English: St Matthew Passion), BWV 244.
German Text: "Erbarme dich, mein Gott"
Erbarme dich, mein Gott,
um meiner Zähren willen!
Schaue hier, Herz und Auge
weint vor dir bitterlich.
Erbarme dich, mein Gott.
English translation: "Have mercy, my God"
Have mercy, my God,
for the sake of my tears!
See here, before you
heart and eyes weep bitterly.
Have mercy, my God.
St. Matthew Passion
The St. Matthew Passion (German: Matthäus-Passion), BWV 244 is a Passion, a sacred oratorio written by Johann Sebastian Bach in 1727 for solo voices, double choir, and double orchestra, with libretto by Picander (Christian Friedrich Henrici). It sets chapters 26 and 27 of the Gospel of Matthew (in the German translation of Martin Luther) to music, with interspersed chorales and arias.
Matthäus-Passion is widely regarded as one of the masterpieces of classical sacred music. The original Latin title Passio Domini nostri J.C. secundum Evangelistam Matthæum translates to "The Passion of our Lord J[esus] C[hrist] according to the Evangelist Matthew".
According to some sources, one of the greatest violinists of the 20th century, Yehudi Menuhin called the aria's lamenting solo violin obligato "the most beautiful piece of music ever written for the violin."
Michael Chance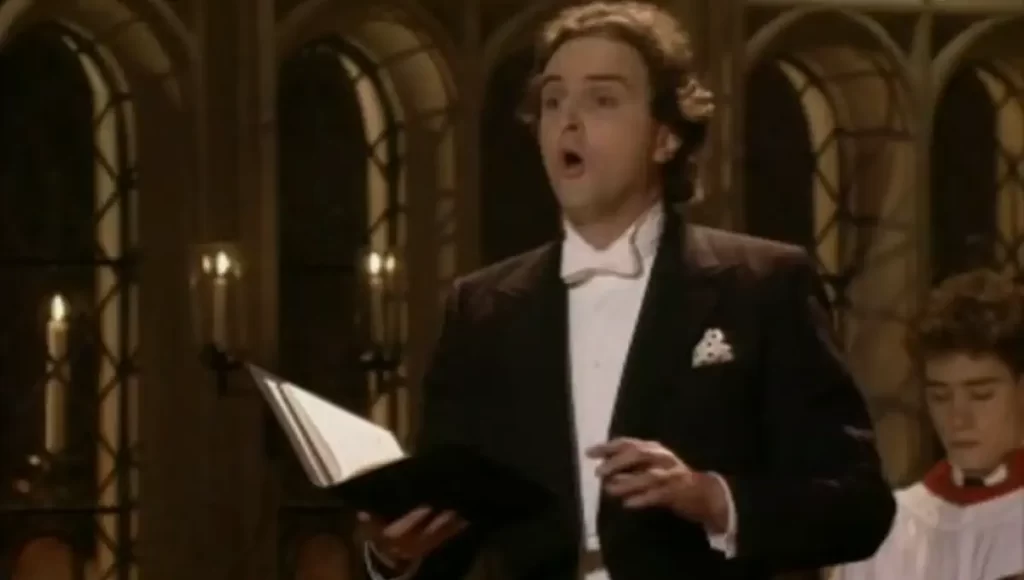 Michael Chance CBE (born in Buckinghamshire, United Kingdom 7 March 1955) is an English countertenor and the founder and Artistic Director of The Grange Festival, a summer opera festival established to continue performances at The Grange opera house in Hampshire.
His vocal training with Rupert Bruce Lockhart followed an English degree at King's College, Cambridge where he was also a choral scholar. His first operatic appearance was in the Buxton Festival in Ronald Eyre's staging of Cavalli's Giasone which was followed by appearances in Lyon, Cologne, and three seasons with Kent opera.
Subsequently, he has performed in the Sydney Opera House, Teatro Colon in Buenos Aires, La Scala Milan, Florence, New York, Lisbon, Oviedo, Leipzig, Paris, Brussels, Amsterdam and with Covent Garden, Glyndebourne, and English National Opera.
His roles include the title roles of Orfeo (Gluck), Giasone, Giustino, Rinaldo and Ascanio in Alba, Solomon, Ottone / L'incoronazione di Poppea, Athamas / Semele, Andronico / Tamerlano, Oberon / A Midsummer Night's Dream, Tolomeo / Giulio Cesare and Apollo / Death in Venice.
He has had roles written especially for him by Sir Harrison Birtwistle (Orpheus / The Second Mrs. Kong) and Judith Weir (A Military Governor / A night at the Chinese Opera). Recent festival appearances include Edinburgh, Aix-en-Provence, BBC Proms in London, Salzburg, and Bertarido in a new production of Handel's Rodelinda for the Bayerische Staatsoper in Munich.
His appearances in oratorio and recital have taken him to concert halls all over the world including Carnegie Hall, Concertgebouw, Musikverein, Neue Gewandhaus, and Berlin's Philharmonie. He has given recitals in Frankfurt, Vienna, Amsterdam, Israel, New York, and London's Wigmore Hall with a variety of programmes, ranging from Elizabethan lute songs to new works commissioned for him. He sings regularly with the viol consort Fretwork and has toured with them to Japan and the United States.
Michael Chance's list of recordings is numerous and widespread. He received a Grammy award for his participation in Handel's Semele for Deutsche Grammophon with John Nelson and Kathleen Battle. He has recorded frequently with John Eliot Gardiner, including the Bach Passions and Cantatas, B Minor Mass, Monteverdi's Orfeo, and L'Incoronazione di Poppea and Handel's Jeptha, Tamerlano and Agrippina.
Other conductors he has recorded with include Trevor Pinnock, Franz Brüggen, Ton Koopman, and Nicholas McGegan. On his CD for Deutsche Grammophon, "Michael Chance, the Art of Counter-tenor", he sings solo alto cantatas by Vivaldi with Trevor Pinnock and the English Concert.
His belief in extending the counter-tenor repertoire has prompted new work to be composed for him by Richard Rodney Bennett, Alexander Goehr, Tan Dun, Anthony Powers, John Tavener, and Elvis Costello – amongst others.
His television appearances include A Night at the Chinese Opera, Death in Venice, The Fairy Queen, the three Monteverdi operas with Netherlands Opera, Poppea with Welsh National Opera, Messiah in Dublin with Sir Neville Marriner, and in the Autumn 1999 he was featured by the South Bank Show.
Michael Chance was awarded the CBE in the 2009 New Years Honours List.
Sources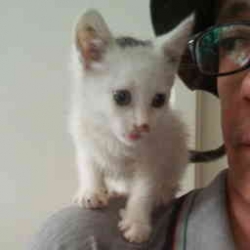 Latest posts by M. Özgür Nevres
(see all)