Accompanied by the Imaginarium Ensemble, French countertenor Philippe Jaroussky performs Antonio Vivaldi's Longe mala, umbrae, terrores, RV 629. Violin and conductor: Enrico Onofri. Recorded during the 2016 Festival d'Ambronay.
Longe mala, umbrae, terrores, RV 629
Longe mala, umbrae, terrores, RV 629 (Far from evil, shadows, and terrors), is a motet (see notes 1) composed by Antonio Vivaldi from an anonymous text in Latin. It was written in G-minor key and within the usual Italian lyrical style of the Baroque. As in the introductory motets, pieces that preceded some of Vivaldi's great works, the texts are not liturgical, but free Latin versions by an unknown author.
Not to be confused with an Introduzione, "Longe mala, umbrae, terrores", RV 640 which has the same text (without the "Alleluia") but with different functionality, as it precedes the Gloria, RV 589.
It is not known for what occasion or institution this extraordinarily brilliant and arduous motet was composed, but it is almost certain that it was not for the Ospedale della Pietà. It should have been composed in the mid-1720s.
The piece is written for a solo soprano. British musicologist Denis Arnold (1926-1986) proposed the phrase "concert for the voice" to describe these motets by Vivaldi. In Vivaldi's time, many solo motets were "for all time", that is, for any time of year.
Putting a poetic text that is general enough to suit most festivities had the advantage of producing works that could become works of repertoire that could be repeated and therefore much better for the composer and for the interpreter. The work is in four movements and with the following musical characteristics:
Aria: Far from evil, shadows, and terrors
Recitative: Depart, clouds and lightnings
Aria: Descend, you, the voice of heaven
Alleluia
Longe mala, umbrae, terrores, RV 629 lyrics
The texts of the eighteenth-century motets were seldom pieces of fine Latin poetry; the French traveler Pierre-Jean Grosley (1718-1785) described them as "a bad combination of Latin words, where barbarisms and solecisms are more common than meaning and reason."
Latin
Aria
Longe mala, umbrae, terrores,
sors amara, iniqua sors.
Bella, plagae, irae, furores,
tela et arma, aeterna mors.
Recitativo
Recedite, nubes et fulgura,
et sereno coronata fulgore
coeli, sidera, coruscate,
omnes animae super
terram et super astra
viventes, iubilate.
Aria
Descende, o coeli vox,
ex alto asperge nos,
tolle maerorem.
Resplende, o vera lux,
es tu secura dux,
sparge fulgorem.
Alleluia
English translation: Far from evil, shadows, and terrors
Aria
Far from evil, shadows, and terrors
a bitter lot, an unjust lot.
Wars, plagues, anger, fury
weapons and weapons, eternal death.
Recitative
Depart, clouds and lightnings
crowned with a serene glow
the heavens, the stars, flash
all souls above
the earth and the stars
Living, shout for joy.
Aria
Descend, you, the voice of heaven
sprinkle us on the horizon
take away the sorrow.
Shine, O true light
you are the carefree guide
scatter the brilliance.
Alleluia
Imaginarium Ensemble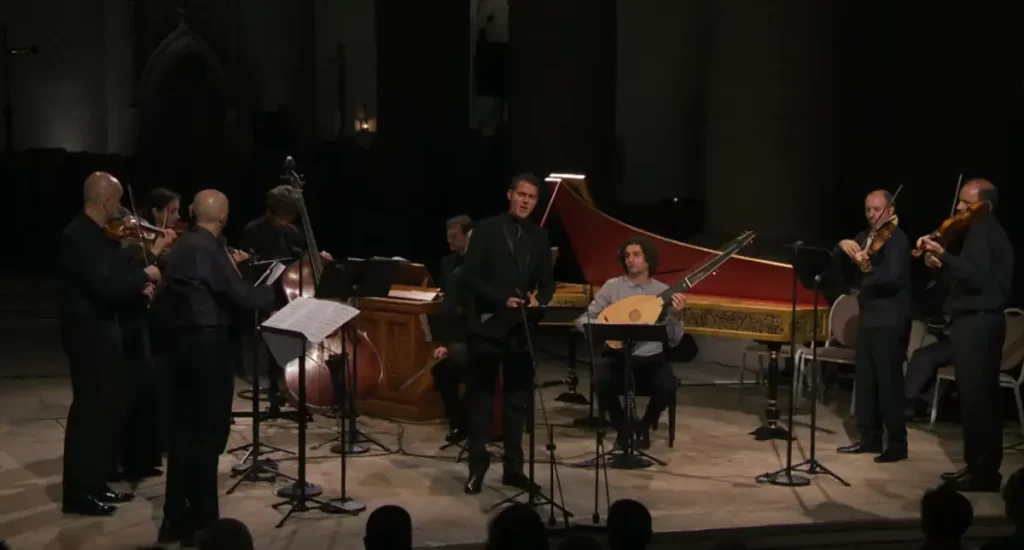 Founded and directed by the Italian violinist and conductor Enrico Onofri, the Imaginarium Ensemble (Imaginarium: "the place of images") brings together a group of musicians who all perform regularly with key Early Music ensembles. In 2006 Imaginarium Ensemble released with great success the first CD La voce nel violino, devoted to the Italian Early Baroque repertoire.
In 2010, the ensemble released a new CD (Vivaldi, La Follia, and violin sonatas), followed by Devil's Trill (virtuoso violin sonatas by Tartini, Veracini, Mossi, and Bonporti) and in 2013 the complete recording of Corelli's Violin Sonatas Opus 5.
Imaginarium released in 2019 the album Into Nature – Vivaldi's Seasons & other sounds from Mother Earth, awarded Diapason d'Or de l'année 2020. Last CD Seicento! – the virtuoso early Italian violin, released in 2020, has been awarded the Diapason d'Or in January 2021.
Notes
A motet is mainly a vocal musical composition, of highly diverse form and style, from high medieval music to the present. In Baroque music, especially in France where the motet was very important, there were two distinct, and very different types of motet: petits motets, sacred choral or chamber compositions whose only accompaniment was a basso continuo; and grands motets, which included massed choirs and instruments up to and including a full orchestra. Jean-Baptiste Lully was an important composer of this sort of motet.
Sources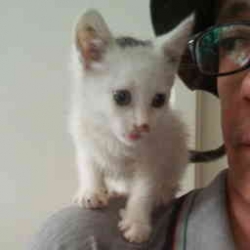 Latest posts by M. Özgür Nevres
(see all)