American operatic soprano Angel Blue sings Heimliche Aufforderung (The secret invitation), Op. 27 No. 3, one of a set of four songs composed by Richard Strauss in 1894, the German composer of the late Romantic and early modern era.
It is a Rosenblatt Recitals video, recorded on October 21, 2013, in London. On this evening the Californian soprano Angel Blue performed songs and arias by Mozart, Strauss, Rachmaninov, Gershwin, Chapi, Puccini, Wagner, Cilea, Verdi, Johnson, and Lerner & Lowe. Angel was accompanied by the pianist Cathy Miller.
Heimliche Aufforderung was originally for voice and piano, and not orchestrated by Strauss until 1948, a year before his death. The text is from a poem in German by John Henry Mackay. The song has English titles "The Secret Invitation" or "The Lover's Pledge".
Angel Blue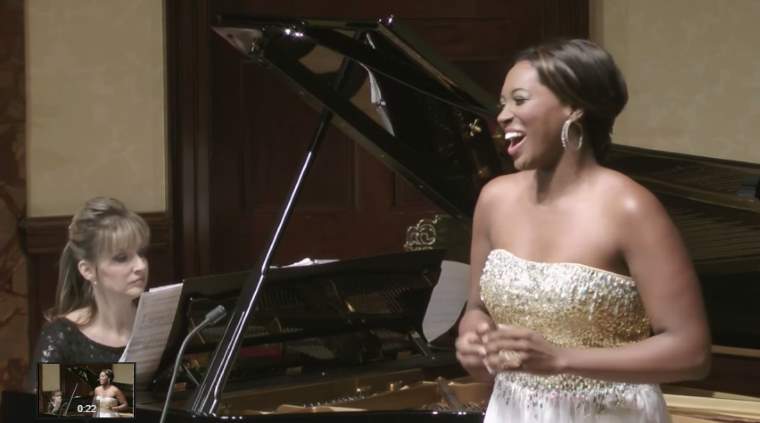 Angel Blue (born May 3, 1984) born Angel Joy Blue is an American operatic soprano and classical crossover artist. She has performed lead roles and as a featured soloist at Los Angeles Opera, San Francisco Opera, Walt Disney Concert Hall, the Colburn School, Royce Hall, the Staples Center, Theatre an der Wien, Frankfurt Opera, Munich Philharmonic, Berlin Philharmonic, Israeli Philharmonic, Auditorio Nacional de Música, Seoul Arts Center.
Her operatic repertoire includes such roles as Violetta (La Traviata), Musetta and Mimi (La Boheme), Micaela (Carmen), Lucia (Lucia di Lammermoor), Helena (A Midsummer Night's Dream), Liu (Turandot), Manon (Manon), Contessa Almaviva (Le Nozze di Figaro), Giulietta and Antonia (Tales of Hoffmann), Dido (Dido and Aeneas), and Donna Elvira (Don Giovanni).
Blue's voice has been recognized for its shining and agile upper register, "smoky" middle register, beautiful timbre, and ability to switch from a classical to a contemporary sound. She has performed internationally and won numerous awards such as Operalia and Miss Hollywood. Famous Spanish tenor Plácido Domingo has described Angel as "the next Leontyne Price".
Heimliche Aufforderung (The secret invitation) Lyrics
German
Auf, hebe die funkelnde Schale empor zum Mund,
Und trinke beim Freudenmahle dein Herz gesund.
Und wenn du sie hebst, so winke mir heimlich zu,
Dann lächle ich und dann trinke ich still wie du…
Und still gleich mir betrachte um uns das Heer
Der trunknen [Schwätzer]1 – verachte sie nicht zu sehr.
Nein, hebe die blinkende Schale, gefüllt mit Wein,
Und laß beim lärmenden Mahle sie glücklich sein.
Doch hast du das Mahl genossen, den Durst gestillt,
Dann verlasse der lauten Genossen festfreudiges Bild,
Und wandle hinaus in den Garten zum Rosenstrauch,
Dort will ich dich dann erwarten nach altem Brauch,
Und will an die Brust dir sinken, eh du's [erhofft]2,
Und deine Küsse trinken, wie ehmals oft,
Und flechten in deine Haare der Rose Pracht.
O [komme]3, du wunderbare, ersehnte Nacht!
English translation
Up, raise the sparkling cup to your lips,
And drink your heart's fill at the joyous feast.
And when you raise it, so wink secretly at me,
Then I'll smile and drink quietly, like you…
And quietly as I, look around at the crowd
Of drunken revelers – don't think too ill of them.
No, lift the twinkling cup, filled with wine,
And let them be happy at the noisy meal.
But when you've savored the meal, your thirst quenched,
Then quit the loud gathering's joyful fest,
And wander out into the garden, to the rosebush,
There shall I await you, as often of old.
And ere you know it shall I sink upon your breast,
And drink your kisses, as so often before,
And twine the rose's splendor into your hair.
Oh, come, you wondrous, longed-for night!
Sources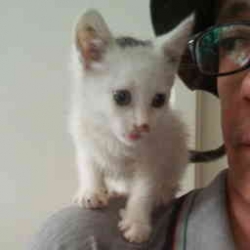 Latest posts by M. Özgür Nevres
(see all)