Accompanied by the Strijkers van de Nordwestdeutsche Philharmonie, Ukrainian classical pianist Anna Fedorova performs Frédéric Chopin's Piano Concerto No. 2 in F minor, Op. 21. Conductor: Yves Abel. Recorded on September 6, 2020, at the Het Concertgebouw (The Royal Concertgebouw, a concert hall in Amsterdam).
Frédéric Chopin's Piano Concerto No. 2 in F minor, Op. 21
Chopin wrote the Piano Concerto No. 2 in 1870, at around 20 years of age, before he had finished his formal education. Chopin's two piano concertos were written within a year of each other. It was the second of his piano concertos to be published (after the Piano Concerto No. 1), and so was designated as "No. 2", even though it was written first.
The Piano Concerto No. 2 contains the three movements typical of instrumental concertos of the period: Maestoso, Larghetto, and Allegro vivace.
Maestoso (F minor). The first movement is cast in double-exposition form, a variant of classical sonata form dating back to the eighteenth century, typically employed in concertos. The movement opens with a long orchestral exposition initially characterized by dotted, mazurka-like rhythms. Once the piano enters, the orchestra retreats into the background, the soloist carrying the musical argument from then on. The solo part enthusiastically offers up the full panoply of the virtuoso style yet tempers its razzle-dazzle showmanship with a degree of poetic cantilena atypical for concertos of the day. There is no need for a cadenza, given the nonstop virtuosity of the solo writing throughout the movement.
Larghetto (A-flat major). Chopin intended the second movement, (Larghetto) as an expression of his first acute love for a woman, Konstancja Gladkowska, of whom he writes: "I already have my perfect one whom I have, without saying a word, served faithfully for a year now, of whom I dream, in whose memory the adagio of my concerto has been put up."
Allegro vivace (F minor – F major). The finale, arranged in a three-part, rondo-like form, offers up unmistakable references to Polish folk music, in the piquantly off-kilter rhythms of the mazurka and its slightly slower cousin, the kujawiak. The entire movement is refreshingly free of the endless figurations and pointless bombast of contemporary concertos but nonetheless brings the work to an appropriately vivacious close.
Anna Fedorova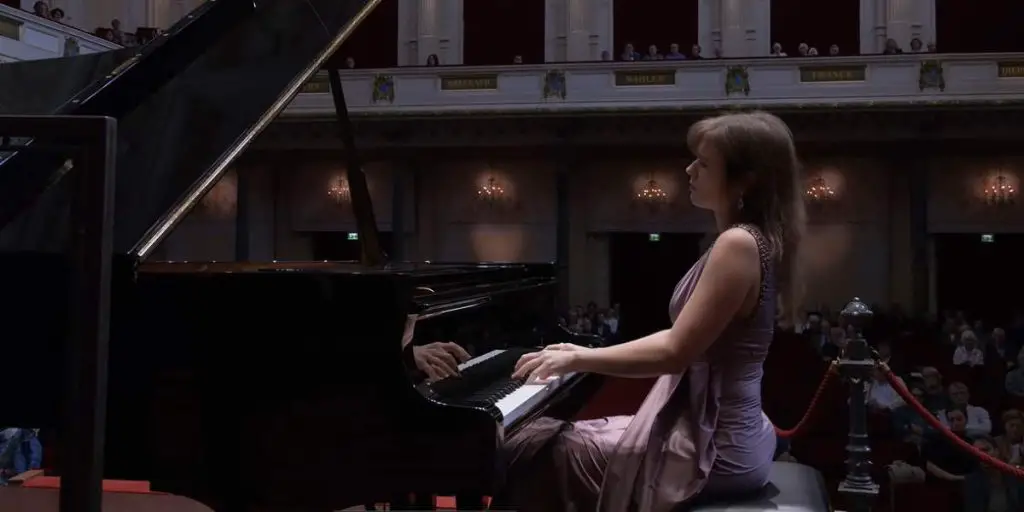 Anna Borysivna Fedorova (born February 27, 1990) is a Ukrainian concert pianist. She is a David Young Piano Prize Holder supported by a Soiree d'Or Award and Keyboard Trust.
Anna Fedorova is one of the world's premier young pianists. From an early age, she demonstrated innate musical maturity and outstanding technical abilities. Her international concert career took off while she was only a child and audiences around the world were "completely taken by surprise, compelled and astonished" by the depth and power of her musical expression.
Anna's live recording of the Rachmaninoff 2nd Piano Concerto in the Royal Concertgebouw has become the most-watched classical concerto on YouTube and is highly praised by many renowned musicians. As the cover artist of the Sunday morning series in season 17/18, she returns there annually to perform with orchestras with live streaming on the dutch classical music channel, Avrotros Klassiek.
Having mastered a formidable concerto repertoire, she has been performing with prestigious orchestras around the world, including the Philharmonia Orchestra and Royal Philharmonic (London), Hong Kong Philharmonic Orchestra, Utah Symphony, Dallas Symphony, State Symphony Capella of Russia, Kyoto Symphony, Yomiuri Nippon Symphony orchestra, and the Tokyo New City Orchestra (Japan), the Netherlands Philharmonic, Residentie Orkest (Netherlands), Orchestre Lamoureux (France), St Gallen Symphony Orchestra, the Orquestra Filarmonica de Buenos Aires (Argentina), the Orchestre de Chambre de Lausanne (Switzerland), the Philharmonia of the Nations and the Nordwestdeutsche Philharmonie (Germany), Orquesta Sinfonica Nacional de Mexico, the Israel Chamber Orchestra.
Anna has performed with great conductors, including Jaap Van Zweden, Jun Markl, Benjamin Zander, Olari Elts, Valery Polyansky, Carlos Miguel Prieto, Christian Schumann, Tatsuya Shimono, Andrew Grams, Alexander Shelley, Modestas Pitrenas, and others.
Anna has claimed top prizes at numerous international piano competitions, including the International Rubinstein "In Memoriam" piano competition, the Moscow International Frederick Chopin Competition for young pianists, the Lyon Piano Competition, and recently became a recipient of the Verbier Festival Academy Award.
She is also a two-time laureate of the Dorothy MacKenzie Artist Recognition Scholarship Award at the International Keyboards Institute & Festival (New York, USA). Anna graduated with distinction from the Royal College of Music under the guidance of Norma Fischer. She also studied at the prestigious Accademia Pianistica in Imola, Italy with Leonid Margarius, as well as the Lysenko School of Music in Kyiv with Borys Fedorov. She has also received mentorship from world-renowned musicians such as Alfred Brendel, Menahem Pressler, Steven Isserlis, and Andras Schiff.
As a recording artist, Anna is signed with the Dutch record Channel Classic. Since the beginning of their collaboration in 2017, 4 CDs have been released to much critical acclaim: two solo CDs, Story Teller and Four Fantasies, a Rachmaninoff CD with the St. Gallen Symphony Orchestra, and a duo CD with violist Dana Zemtsov Silhouettes.
There are two more CDs planned to be released in 2020-2021: an all-Chopin solo album and a duo CD with double bassist Nicholas Schwartz entitled Stolen Pearls. Earlier CDs include a Brahms, Liszt, and Chopin album, released by the DiscAnnecy Label, and a Rachmaninoff 2nd Piano Concerto CD with Piano Classics.
2016 marked the release of 3 more albums – with Rachmaninoff 3rd piano Concerto and Mussorgsky "Pictures at an Exhibition", a CD with german Cellist Benedict Kloeckner of works by Chopin and Frank, and with the Turkish cellist Jamal Aliyev, works by Russian composers.
In early 2021 a Documentary about Rachmaninoff "Rachmaninoff revisited" was released, where Anna Fedorova is featured along with other top pianists such as Yefim Bronfman, Mikhail Pletnev, Denis Matsuev, Barry Douglas, Alexander Kobrin, and Olga Kern.
In 2017 and 2018 Anna was the artistic director of the International Chamber Music Festival, Ede. She is the Artist in Residence at the Haarlem Philharmonie in season 2021-2022.
Sources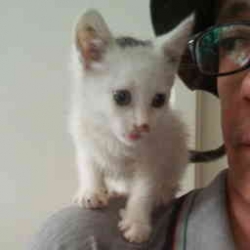 Latest posts by M. Özgür Nevres
(see all)