Ludwig van Beethoven's Eroica as a symbol against the war in Ukraine: Conducted by Daniel Barenboim, the Staatskapelle Berlin and the Staatsopernchor perform Beethoven's Symphony No. 3 ("Eroica"), Franz Schubert's Symphony No. 8 ("Unfinished Symphony") and Mykhailo Verbytsky's Ukrainian national anthem at the Concert for Peace. Recorded on March 6, 2022 at the Berlin Staatsoper Unter den Linden.
The concert was supported by Christine Lagarde, President of the European Central Bank (ECB), and Joachim Nagel, President of the German Bundesbank. Proceeds from the Concert for Peace will go to the United Nations Ukraine Humanitarian Fund (UHF). Also present were German Chancellor Olaf Scholz, German Defence Minister Christine Lambrecht, and German Finance Minister Christian Lindner.
Programme
With starting times in the video:
(00:00) Introduction
(00:38) Mykhailo Verbytsky (1815 – 1870): Ukrainian National Anthem – composed on the poem "Ukraine has not yet perished" by Pavlo Chubynsky
(02:25) Speech by Daniel Barenboim
Franz Schubert (1797 – 1828): Symphony No. 8 in B minor, D. 759 ("Unfinished Symphony")

(09:01) I. Allegro moderato
(21:19) II. Andante con moto

Ludwig von Beethoven (1770 – 1827): Symphony No. 3 in E-flat major, Op. 55 ("Eroica")

(34:44) I. Allegro con brio
(51:28) II. Marcia funebre: Adagio assai
(01:07:40) III Scherzo: Allegro vivace
(01:13:57) IV. Finale: Allegro molto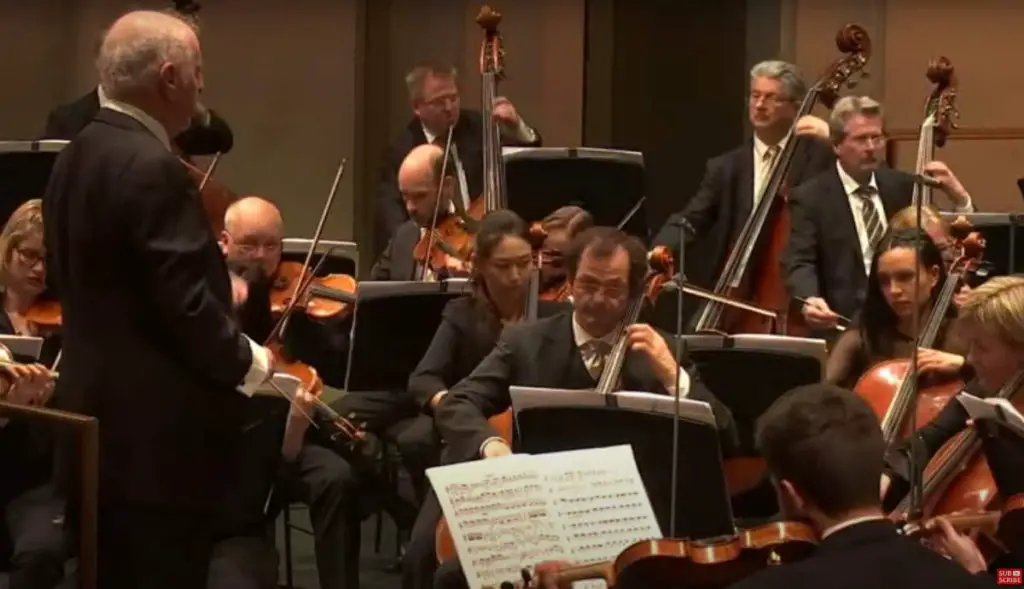 Beethoven's Symphony No. 3 (Eroica)
One of Beethoven's most celebrated works, Symphony No. 3 in E♭ major, Op. 55 is also known as Sinfonia Eroica (Italian), meaning Heroic Symphony in English. It was first performed privately in early August 1804. The first public performance was on 7 April 1805 in Vienna.
The work is in four movements:
Allegro con brio (E♭ major). The first movement starts straight with the unraveling of the first theme, for the first time flouting the slow introduction, which had been present in the first two symphonies. A solemn theme, with a ternary movement in a grave key, which acquires constancy only at the third presentation, followed by the second theme, in a minor tonality with a lyrical and melancholic expression.
Marcia funebre: Adagio assai (C minor). This is perhaps one of those symphonic movements of great expressivity, sobriety, and depth. The main theme of this part is presented by the group of string instruments, in an inexorable rhythm articulating a unique emotional tension. This is perhaps the highest point of the whole symphony.
Scherzo: Allegro vivace (E♭ major). The third movement strongly contrasts with the previous segment. Sorrow is completely crushed and its place is taken by the joy of life. This part can be compared to the "resurrection of nature in spring."
Finale: Allegro molto (E♭ major). The finale is a natural continuation of the previous matters tackled in the symphony and can be seen as a conclusion to the entire work. The finale symbolizes victory, the triumph of The Good and of The Progress.
Franz Schubert: Symphony No. 8 in B minor, D.759 "Unfinished Symphony"
The "Unfinished Symphony" was started in the autumn of 1822 but left with only two movements known to be complete, even though Schubert would live for another six years. Hence the name "unfinished".
It is sometimes renumbered as Symphony No. 7, in accordance with the revised Deutsch catalog and the Neue Schubert-Ausgabe.
This famous "unfinished" symphony was first an "unremembered" symphony. Schubert probably gave the two-movement score to Josef Hüttenbrenner as a gift for his brother Anselm Hüttenbrenner (13 October 1794 – 5 June 1868), president of the Styrian Music Society in Graz. In return, Hüttenbrenner awarded Schubert with an Honorary Diploma in 1823.
For reasons that still remain unclear, the score of the two movements of "unfinished symphony" was then shelved and not given another glance by either Schubert or Anselm. Hüttenbrenner neither had the work performed nor even let society know he had the manuscript.
Years later, in 1860, at the age of 66, Hüttenbrenner rediscovered it and realized (finally) that he held a little miracle in his hands.
Hüttenbrenner approached the Austrian conductor Johann von Herbeck (25 December 1831 – 28 October 1877) with assurances of a "treasure" on par "with any of Beethoven's" and after another inexplicable delay of five years, Schubert's "Unfinished" Symphony had its premiere on 17 December 1865 in Vienna. The performance was nevertheless received with great enthusiasm by the audience.
There are two complete and completely orchestrated movements:
Allegro moderato in B minor,
and Andante con moto in E major.
The score of those two movements was not published before 1867. There are also fragments of a third movement.
While there are many musical reasons for its extraordinary power, there may be some biographical factors, too. Syphilis that would kill him six years later had its first serious effects on Schubert's health in 1822: there's fearlessness and directness about this symphony that may come from Schubert's experience of a world of darkness and pain he had not previously encountered.
Sources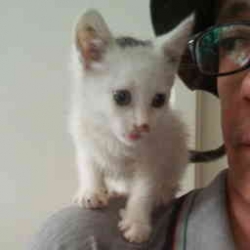 Latest posts by M. Özgür Nevres
(see all)