A guitar recital by the Croatian virtuosa classical guitarist Ana Vidović. Live from St. Mark's Lutheran Church in San Francisco, California, March 28, 2021. Provided by Omni Foundation for the Performing Arts.
Programme
1. Johann Sebastian Bach: Flute Partita in A minor, BWV 1013
The Partita in A minor for solo flute, BWV 1013, is a partita in four movements composed by Johann Sebastian Bach. The piece was transcribed for guitar by the cellist and a professor at the Zagreb Academy of Music, Valter Despalj).
Allemande (3:06)
Corrente (8:40)
2. Johann Sebastian Bach: Violin Sonata No. 1 in G minor, BWV 1001
Arranged by the Cuban-born American classical guitarist Manuel Barrueco (born December 16, 1952).
Adagio (12:44)
Fuga (16:38)
Siciliana (21:19)
Presto (24:25)
3. Leo Brouwer: Un Dia de Noviembre (A Day in November)
(27:36)
Juan Leovigildo Brouwer Mezquida (born March 1, 1939) is a Cuban composer, conductor, and classical guitarist. His great-uncle, Ernesto Lecuona, composed "La Malagueña".
4. Mauro Giuliani: Gran Sonata Eroica, Op. 150
(32:17)
Mauro Giuliani (27 July 1781 – 8 May 1829) was an Italian guitarist, cellist, singer, and composer. He was a leading guitar virtuoso of the early 19th century.
5. Domenico Scarlatti: Two sonatas
Giuseppe Domenico Scarlatti (26 October 1685, in Naples – 23 July 1757, in Madrid), also known as Domingo or Doménico Scarlatti, was an Italian composer. He is classified primarily as a Baroque composer chronologically, although his music was influential in the development of the Classical style.
Sonata in E major, K. 380, L. 23 (41:39)
Sonata in D minor K.1, L. 366 (46:28)
6. Slavko Fumic: Nocturno
(48:55)
The brothers Slavko Fumic´ (1912-1945) and Rudolf Fumic´ (1915 – 1951) were both born in Zagreb, Croatia, where they began their guitar careers before World War II. Thanks to their friend, the guitar-builder Ernest Köröskènyi, two of their albums have been preserved with their selected compositions published in Zagreb in 1956.
The two brothers were very active, both as composers and as solo and duo guitarists, who even recorded for radio in the early days of broadcasting.
Unfortunately, Slavko Fumic´ died prematurely in the war and Rudolf didn't live much longer. Some of their pieces, like Slavko's "Nocturne", continue to be some of the most popular works among guitarists in the former Yugoslavia, while one of his preludes was performed by the great Austrian guitarist Luise Walker (9 September 1910 – 30 January 1998).
7. Encore – Asturias by Isaac Albéniz
(53:49)
Asturias (Leyenda) is a musical work written by the Spanish composer Isaac Albéniz. It was originally written for the piano and set in the key of G minor, and first published in Barcelona, by Juan Bta. Pujol & Co., in 1892 as the prelude of a three-movement set entitled Chants d'Espagne.
Many have attributed the first transcription for guitar to Francisco Tárrega who put it in its most recognizable key, E minor. According to guitarist and guitar scholar Stephen Yates, the first guitar transcription of the piece was probably by Severino García Fortea, although Andrés Segovia's transcription is the most famous and most influential.
Ana Vidović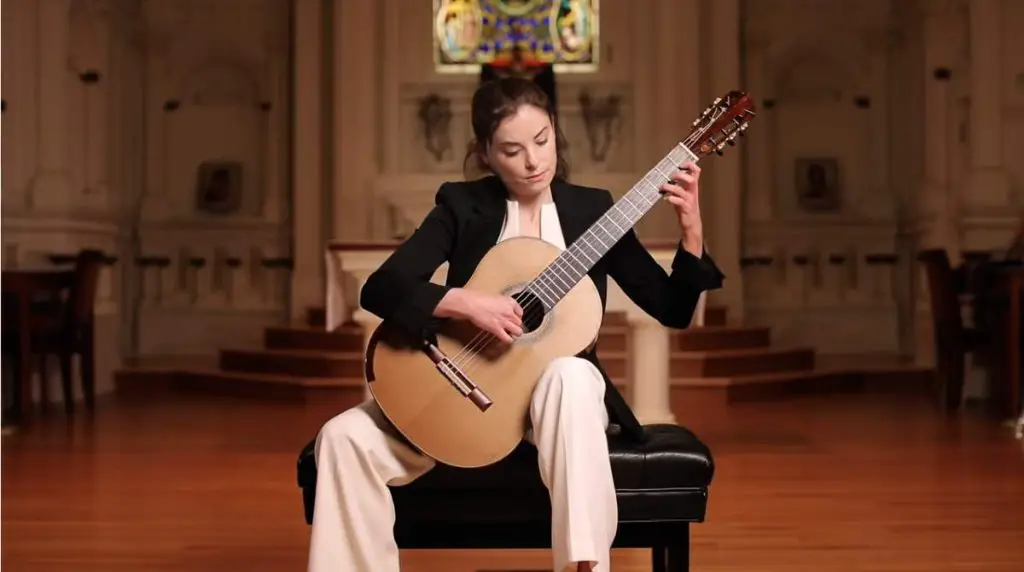 Ana Vidović (born 8 November 1980, Karlovac, Croatia) is a Croatian virtuosa classical guitarist. A child prodigy, she started playing guitar at the age of five, inspired by her brother Viktor. Her father was an electric guitar player. She began performing at the age of 8 and by the age of 11 she was performing internationally, and at 13 became the youngest student to attend the prestigious Academy of Music in Zagreb where she studied with Professor Istvan Romer.
She has given over one thousand public performances since first taking the stage in 1988. Vidović's reputation in Europe led to an invitation to study at the Peabody Conservatory in Baltimore, U.S., with Manuel Barrueco, from where she graduated in May 2003. She has lived in the United States since, where she also works as a private tutor.
Vidović plays a Jim Redgate guitar exclusively and has said, "When I got it and began to play, I immediately knew that this was the instrument that I want to be playing for a long time."
Ana Vidović has won an impressive number of prizes and international competitions all over the world. These include first prizes in the Albert Augustine International Competition in Bath, England, the Fernando Sor competition in Rome, Italy, and the Francisco Tárrega competition in Benicasim, Spain.
Other top prizes include the Eurovision Young Musicians competition, the Mauro Giuliani competition in Italy, the Printemps de la Guitare in Belgium, and the Young Concert Artists International Auditions in New York. The Gramophone remarked on her "extraordinary dexterity".
Ana Vidović cites Paco de Lucía as a role model, John Williams as a significant musical inspiration, along many other composers and musicians. She mentioned Jacqueline du Pré's performance of the Elgar Concerto as one of her favorite classical CDs.
Sources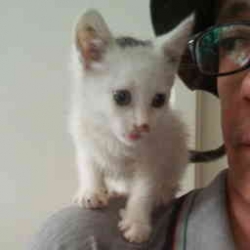 Latest posts by M. Özgür Nevres
(see all)