German tenor and conductor Peter Schreier sings Franz Schubert's Ständchen (Serenade), a beautiful love song for voice and piano. Piano: Rudolf Buchbinder. Recorded at the Schönbrunn Palace in Vienna.
Here is another version of the song played on the cello and piano. Performers: Camille Thomas (cello) and Beatrice Berrut (piano). Recorded live at Palais des Beaux-Arts in Brussels on June 5, 2011.
And another version, performed by Itzhak Perlman (violin) and Rohan de Silva (piano).
An orchestral version:
Schubert: Ständchen (Serenade) Lyrics
German: Ständchen
Leise flehen meine Lieder
Durch die Nacht zu dir;
In den stillen Hain hernieder,
Liebchen, komm zu mir!
Flüsternd schlanke Wipfel
rauschen
In des Mondes Licht;
Des Verräters feindlich Lauschen
Fürchte, Holde, nicht.
Hörst die Nachtigallen schlagen?
Ach! sie flehen dich,
Mit der Töne süßen Klagen
Flehen sie für mich.
Sie verstehn des Busens Sehnen,
Kennen Liebesschmerz,
Rühren mit den Silbertönen
Jedes weiche Herz.
Laß auch dir die Brust bewegen,
Liebchen, höre mich!
Bebend harr' ich dir entgegen!
Komm, beglücke mich!
English: Serenade
My songs beckon softly
through the night to you;
below in the quiet grove,
Come to me, beloved!
The rustle of slender leaf tips
whispers
in the moonlight;
Do not fear the evil spying
of the betrayer, my dear.
Do you hear the nightingales call?
Ah, they beckon to you,
With the sweet sound of their
singing
they beckon to you for me.
They understand the heart's
longing,
know the pain of love,
They calm each tender heart
with their silver tones.
Let them also stir within your
breast,
beloved, hear me!
Trembling I wait for you,
Come, please me!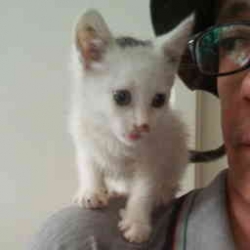 Latest posts by M. Özgür Nevres
(see all)