The American tenor and Hollywood star of Italian origin, Mario Lanza sings "Una furtiva lagrima"" (English: A furtive tear), a romanza from act 2, scene 8 of the Italian opera L'elisir d'amore by Gaetano Donizetti. There are two videos in the post: the first one is from the 1949 American musical film "That Midnight Kiss", starring Kathryn Grayson and Mario Lanza, in his movie debut. The second video is a recording from May 18, 1950. Mario Lanza sings 'Una Furtiva Lagrima' with RCA Victor Symphony Orchestra conducted by Constantine Callinicos.
To read more about this beautiful aria and for the lyrics see Una Furtiva Lagrima – Brownlee, Pavarotti, and Caruso Versions.
José Carreras version of the aria is also beautiful.
That Midnight Kiss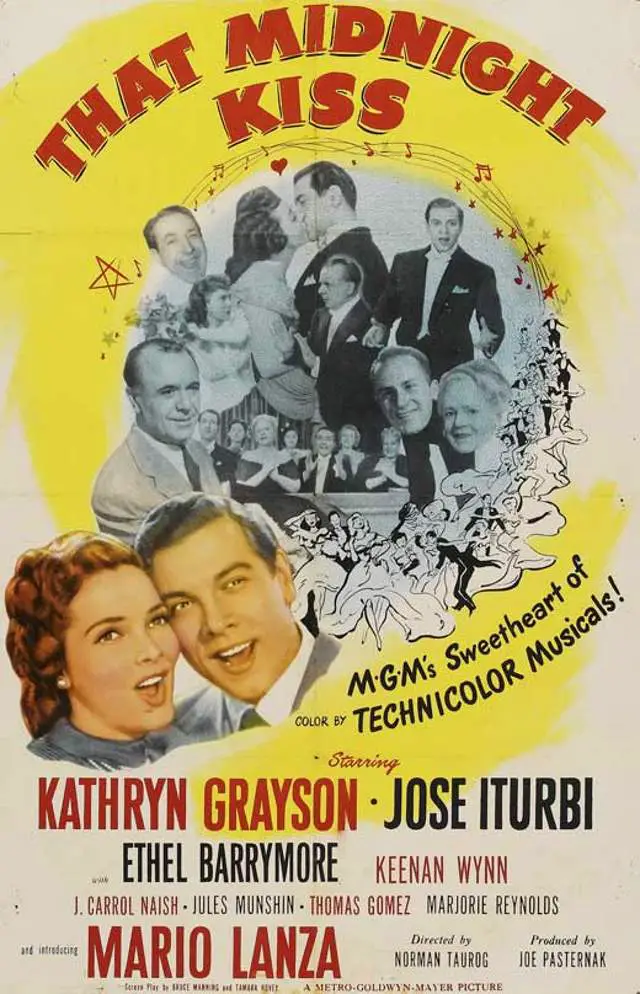 That Midnight Kiss is a 1949 Technicolor American musical romance film also starring Mario Lanza (in his first leading role) and Kathryn Grayson. Among the supporting cast were Ethel Barrymore, conductor/pianist Jose Iturbi (playing himself), Keenan Wynn, J. Carrol Naish, and Jules Munshin. The commercially popular film was directed by Norman Taurog.
Aspiring diva Prudence Budell (Kathryn Grayson) knew what she wanted in a singing partner… but what she got was an uninspiring, walrus-like snob. "Great tenors are very seldom young, good-looking men who feel the words of opera," the maestro (Jose Iturbi) explained, "If you ever find one who looks the part, you let me know." So Prudence found him. And, not coincidentally, his appearance on screen meant MGM had found a major film star.
Mario Lanza, already a recording sensation in 1949, made his screen debut in this glowing box-office success. As singing truck driver Johnny Donnetti, the broad-shouldered tenor proved he could handle lines with ease and warmth. And he amply showcased what everyone already knew – he could belt out a song (highlights include Donizetti's "Una Furtiva Lagrima" and Verdi's "Celeste Aida"). Grayson, who had a lifelong ambition to perform on the operatic stage, graced Verdi's "Cara Nome" with her bright coloratura. And, in his final movie, Iturbi teamed with his sister for Chopin's stirring "Revolutionary Etude."
RCA Victor Symphony Orchestra
The RCA Victor Symphony Orchestra, sometimes also known as the RCA Victor Salon Orchestra and the RCA Victor Orchestra, was an American studio orchestra founded in 1940 by the RCA Victor music label for the purposes of making recordings.
Originally established as a salon orchestra based at RCA Victor headquarters in Camden, New Jersey, the group was created by RCA staff conductor Nathaniel Shilkret. The name later was used for free-lance orchestras, mainly in New York City, assembled as needed to make recordings for RCA through the early 1960s.
Its players included those from the New York Philharmonic, the Metropolitan Opera, the NBC Symphony, and other major ensembles. The RCA Victor Orchestra was recorded with notable conductors including Leopold Stokowski and Leonard Bernstein. A number of their recordings received Grammy Awards. In the early 1960s, the orchestra was disbanded when RCA moved much of its recording activity to Europe and established the RCA Italiana Orchestra at its studios in Rome.
Sources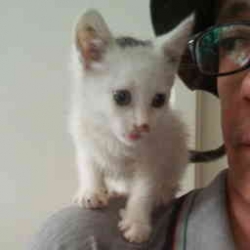 Latest posts by M. Özgür Nevres
(see all)