Accompanied by the Orchestre National de Bretagne, French cellist Gautier Capuçon plays "Over the Rainbow" from Harold Arlen's score to the 1939 American musical fantasy film The Wizard of Oz. Capucon is surrounded by the natural and historical beauty of Mont Saint-Michel in Normandy, France in this beautiful video by Electron Libre Productions. Capucon's last album, "Sensations" features Jérôme Ducros as pianist and arranger, the Orchestre National de Bretagne, and conductor Johanna Malangré.
Over the rainbow
"Over the Rainbow" is a ballad by Harold Arlen with lyrics by Yip Harburg. It was written for the 1939 film The Wizard of Oz, in which it was sung by actress Judy Garland in her starring role as Dorothy Gale. It won the Academy Award for Best Original Song and became Garland's signature song.
About five minutes into the film, Dorothy sings the song after failing to get Aunt Em, Uncle Henry, and the farmhands to listen to her story of an unpleasant incident involving her dog, Toto, and the town spinster, Miss Gulch (Margaret Hamilton).
Aunt Em tells her to "find yourself a place where you won't get into any trouble". This prompts her to walk off by herself, musing to Toto, "Someplace where there isn't any trouble. Do you suppose there is such a place, Toto? There must be. It's not a place you can get to by boat or train. It's far, far away. Behind the moon, beyond the rain", at which point she begins singing.
Over the Rainbow lyrics
Somewhere over the rainbow, way up high
There's a land that I heard of once in a lullaby
Somewhere over the rainbow, skies are blue
And the dreams that you dare to dream
Really do come true
Someday I'll wish upon a star
And wake up where the clouds are far behind me
Where troubles melt like lemon drops
Away above the chimney tops
That's where you'll find me
Somewhere over the rainbow
Bluebirds fly
Birds fly over the rainbow
Why, then, oh, why can't I?
If happy little bluebirds fly
Beyond the rainbow
Why, oh, why can't I?
Sources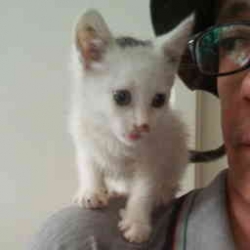 Latest posts by M. Özgür Nevres
(see all)