Accompanied by the Southwest German Radio Symphony Orchestra (SWR Sinfonieorchester Baden-Baden und Freiburg), French classical pianist Hélène Grimaud performs Johannes Brahms' Piano Concerto No. 1 in D minor, Op. 15. Conductor: Michael Gielen. Recorded on April 17, 2005.
Brahms' Piano Concerto No. 1
Movements
Maestoso (D minor) The first movement is in sonata form, divided into five sections: orchestral introduction, exposition, development, recapitulation, and coda. This movement is large, lasting between 20 to 25 minutes. This strict adherence to forms used in the Classical Period earned Brahms a reputation for being musically "conservative." The theme heavily makes use of arpeggiated chords and trills. Within the orchestral introduction, other themes are introduced, and the thematic material is further developed by both the orchestra and soloist.
Adagio (D major) This movement is in a ternary form, with the theme being introduced by the bassoon.
Allegro non-troppo (D minor → D major) The structure of the Rondo finale is similar to that of the rondo of Beethoven's third piano concerto. There are three themes present in this rondo; the second theme may be considered a strong variation of the first. The third theme is introduced in the episode but is never explicitly developed by the soloist, instead, the soloist is "integrated into the orchestral effect." A cadenza follows the bulk of the rondo, with an extensive coda that develops the first and third themes appearing afterward. The coda is in the parallel major, D major.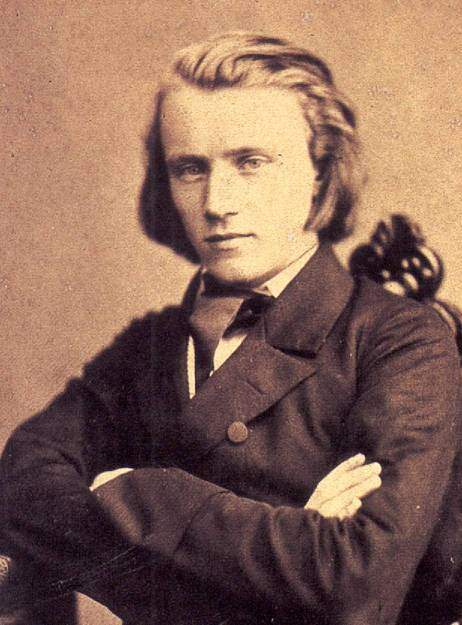 When Johannes Brahms (7 May 1833 – 3 April 1897) was 20 years old, in 1853, he was himself a professional-level pianist who had first highly impressed the leading violinist Joseph Joachim, who gave him a letter of introduction to the famous German composer and influential music critic Robert Schumann. Brahms and Joachim became close friends for life.
It was Schumann's unabashed praise of the music that Brahms showed him that, more than anything else, provided the young composer with the courage necessary to begin work on a full-scale symphony the next year. That courage, however, fell short in the end — Brahms felt too inexperienced and was too haunted by the "footsteps of a giant" (Beethoven) to begin fruitful symphonic work — and Brahms reorganized the material he had written as a sonata for two pianos.
By 1858, this sonata for two pianos had itself been reborn as the Piano Concerto No. 1 in D minor, Op. 15. Brahms did not complete his First Symphony until 1876.
Hélène Grimaud
Grimaud was born in 1969 in Aix-en-Provence where she began her piano studies at the conservatory with Jacqueline Courtin and subsequently under Pierre Barbizet in Marseille. She was accepted into the Paris Conservatoire at just 13 and won first prize in piano performance a mere three years later. She continued to study with György Sándor and Leon Fleisher until, in 1987, she gave her well-received debut recital in Tokyo. The same year the renowned conductor Daniel Barenboim invited her to perform with the Orchestre de Paris.
This marked the launch of Grimaud's musical career; one highlighted by concerts with most of the world's major orchestras and many celebrated conductors. Her recordings have been critically acclaimed and awarded numerous accolades, among them the Cannes Classical Recording of the Year, Choc du Monde de la musique, Diapason d'or, Grand Prix du disque, Record Academy Prize (Tokyo), Midem Classic Award, and the Echo Award.
Between her debut in 1995 with the Berliner Philharmoniker under Claudio Abbado and her first performance with the New York Philharmonic under Kurt Masur in 1999 – just two of many acclaimed musical milestones – Grimaud made a wholly different kind of debut: in upper New York State she established the Wolf Conservation Center.
She performed at the Last Night of the BBC Proms in London in September 2008, playing the piano part of Beethoven's Choral Fantasia.
In September 2013, Deutsche Grammophon released her album of the two Brahms piano concertos; the first concerto with Andris Nelsons conducting the Bavarian Radio Symphony Orchestra and the second recorded with the Vienna Philharmonic. When she took the Brahms on tour to Southeast Asia, The Straits Times of Singapore said: "Her playing was distinguished by superb timing and consistency of touch, and seamless interplay between piano and orchestra."
Grimaud is also an ardent and committed chamber musician who performs frequently at the most prestigious festivals and cultural events with a wide range of musical collaborators that has included Sol Gabetta, Thomas Quasthoff, Rolando Villazón, Jan Vogler, Truls Mørk, Clemens Hagen, and the Capuçon brothers.
An exclusive Deutsche Grammophon artist since 2002, her album prior to the Brahms concertos was Duo, a collaboration with cellist Sol Gabetta, which won the 2013 ECHO Award for "chamber recording of the year". The disc was released in October 2012 and that autumn the pair gave a series of concerts in Germany and France, performing the cello sonatas by Schumann, Brahms, Shostakovich, and Debussy which are featured on the disc.
The album's repertoire originated as an inspired recreation of a concert they gave at the 2011 Gstaad Festival and which the Berner Zeitung described at the time as "breathtaking" while BBC Music Magazine commented that "…in the grand first movement [of Brahms' Cello Sonata No. 1] Hélène Grimaud produces a context of almost orchestral depth and spaciousness into which Gabetta projects her eloquently refined lines."
Previous releases include her Mozart Piano Concertos No. 19 and No. 23, a disc released in 2011, which also featured a collaboration with singer Mojca Erdmann on a recording of Mozart's Ch'io mi scordi di te?. Grimaud's 2010 release, the solo recital album Resonances, featured music by Mozart, Berg, Liszt, and Bartók.
Other DG recordings by Grimaud include Bach's solo and concerto works in which she directed the Deutsche Kammerphilharmonie Bremen from the piano bench, and a Beethoven disc with Staatskapelle Dresden and Vladimir Jurowski, Reflection and Credo (both of which feature a number of works linked thematically), a Chopin and Rachmaninov Sonatas disc, a Bartók CD with Grimaud playing the Third Piano Concerto with the London Symphony Orchestra under Pierre Boulez and a DVD release of Rachmaninov's Second Piano Concerto with the Lucerne Festival Orchestra under the direction of Claudio Abbado.
Her love for the endangered species was sparked by a chance encounter with a wolf in northern Florida which led to her determination to open an environmental education center. "To be involved in direct conservation and being able to put animals back where they belong," she says, "there's just nothing more fulfilling."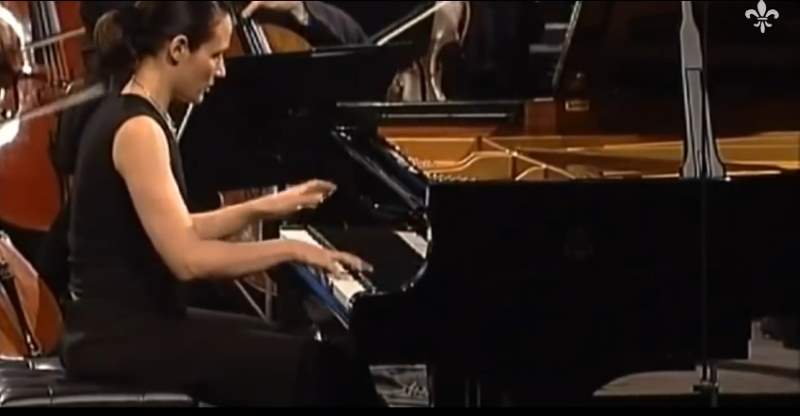 But Grimaud's engagement doesn't end there: she is also a member of the organization Musicians for Human Rights, a worldwide network of musicians and people working in the field of music to promote a culture of human rights and social change.
For most people, establishing and running an environmental organization or having a flourishing career as a musician would be accomplishment enough. Yet, remarkably, Hélène Grimaud has also found time to pursue writing. Her first book, Variations Sauvages, was published in French in 2003 and subsequently translated into English, Japanese, Dutch, and German. Her second book, Leçons particulières, which is part novel and part autobiography, followed in 2005. Most recently she published Retour à Salem, also a semi-autobiographical novel, which was released in French in October 2013.
She also experiences synesthesia, where one physical sense adds to another, in her case seeing music as color.
Sources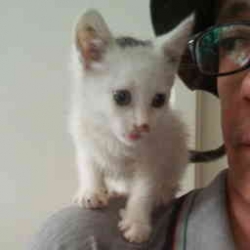 Latest posts by M. Özgür Nevres
(see all)