Conducted by Herbert von Karajan, the Berliner Philharmoniker (Berlin Philharmonic Orchestra) performs the "overture" from Gioachino Rossini's last opera, William Tell (French: Guillaume Tell, Italian: Guglielmo Tell).
It is an opera in four acts, with a French libretto by Étienne de Jouy and Hippolyte Bis based on Friedrich Schiller's play William Tell. The overture, featuring a depiction of a storm and with its famous finale, "March Of The Swiss Soldiers," is a major part of the concert and recording repertoire.
Rossini's William Tell
Even though the Italian composer who wrote 39 operas lived for nearly forty more years, William Tell was Rossini's last opera.
William Tell (in the four languages of Switzerland: German: Wilhelm Tell; French: Guillaume Tell; Italian: Guglielmo Tell; Romansh: Guglielm Tell) is a folk hero of Switzerland. His legend is recorded in a late 15th-century Swiss chronicle.
Friedrich Schiller's play William Tell was written between 1803 and 1804, and published that year in the first edition of 7000 copies. Since its publication, Schiller's William Tell has been translated into many languages, including Slovene, Croatian, Turkish, Romansh, and Hebrew.
Friedrich Schiller (who had never been to Switzerland, but was well informed, being a historian) was inspired to write a play about the legendary Swiss marksman William Tell by his wife Lotte, who knew the country from her personal experience. After his friend, Johann Wolfgang Goethe, had returned from his second journey to the Lake of Lucerne in 1779, Schiller started collecting sources.
Most of Schiller's information about the history of the Swiss confederation is drawn from Aegidius Tschudi's Chronicon Helveticum (Latin: 'Swiss Chronicle'), Johannes von Müller's History of the Swiss Confederation (German: Geschichten Schweizerischer Eidgenossenschaft), as well as two chronicles of Petermann Etterlin and Johannes Stumpf.
There are several accounts of the Tell legend. The earliest sources give an account of the apple-shot, Tell's escape, and the ensuing rebellion. The assassination of Gessler is not mentioned in the Tellenlied but is already present in the White Book of Sarnen account.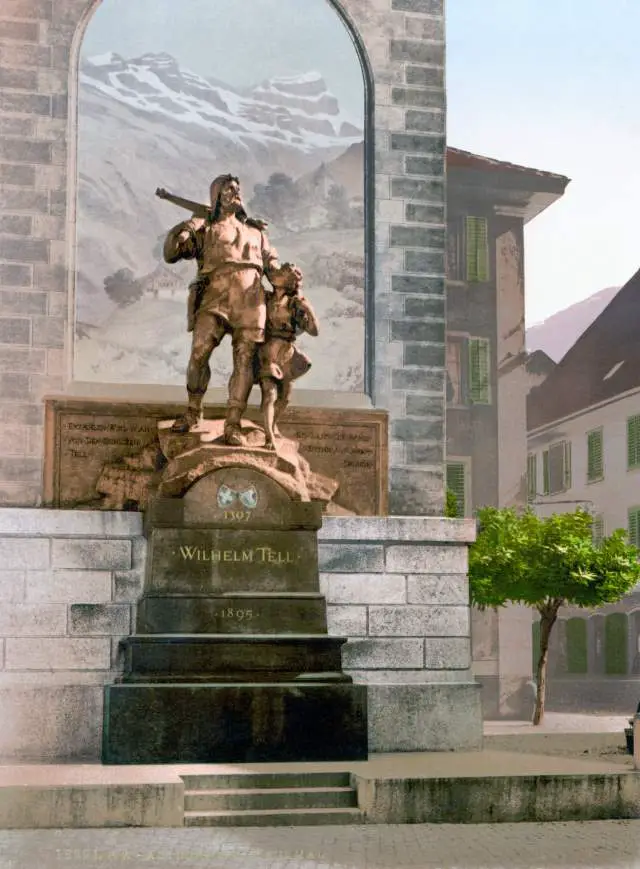 The legend as told by Tschudi (ca. 1570) goes as follows: William Tell, who originally came from Bürglen, was known as a strong man, mountain climber, and an expert shot with the crossbow. In his time, the Habsburg emperors of Austria were seeking to dominate Uri. Albrecht (or Hermann) Gessler, the newly appointed Austrian Vogt of Altdorf, raised a pole in the village's central square, hung his hat on top of it, and demanded that all the townsfolk bow before the hat.
On 18 November 1307, Tell visited Altdorf with his young son and passed by the hat, publicly refusing to bow to it, and so was arrested. Gessler—intrigued by Tell's famed marksmanship, yet resentful of his defiance—devised a cruel punishment: Tell and his son would be executed, but he could redeem his life by shooting an apple off the head of his son, Walter, in a single attempt. Tell split the apple with a bolt from his crossbow.
But Gessler noticed that Tell had removed two crossbow bolts from his quiver, not one. Before releasing Tell, he asked why. Tell replied that if he had killed his son, he would have used the second bolt on Gessler himself. Gessler was angered and had to Tell bound.
Tell was brought to Gessler's ship to be taken to his castle at Küssnacht to spend his newly won life in a dungeon. But, as a storm broke on Lake Lucerne, the soldiers were afraid that their boat would founder and unbound Tell to steer with all his famed strength. Tell made use of the opportunity to escape, leaping from the boat at the rocky site now known as the Tellsplatte ("Tell's slab") and memorialized by the Tellskapelle.
Tell ran cross-country to Küssnacht. As Gessler arrived, Tell assassinated him with the second crossbow bolt along a stretch of the road cut through the rock between Immensee and Küssnacht, now known as the Hohle Gasse. Tell's blow for liberty sparked a rebellion, in which he played a leading part. That fed the impetus for the nascent Swiss Confederation.
Tell fought again against Austria in the 1315 Battle of Morgarten. Tschudi also has an account of Tell's death in 1354, according to which he was killed trying to save a child from drowning in the Schächenbach river in Uri.
Sources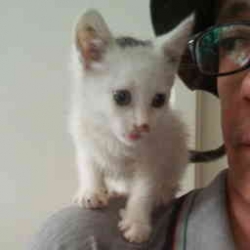 Latest posts by M. Özgür Nevres
(see all)