The oldest ensemble for Baroque music in the Netherlands, and possibly in the world, the Netherlands Bach Society performs Johann Sebastian Bach's Concerto in A minor for four harpsichords, BWV 1065.
Soloists
Siebe Henstra, harpsichord 1
Menno van Delft, harpsichord 2
Pieter-Jan Belder, harpsichord 3
Tineke Steenbrink, harpsichord 4
Instruments (harpsichords) built by:
Harpsichord 1: Titus Crijnen, 1992 after Johannes Ruckers, 1638
Harpsichord 2: Bruce Kennedy, 1989 after Michael Mietke
Harpsichord 3: Titus Crijnen, 2013 after Blanchet
Harpsichord 4: Lutz Werum, 2003 after Johannes Ruckers
Bach – Concerto in A minor for four harpsichords, BWV 1065
Movements
With starting times in the video:
Allegro (0:07)
Largo (4:04)
Allegro (6:17)
Bach arranged various Vivaldi concertos for organ and harpsichord. The Concerto in A minor for four harpsichords, BWV 1065 is largely based on Antonio Vivaldi's Concerto for Four Violins and Cello in B Minor, Op. 3, No. 10 (RV 580). But of course, Bach gave it an exciting twist, as in his version the soloists play harpsichords instead of violins, and the piece's tonality has been changed from B minor to A minor.
The concerto for four harpsichords, strings, and continuo, BWV 1065, was the last of six known transcriptions Bach realized after concertos in Vivaldi's Op. 3. That opus, published in 1711, contains twelve concertos for strings, four of which (Nos. 3, 6, 9, and 12) have a single violin soloist.
The accompaniment in these four concertos consists of violins (three parts), violas (two parts), cellos, and continuo (figured bass part for violone and harpsichord). Most likely in the period from July 1713 to July 1714, during his tenure as court organist in Weimar, Bach transcribed three of these violin concertos, Nos. 3, 9, and 12, for solo harpsichord (BWV 978, 972, and 976 respectively).
Similarly, in the same period, he transcribed two (Nos. 8 and 11) of the four concertos for two violins (Nos. 2, 5, 8, and 11), for unaccompanied organ (BWV 593 and 596). Vivaldi's Op. 3 also contained four concertos for four violins (Nos. 1, 4, 7, and 10).
Some two decades after the over twenty Weimar concerto transcriptions for unaccompanied keyboard instruments, Bach returned to L'estro armonico and transcribed its No. 10, the Concerto in B minor for four violins, cello, strings, and continuo, RV 580, to his concerto in A minor for four harpsichords, strings and continuo, BWV 1065.
Netherlands Bach Society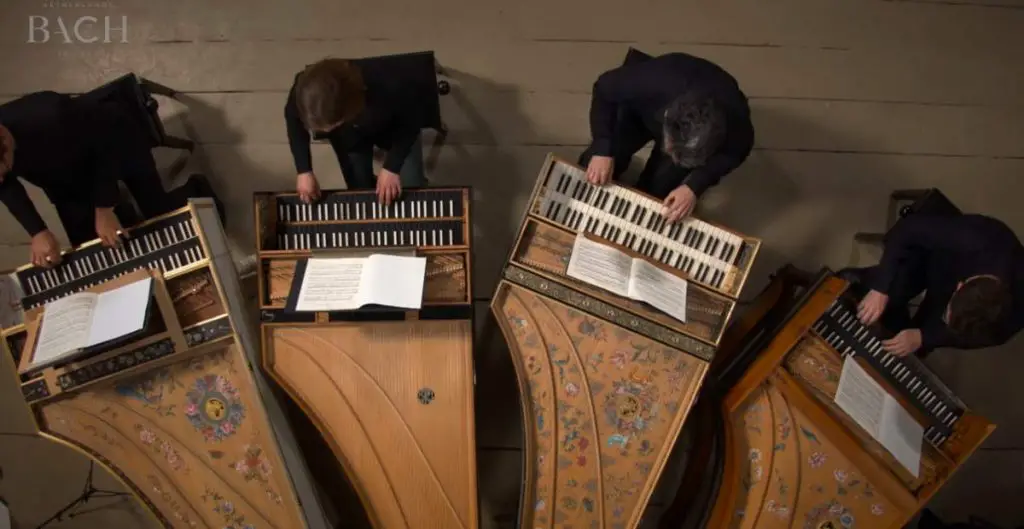 From the ensemble's website:
Founded in 1921 to perform Bach's St Matthew Passion in the Grote Kerk, in Naarden, the Netherlands Bach Society has grown over the past century into a leading vocal-instrumental ensemble of national and international importance. We play, sing and pass on the work of Bach and his contemporaries and kindred spirits. Our musicians play authentic instruments and are driven by curiosity and the joy of music-making.
Since its foundation, the Netherlands Bach Society has been led by Johan Schoonderbeek, Evert Cornelis, Anthon van der Horst, Charles de Wolff, and Jos van Veldhoven, respectively. In 2018, violinist Shunske Sato was appointed artistic director. The ideas held by new generations lead to continually changing visions. This allows us to keep discovering deep layers and exciting gradations in Bach's fantastic music, while keeping our eye on the environment and circumstances in which his music was created.
All of Bach for everyone: that is our mission. Every year, we give more than sixty concerts in the Netherlands and abroad. In addition, all music-lovers can enjoy all the works we record for All of Bach free of charge. To breathe new life into tradition, we are constantly looking for interesting partners and involving the new generations in our work. Through the Young Bach Fellowship, we train the musicians of the future, we coach amateurs in the Utrecht region, and through our education programme we bring secondary school pupils into contact with the fascinating world behind the notes of Bach.
It is awe-inspiring how Bach has remained so relevant across the ages. We can always go to him for inspiration, emotion, comfort and reflection. In a hectic world, Bach's music is a constant factor for all generations. There was, is, and always will be time for Bach.
Sources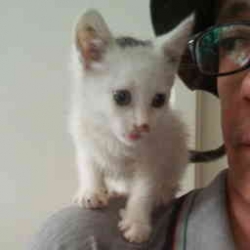 Latest posts by M. Özgür Nevres
(see all)