Accompanied by the Chamber Orchestra of Europe, the Swiss classical pianist Maria João Pires plays Wolfgang Amadeus Mozart's Piano Concerto No. 27 in B-flat major, K. 595. First performed early in 1791, the year of his death, it is Mozart's last piano concerto. Conductor: Trevor Pinnock.
The work followed by some years the series of highly successful concertos Mozart wrote for his own concerts, and by the time of its premiere Mozart was no longer so prominent a performer on the public stage. The concerto may have been first performed at a concert on 4 March 1791 in Jahn's Hall by Mozart and the clarinetist Joseph Beer. If so, this was Mozart's last appearance in a public concert, as he took ill in September 1791 and died on 5 December 1791. Another possibility is that it was premiered by Mozart's pupil Barbara Ployer on the occasion of a public concert at the Palais Auersperg in January 1791.
The work is scored for flute, two oboes, two bassoons, two horns, solo piano and strings, which makes it thinner than Mozart's other late concertos, all of which except for No. 23 have trumpet and timpani. There are three movements, with starting times in the video:
Allegro (00:11)
Larghetto in E-flat major (14:23)
Allegro (21:07)
32:25 – Encores
Mozart Sonata for Four Hands in D Major (Third Movement) K. 381
Maria João Pires
Maria João Pires (born in Lisbon, Portugal, 23 July 1944) is a Swiss pianist. Her first recital was at the age of five, and at the age of seven she was already playing Mozart piano concertos publicly. Two years later she received Portugal's top prize for young musicians. In the following years, she studied with Campos Coelho at the Lisbon Conservatory, taking courses in composition, theory, and history of music. She continued her studies in Germany, first in the Musikakademie of Munich with Rosl Schmidt and then in Hanover with Karl Engel.
International fame came in 1970, when she won the Beethoven Bicentennial Competition in Brussels. Subsequently she performed with major orchestras in Europe, America, Canada, Israel and Japan, interpreting works by Bach, Beethoven, Schumann, Schubert, Mozart, Brahms, Chopin and other classical and romantic composers.
Her professionalism achieved worldwide recognition when a film (from 1999) was drawn to the attention of the press and went viral in 2013. At the start of a lunchtime concert in Amsterdam, she realised that she had rehearsed for a different Mozart concerto from the one the orchestra had started playing (Piano Concerto No.20 in D minor, K.466); quickly recovering, she played the concerto from memory (see the video below).
How come a pianist think that s/he is going to play another concerto? What are rehearsals for? The answer is: this recording was part of a Lunch Concert. These are free concerts in Amsterdam. Sometimes they feature new talents, and sometimes rehearsals of the Royal Concertgebouw Orchestra, like in this case. So, it IS the rehearsal, but at the same time it IS a real concert.
At the highest levels of professional musicians, guest soloists are not always expected to rehearse with the accompanying orchestra ahead of time, especially for a "casual" concert setting. For formal concerts, this would never occur, due to multiple mandatory rehearsals ahead of time (not to mention the dress rehearsal).
Pires performed at the BBC Proms in 2010. In an interview beforehand, she said that after 60 years of recitals and concerts she had cut back her performances but was non-committal about retirement.
Since September 2012, she has been a "Master in residence" at the Queen Elisabeth Music Chapel (Waterloo, Belgium), where she teaches piano to young talented pianists from all over the world.
Sources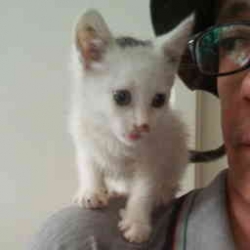 Latest posts by M. Özgür Nevres
(see all)