The great American tenor with Italian origin, Mario Lanza sings Ave Maria by Franz Schubert. The video is from the 1956 movie "Serenade".
"Ellens dritter Gesang" ("Ellens Gesang III", D. 839, Op. 52, No. 6, 1825), in English: "Ellen's Third Song", was composed by Franz Schubert in 1825 as part of his Opus 52, a setting of seven songs from Walter Scott's popular epic poem The Lady of the Lake, loosely translated into German.
It has become one of Schubert's most popular works, recorded by a wide variety and large number of singers, under the title of Ave Maria, in arrangements with various lyrics which commonly differ from the original context of the poem.
Ave Maria Lyrics
Latin
Ave Maria
Gratia plena
Dominus tecum
Benedicta tu in mulieribus
Et benedictus fructus ventris
Tui, Jesus
Sancta Maria
Mater Dei
Ora pro nobis peccatoribus
Nunc et in hora mortis nostrae
Ave Maria
Amen.
English
Hail Mary,
Full of grace,
The Lord is with thee;
Blessed art thou among women,
And blessed is the fruit of thy womb,
Jesus.
Holy Mary,
Mother of God,
Pray for us sinners,
Now and at the hour of our death.
Hail Mary,
Amen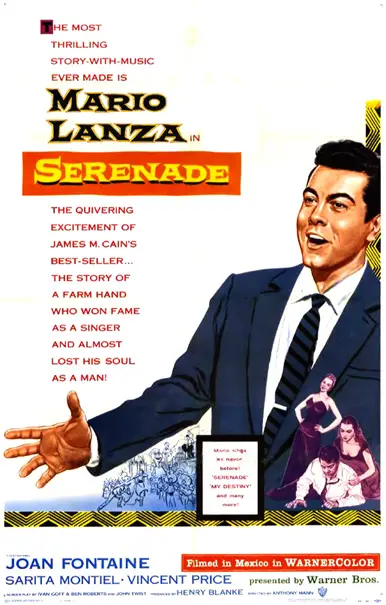 Serenade, a 1956 Warner Bros. release, was Lanza's fifth film, and his first on-screen appearance in four years. Directed by Anthony Mann and based on the 1937 novel of the same name by James M. Cain, the film also stars Joan Fontaine, Sara Montiel (billed as Sarita Montiel), and Vincent Price.
The film tells the story of a poor vineyard worker who becomes an operatic tenor, and is involved with two women — one a high society hostess, the other a Mexican bullfighter's daughter. Highly melodramatic in nature, the film features a large amount of operatic music, all of it sung by Lanza.
Sources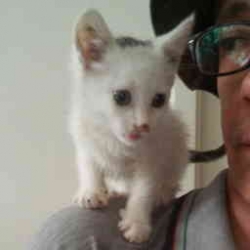 Latest posts by M. Özgür Nevres
(see all)