The legendary Spanish classical guitarist Narciso Yepes (14 November 1927 – 3 May 1997) performs an 80-minute solo recital, plus 25 minutes of encores, on the 10-string guitar of his own conception, at the Teatro Real de Madrid, in 1979.
This is without electronic amplification of the guitar, as Yepes always insisted, but with his improved sitting position and revolutionary right-hand technique, which, together with his 10-string guitar's sympathetic resonance, optimize tone quality and projection. (The microphone seen is for the video's audio recording only, not for amplification.) As one reviewer wrote after a 1982 review of Narciso Yepes performing at Carnegie Hall:
"Guitar concerts in Carnegie Hall can be a frustrating affair. Narciso Yepes brought his 10-string invention there last Thursday, and suddenly it was not a problem hearing that instrument in that space.
"His guitar fills the hall with sound. The musician who plucks it is one of the finest in the world today. The second half of the program was devoted entirely to 20th-century works, an intriguing survey of music – for an apparently limited instrument – that was at once engrossing yet challenging. Of greatest interest were Eduardo Sainz de la Maza's 'Laberinto,' with its jazzy undercurrent, and Leonardo Balada's supremely virtuosic, exciting 'Analogias'.
"Mr. Yepes, who appears to be not much larger than his oversize instrument, is a selfless musician, putting the music before his personality in what could serve as the ideal of any performing artist but so rarely is. One left his recital stimulated and elated, with nary a thought as to the potential limitations of the instrument, dynamically or musically."
Recital Programme
Recital Programme with times are below:
August Kühnel (transcr. Yepes)
Suite for 11-course Baroque Lute – 00:00
Allemande 00:00
Courante 03:38
Sarabande 05:00
Menuet 07:28
Gigue 09:20
Johann Sebastian Bach (transcr. Yepes)
Sarabande & Double in B minor BWV 1002 – 11:43
Sarabande 11:43
Double 15:26
Johann Sebastian Bach (transcr. Yepes/Enesco)
Chaconne in D minor – 18:46
Fernando Sor (rev. Yepes)
Fantasie Villageoise, op. 52 – 33:38
Fernando Sor (rev. Yepes)
Variations sur "Marlborough s'en va-t-en guerre", op. 28 – 42:37
José Peris Lacasa
Elegia para Gisela (for 10-string guitar) – 48:29
Vaclav Kucera
Diary (Homage to Che Guevara) – 55:50
Day of Love 55:50
Day of Hate 58:20
Day of Decision 01:00:27
Day of Battle 01:02:25
Day of Death 01:04:25
Léo Brouwer
Tarantos (written for Narciso Yepes) – 01:08:41
Heitor Villa-Lobos
Etudes – 1:13:14
Etude no. 1 – 1:13:14
Etude no. 11 – 1:14:56
Etude no. 12 – 1:18:32
Encores
Salvador Bacarisse (rev. Yepes)
Passepied – 1:23:33
Anonymous (arr. Yepes)
11th century Irish March (Brian Boru's March) – 1:27:42
Francisco Tárrega
Recuerdos de la Alhambra – 1:33:20
Vincenzo Galilei (transcr. Yepes)
Saltarello – 1:38:35
Antonio Ruiz-Pipo
Danza – 1:42:02
About Narciso Yepes' ten-string guitar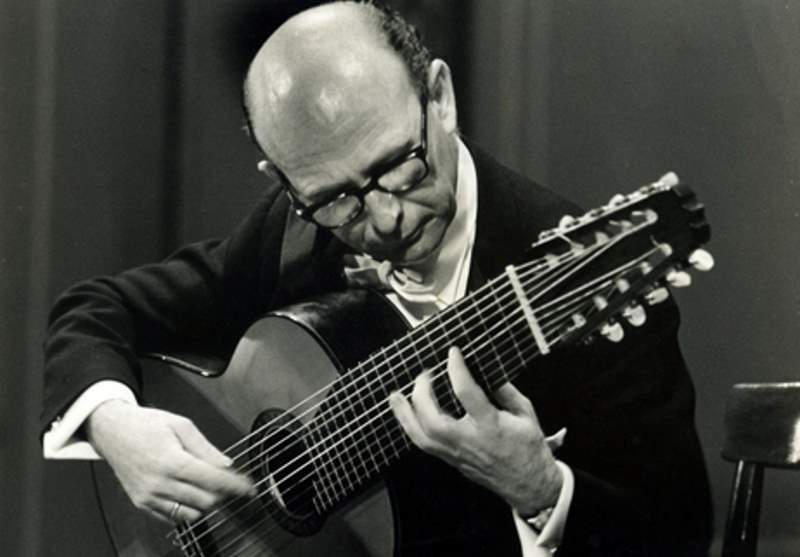 In 1964, Yepes performed the Concierto de Aranjuez with the Berlin Philharmonic Orchestra, premièring the ten-string guitar, which he invented in collaboration with the renowned guitar maker José Ramírez III.
The instrument made it possible to transcribe works originally written for baroque lute without deleterious transposition of the bass notes. However, the main reason for the invention of this instrument was the addition of string resonators tuned to C, A#, G#, F#, which resulted in the first guitar with truly chromatic string resonance – similar to that of the piano with its sustain/pedal mechanism.
After 1964, Yepes used the ten-string guitar exclusively, touring all six inhabited continents, performing in recitals as well as with the world's leading orchestras, giving an average of 130 performances each year. He recorded the Concierto de Aranjuez for the first time with the ten-string guitar in 1969 with Odón Alonso conducting the Orquesta Sinfonica R.T.V. Española.
Standard tuning of the modern ten-string guitar:
Yepes' 10-string guitar tuning
7=C2 [lowest string]
8=A#2 / Bb2
9=G#2 / Ab2
10=F#2 / Gb2
"I have not added four strings to the guitar out of a whim, but out of necessity. The strings that I have added incorporate all the natural [sympathetic] resonance that the instrument lacked in eight of the twelve notes of the equal-tempered scale." –Narciso Yepes, Ser instrumento. Speech of Ingression into the Real Academia de Bellas Artes de San Fernando. Delivered on 30 April 1989.
"In the first place, the four supplementary strings [C2, Bb2, G#2, F#2] give it a balanced sound which the six-string guitar is far from having. In fact, at the moment of playing a note on one string, another begins to vibrate by sympathetic resonance. On the six-string guitar, this phenomenon is produced only on four notes [E, B, A, and D], while on mine the twelve notes of the scale each have their sympathetic resonance".
"Thus the lopsided sonority of the six-string guitar is transformed into a wider and equal sonority on a ten-string guitar. Secondly, I do not content myself with letting the extra strings vibrate passively in sympathy; I use them, I play them according to the demands of the music to be interpreted. I can control the volume of the resonances, or I can suppress them. I can damp one if it is inconvenient in a given passage, but if I can do this it is precise because I have these resonances available." — Narciso Yepes, The Ten-String Guitar, Trans. Lionel Salter, July 1973.
Read more about the 10-string guitar as designed by Yepes: tenstringguitar.info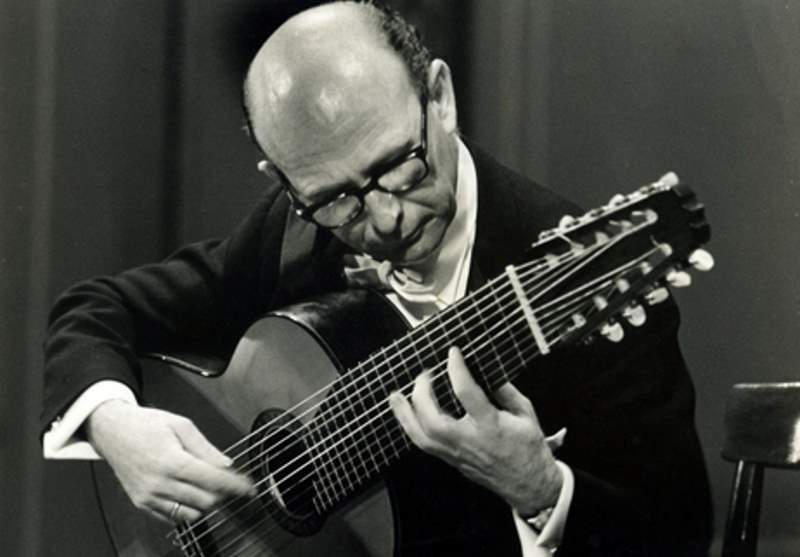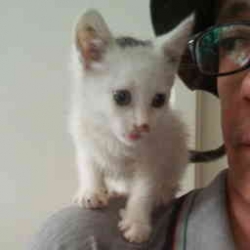 Latest posts by M. Özgür Nevres
(see all)