Accompanied by the hr-Sinfonieorchester (Frankfurt Radio Symphony Orchestra), Nicholas Angelich (piano), Gil Shaham (violin), and Anne Gastinel (cello) perform Ludwig van Beethoven's Concerto for Violin, Cello, and Piano in C major, Op. 56, more commonly known as the Triple Concerto. Conductor: Paavo Järvi. Recorded at the Alte Oper Frankfurt on March 6, 2015.
Ludwig van Beethoven's Triple Concerto
There are relatively few concertos among the works of Beethoven and they all date from the period 1790-1815. The "Triple Concerto" was composed by the German composer in 1803 and later published in 1804 under Breitkopf & Härtel (see notes 1). The work remained unperformed for five years until its outing at a summer music festival in Vienna in 1808.
The concerto is divided into three movements:
Allegro The forces are both unusual and formidable, and the scale of the triple concerto is correspondingly grand. The first movement has over 530 bars (nearly half of them in C major), and the third is virtually as substantial, with just under 500 bars. The opening of the Allegro is spectacularly quiet and unobtrusive: six bars' worth of cello and double bass provide the material for a vast paragraph before the cello, violin, and piano appear successively in a tonic-dominant-tonic order respectively. The lion's share of the development is initiated by the string soloists, the piano behaving obediently and without undue pomp. The technical problems of balance between resources (violin, cello, piano, orchestra) are solved here by an unusual paucity of chordal writing for the piano. The chords actually played by the piano can almost be counted on the fingers of two hands. There is much liberal use of unison semiquavers, or thirds, sixths, and tenths, sometimes at the double or triple octave placed above or below the strings so as not to hinder their own tessitura. The very first entry is in octaves only (as is also the case in the two following movements) with only a little arpeggio work, and some thirds in broken octaves when the piano is flexing its muscles. Some of the stormiest passages contain triplet arpeggios in contrary motion. Still, the rest is virtually all two-part polyphony, in scale passages, or arpeggio work plus some discreet quasi Alberti-bass activity by way of varying the texture. The Violin and Cello Sonatas display similar restraint in their allegro movements, the texture being largely a two-part affair. In place of the usual cadenza just alter the recapitulation comes an animated dialogue between the piano trio members with unobtrusive support from the orchestra, and the movement closes with a brief coda. A similar formula is proposed in the third movement.
Largo (attacca) The slow movement (Largo) is in the key of the flattened submediant (C-A flat-C), a relationship also encountered in the First Piano Concerto and the Emperor (E flat-B-E flat). The thematic material is presented shortly after the opening by the cello (playing in such a high register that it constitutes the soprano voice of the texture) accompanied by muted strings, while the piano joins in much later and provides extremely delicate and remarkably discreet unison arpeggio figuration most of the time. There is not a single chord in the entire movement, only four bars of broken chord patterns.
Rondo alla polacca The lively Polacca theme is entrusted to the cello, playing on the treble stave and the accompaniment is provided by the strings at a lower pitch, precisely as in the largo. The piano is content to play in octaves, just as in the two previous movements. The rest is a model of clarity, with no more than three or four bars of cadential punctuation.
In addition to the violin, cello, and piano soloists, the concerto is scored for one flute, two oboes, two clarinets, two bassoons, two horns, two trumpets, timpani, and strings. The flute, oboes, trumpets, and timpani are tacet during the second movement.
Nicholas Angelich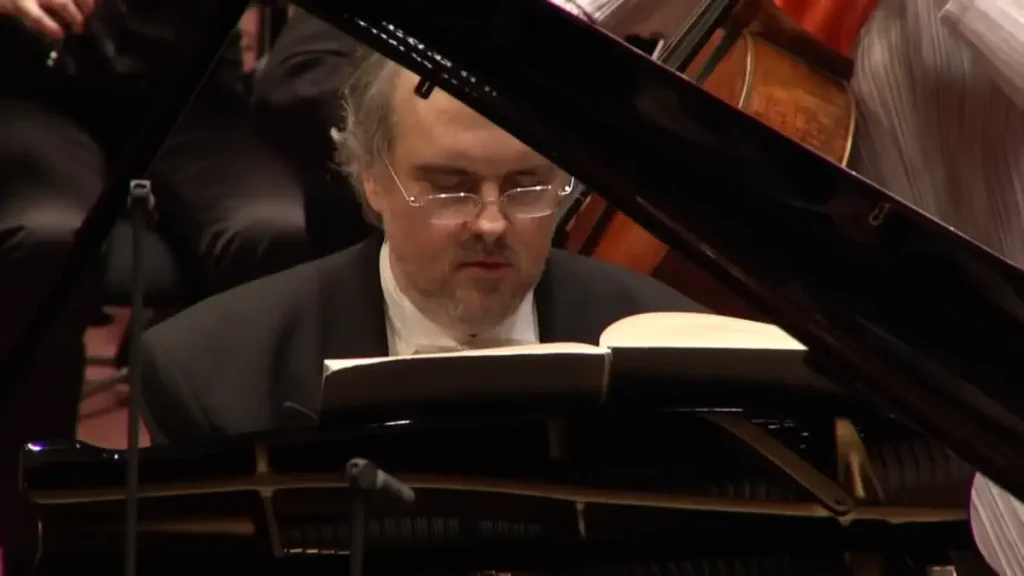 Nicholas Michael Angelich (December 14, 1970 – April 18, 2022) was an American pianist.
He was born in Cincinnati, Ohio, on December 14, 1970. His father, Borivoje Andjelitch, was a violinist; his mother, Clara Kadarjan, was a piano teacher who was originally from Russia. They met while studying at the Academy of Music, Belgrade, and he anglicized their family name to Angelich after they emigrated to the United States during the 1960s.
He started learning the piano with his mother at the age of five. Two years later, he gave his first concert performing Mozart's Piano Concerto No. 21, K. 467. He relocated to Paris when he was thirteen in order to study at the Conservatoire National Superieur de Musique, where his teachers included Aldo Ciccolini, Yvonne Loriod, Michel Beroff, and Marie-Françoise Bucquet.
Angelich studied with Leon Fleisher during his twenties. In 1989 he won second prize in the Casadesus International Piano Competition in Cleveland, Ohio, and won the first prize in the Gina Bachauer International Piano Competition five years later. He subsequently made his New York recital debut at the Alice Tully Hall in 1995, playing compositions by Franz Schubert, Sergei Rachmaninoff, and Maurice Ravel.
His performance received a positive review from Anthony Tommasini, who observed how Angelich "boasts a prodigious technique, but wields it with a poise uncommon in someone so young". Angelich received the Young Talent Award at the 2002 Klavier-Festival Ruhr. He performed with major French orchestras under the conductors Myung-whun Chung and David Robertson.
He made his debut with the New York Philharmonic under Kurt Masur in May 2003, playing the Emperor Concerto. He then toured Japan with Masur and the Orchestre National de France the following year. His recording of Brahms trios with Renaud Capuçon and Gautier Capuçon for Erato Records received a Preis der deutschen Schallplattenkritik.
During his 2009-10 tour, Angelich gave recitals in Queen Elizabeth Hall (London), Teatro della Pergola (Florence), Milan Conservatory, The Hague, and Theatre du Chatelet (Paris). Considered one of the great pianists of our time, he was featured on the cover of the October 2009 issue of International Piano, whose feature article is about his recording of Brahms's Op.116 to Op.119 on the Erato Records label.
Angelich later performed Ravel's Concerto for the Left Hand at the opening of the Royal Scottish National Orchestra's 2010-2011 season in Dundee's Caird Hall, Edinburgh's Usher Hall, and Glasgow Royal Concert Hall from September 23 to 25 under conductor Stéphane Denève.
Angelich again played under Denève with the Philadelphia Orchestra in 2018. He stopped performing in 2021.
He died on April 18, 2022, of degenerative lung failure.
Gil Shaham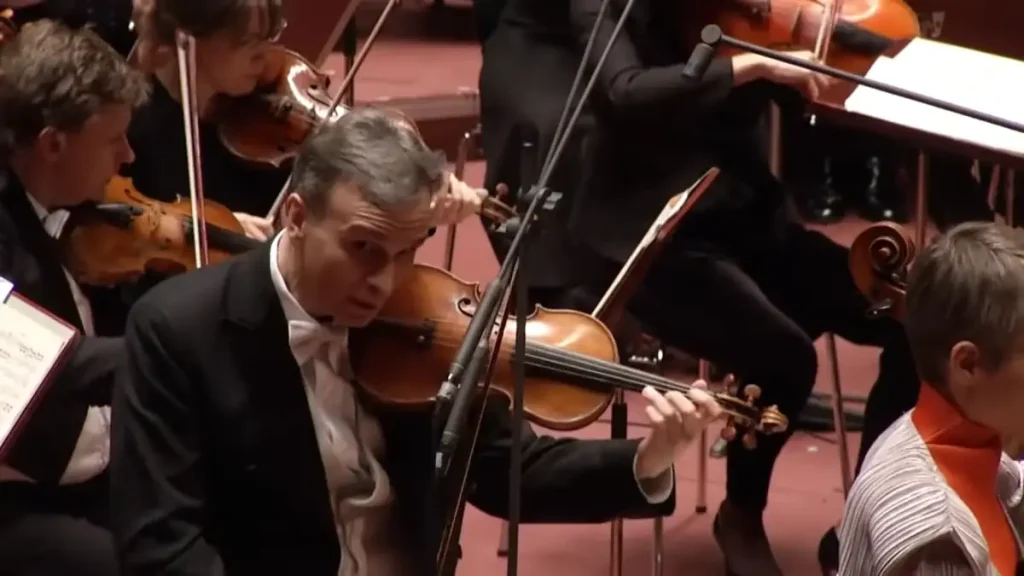 Gil Shaham (born February 19, 1971) is an American violinist of Israeli-Jewish descent.
Gil Shaham was born in Urbana, Illinois, while his Israeli parents were on an academic fellowship at the University of Illinois. His father Jacob was an astrophysicist and his mother Meira Diskin was a cytogeneticist. His sister is the pianist Orli Shaham. His brother Shai Shaham is the head of the Laboratory of Developmental Genetics at Rockefeller University.
Gil Shaham is a graduate of the Horace Mann School in New York. When he was two the family moved to Jerusalem, where he started violin lessons at the Rubin Academy of Music aged seven, winning annual scholarships from the America-Israel Cultural Foundation. He subsequently attended Aspen Music Festival and School in Colorado, studying with Dorothy DeLay and Jens Ellermann, and won a scholarship to the Juilliard School. He and his sister Orli also studied at Columbia University.
Shaham debuted as a soloist with the Jerusalem Symphony at age 10. He performed with the Israel Philharmonic, Israel's foremost orchestra, less than a year later. Shaham won first prize in the Claremont Competition aged 11 and was admitted to Juilliard, where he studied with Dorothy DeLay and Hyo Kang.
Shaham's career advanced in 1989 when, while a senior at Horace Mann, he replaced an ailing Itzhak Perlman to perform the Bruch and Sibelius violin concertos with the London Symphony Orchestra at the Royal Festival Hall.
Shaham won the Avery Fisher Career Grant in 1990, and the Premio Internazionale of the Accademia Chigiana in Siena in 1992.
Shaham has performed with many leading orchestras, including the New York Philharmonic, Berlin Philharmonic, Toronto Symphony Orchestra, Vienna Philharmonic, Israel Philharmonic Orchestra, Chicago Symphony Orchestra, Boston Symphony Orchestra, Los Angeles Philharmonic, Russian National Orchestra, Academy of St. Martin in the Fields, San Francisco Symphony Orchestra, Philadelphia Orchestra, and National Youth Orchestra of the United States of America.
Shaham has played the "Comtesse de Polignac", a Stradivarius violin of 1699 on loan from the Stradivarius Society of Chicago, since 1989.
Anne Gastinel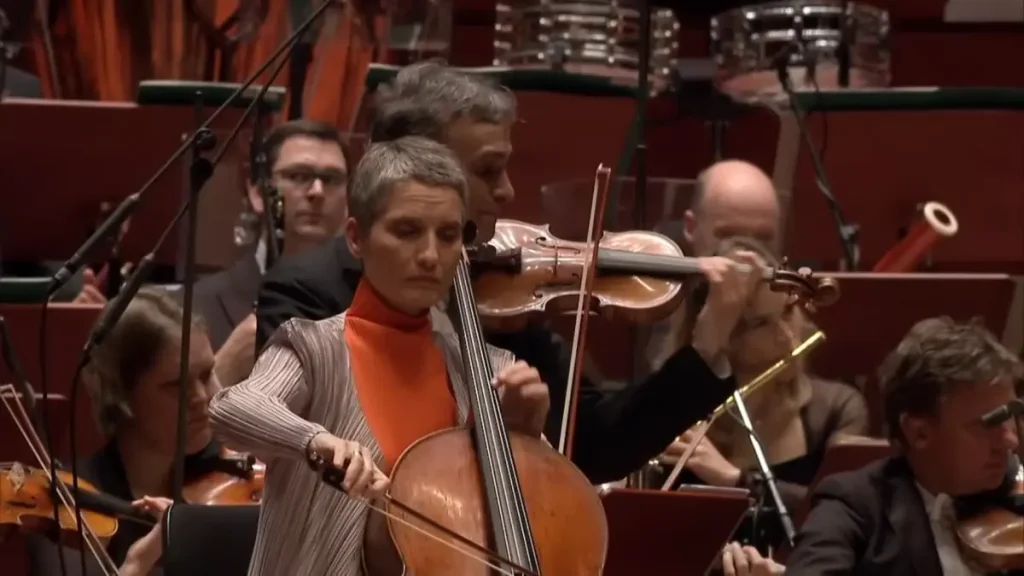 Anne Gastinel is a French cellist and professor. She was born on October 14, 1971, in the town of Tassin-la-Demi-Lune. Tassin-la-Demi-Lune is in the southeast of France close to Lyon.
Both of her parents are musicians and passed their passion down to their children. Her father composes pieces and her mother plays the piano.
Her musical career started at the age of four when she began playing one of her sister's cellos as well as began studying the piano and oboe. Her first televised concert with an orchestra was at the age of ten where she was a soloist (1981). One year after her televised solo, Gastinel entered the Lyons Conservatory School to begin her formal music education.
At age the age of 15 (1986), Gastinel finished first place in her class at the Musical Conservatory School in Lyon, France. After her time in Lyon she moved on to study at the more advanced National Musical Conservatory in Paris. In Paris her teachers included famous musicians and fellow cellists such as Yo-Yo Ma, Paul Tortelier, and János Starker; all of whom made their impression on her and her musical style.
In 1990 Gastinel competed on the Eurovision Tournament in Vienna, where she represented France. She has participated in many more international contests since then and has done extremely well in several including the Cheveningen, Prague, and Rostropovich Competitions. Gastinel was the first French artist to reach the finals in the Prague International Competition in forty years and won first place in the International Competition of Scheveningen.
By the young age of 18 (1989), this child prodigy had already performed in more than 50 cities all over Europe. Later on she began a worldwide solo career. She has traveled worldwide around many different continents such as Europe, Africa, Asia, and the Americas and has won many prizes for her work.
She has played at many famous musical halls around the world during her years of touring. Some of the more notable venues are Santori Hall in Tokyo Japan, Victoria Hall in Geneva Switzerland, Berlin Konzerthaus in Germany, the Théâtre des Champs Elysées in Paris, France, and Victoria Hall in London, England.
Gastinel has been awarded many prizes for her performances and albums.
She was named "Victore of Music" in all three categories of competition; most inspirational, best track of the year, and soloist of the year. Gastinel is the only musician who has completed this feat.
She also received awards early on in her musical career such as "Most Promising Young Talent" in 1994 and Best Recording of the year in 1995 as well as the Prix-Fnac in 1995 and 2000.
She was named "Woman of Gold" in 2002 for her work in the performing arts category.
In 1997, Gastinel was named the Ambassador of the French cello and thus was chosen to play Pablo Casal's Goffriller cello (valued at 5 million francs) for one year by Pablo Casal's wife, New Yorker Marta Casals-Istomin.
Currently, she plays on a 1690 Testore cello given to her by the Fonds Instrumental Francais Association.
Gastinel has recorded 14 albums since 1989 and many of them have been collaborations. She is mainly associated with the recording label Naive but she has also worked with the record labels Valois and Ottavo. Gastinel has worked with several pianists including François-Frédéric Guy on several different albums and Claire Désert on her album Schubert: Arpeggione in 2006.
She also collaborated with guitarist Pablo Marquez on her Spanish-influenced album, Iberica, in 2009. Gastinel mainly plays classical and baroque music and has played many pieces by famous musicians such as Haydn, Rachmaninov, Brahms, Strauss, Dvorak, Bach, Beethoven, and Debussy. Gastinel is still an active musician and has been invited to be a soloist at the Choeur Britten concert on the 15th of April 2014.
Gastinel has played famous pieces in famous concert halls, she has played under the direction of several famous conductors, and she also has played with many other talented musicians including but not limited to German conductor Kurt Sanderling, French conductor Emmanuel Krivine, Russian conductor Semyon Bychkov, Israeli conductor Pinchas Steinberg, Russian violinist Yuri Bashmet, and English violinist Lord Yehudi Menuhin.
Gastinel is now not only a musician but has also been a professor of cello in Lyon at the National Conservatory of Music and Dance since 2003. This is the same school she started her formal musical education many years earlier. In an interview, Gastinel described the essence of music as the joy of personal exchange and sharing passion.
She is married, has two children, Jules and Madeline, and still lives in Lyon.
Notes
Breitkopf & Härtel is the world's oldest music publishing house. The firm was founded in 1719 in Leipzig by Bernhard Christoph Breitkopf. The catalog currently contains over 1,000 composers, 8,000 works, and 15,000 music editions or books on music. The name "Härtel" was added when Gottfried Christoph Härtel took over the company in 1795. In 1807, Härtel began to manufacture pianos, an endeavor that lasted until 1870. The Breitkopf pianos were highly esteemed in the 19th century by pianists like Franz Liszt and Clara Schumann. The company has consistently supported contemporary composers and had a close editorial collaboration with Beethoven, Haydn, Mendelssohn, Robert Schumann, Chopin, Liszt, Wagner, and Brahms. They also published Mozart's first complete works edition, the so-called Alte Mozart-Ausgabe. This tradition continues today with prominent contemporary composers.
Sources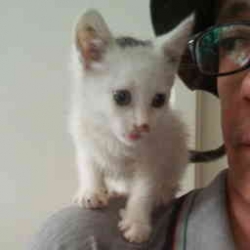 Latest posts by M. Özgür Nevres
(see all)