Conducted by Emmanuelle Haïm, the hr-Sinfonieorchester (Frankfurt Radio Symphony Orchestra) and an instrumental and vocal ensemble dedicated to baroque music, directed by Emmanuelle Haïm, Chœur du Concert D'Astrée perform Johann Sebastian Bach's Magnificat, BWV 243, a musical setting of the biblical canticle Magnificat and one of Bach's most popular choral works. Soloists: Emőke Baráth, soprano; Lea Desandre, mezzo-soprano; Damien Guillon, countertenor; Patrick Grahl, tenor; Victor Sicard, baritone.
History of Magnificat BWV 243
In 1723, after taking up his post as Thomaskantor in Leipzig, Bach set the text of the Magnificat in a twelve-movement composition in the key of E-flat major. For a performance at Christmas he inserted four hymns (laudes) related to that feast. This version, including the Christmas interpolations, was given the number BWV 243a in the catalog of Bach's works.
For the feast of Visitation of 1733, Bach produced a new version of his Latin Magnificat, without the Christmas hymns: instrumentation of some movements was altered or expanded, and the key changed from E-flat major to D major, for performance reasons of the trumpet parts. This version of Bach's Magnificat is known as BWV 243.
After the publication of both versions in the 19th century, the second version, BWV 243, became the standard for performance.
Structure and movements
#. Traditional verse division – Text source – Bach's Magnificat
Magnificat anima mea Dominum. – Luke 1:46 – movement 1
Et exultavit spiritus meus in Deo salutari meo. – Luke 1:47 – movement 2
Quia respexit humilitatem ancillae suae ecce enim ex hoc beatam me dicent omnes generationes. – Luke 1:48 – movement 3 and 4
Quia fecit mihi magna qui potens est et sanctum nomen ejus. – Luke 1:49 – movement 5
Et misericordia ejus a progenie in progenies timentibus eum. – Luke 1:50 – movement 6
Fecit potentiam in brachio suo dispersit superbos mente cordis sui. – Luke 1:51 – movement 7
Deposuit potentes de sede et exaltavit humiles. – Luke 1:52 – movement 8
Esurientes implevit bonis et divites dimisit inanes. – Luke 1:53 – movement 9
Suscepit Israel puerum suum recordatus misericordiae suae. – Luke 1:54 – movement 10
Sicut locutus est ad patres nostros Abraham et semini ejus in saecula. – Luke 1:55 – movement 11
Gloria Patri, et Filio et Spiritui Sancto. – Doxology – movement 12, common time time part
Sicut erat in principio, et nunc, et semper et in saecula saeculorum. Amen. – Doxology – movement 12, 3/4 time part
Chœur du Concert D'Astrée
An instrumental and vocal ensemble dedicated to baroque music, directed by Emmanuelle Haïm, Chœur du Concert D'Astrée is today one of the jewels of the Baroque repertoire in the world. Founded in 2000 by Emmanuelle Haïm, which brings together accomplished instrumentalists sharing a temperament and a stylistic vision that is both expressive and natural, Chœur du Concert D'Astrée is a success. In 2003, the ensemble received the Victoire de la Musique Classique for Best Ensemble of the Year and in 2008 was named Alte Musik Ensemble of the Year at the Echo Deutscher Musikpreis in Germany.
Emőke Baráth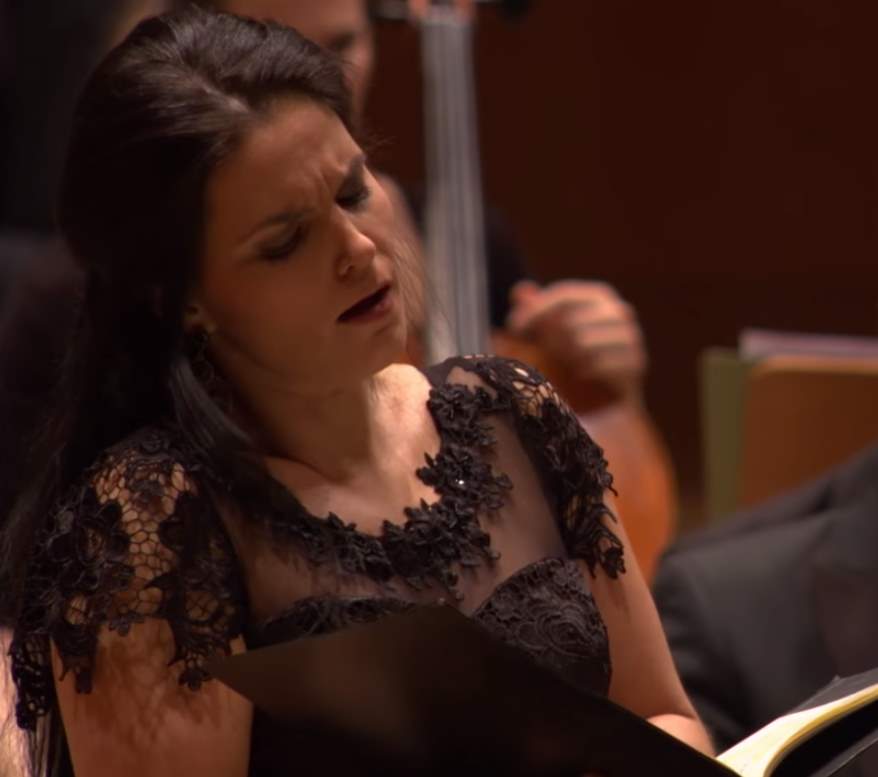 Emőke Baráth (birth: 1985) is a Hungarian soprano. Her musical training began at age six with piano, she later also played cello and the harp. She started singing at the age of 18 with Julia Pászthy at the Franz Liszt Music Academy in Budapest. She has won numerous awards between 2003 and 2011.
She has a beautiful, clear voice and secure technique, and naturally, she achieved success in the international singing competitions. This opened the artist's rapid career start in the major opera houses and important concert stages.
Lea Desandre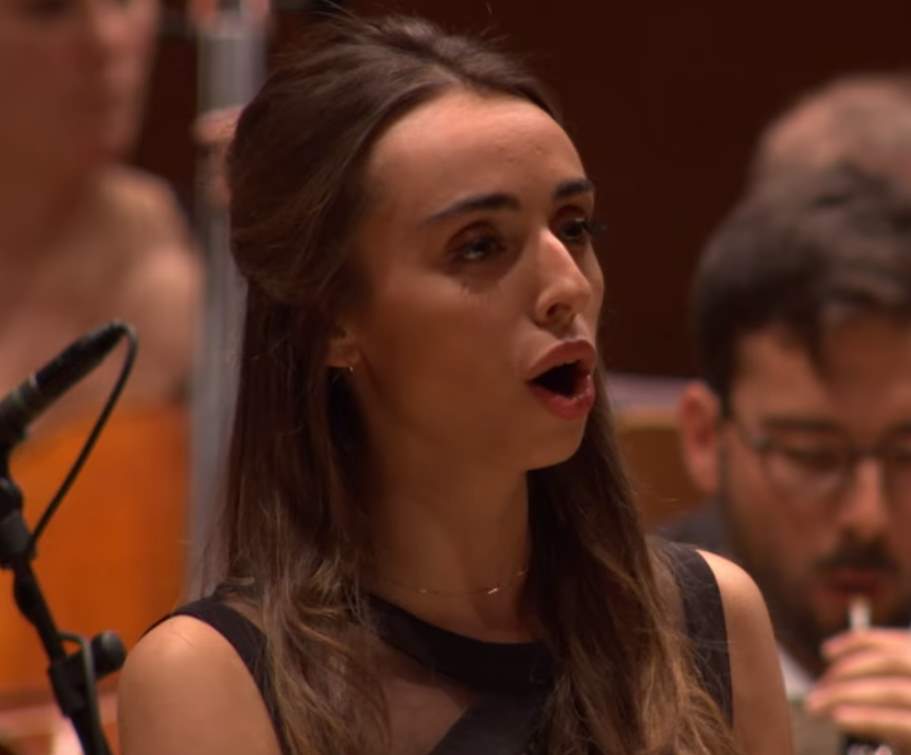 The operatic newcomer award winner at France's Victoires de la Musique Classique 2017, the Franco-Italian mezzo-soprano Lea Desandre also won the HSBC prize at the Festival of Aix en Provence in 2016. Having trained in Paris, then in Venice, with Sara Mingardo, she was also a ballet dancer for 12 years.
At the young age of 20, she was the winner of the prestigious Jardin des Voix of William Christie with whom she set off on a world tour: Alice Tully Hall, Sydney Opera House, Tchaikovsky Concert Hall, KKL Luzern, Philharmonie de Paris. After embodying Dorabella in the premiere of Nicolas Bacri's Cosi Fanciulli at the Théâtre des Champs Elysées in 2014, she first appeared at the Shanghai Symphony Hall in the works of Handel, as Sesto (Giulio Cesare) and Ruggiero (Alcina) conducted by David Stern, then at the Theater an der Wien with Raphael Pichon as Céphise in Zoroastre (Rameau).
The 2017 season has presented for this mezzo-soprano the opportunity to make her debut on the Paris stage at the Opéra-Comique in the title role of Alcione (Marin Marais) conducted by Jordi Savall. She has also stood out in the role of Messaggiera in Orfeo (Monteverdi) at the Musikverein Wien, in Madrid and at the Philharmonie de Paris, as well as the Festival d'Aix in Provence as Flerida in a new production of Erismena (Cavalli).
For this new season, Lea Desandre will make her Mozart debut as Annio with Marc Minkowski in La Clemenza di Tito in Prague, then she will sing her first Requiem at the Opéra de Versailles conducted by Jean-Claude Malgoire. The fall of 2017 will be American: she will be Dido (Purcell) with William Christie at the Walt Disney Concert Hall, then revive the role of Messaggiera (Orfeo) with Sir John Eliot Gardiner at the Harris Theater Chicago & Alice Tully Hall; all of which will occur after a Monteverdi tour in Washington and NY with the Opera Lafayette conducted by Thomas Dunford. She will then work again with Emmanuelle Haïm for Bach's Magnificat and Christophe Rousset and the Opéra-Comique in the title role of Et in Arcadia Ego, an opera-ballet based on Rameau.
The end of the season will be marked by her debut in Salzburg at the Easter Festival in La Périchole (Offenbach) as well as the Summer Festival in L'Incoronazione di Poppea (Monteverdi).
Deeply attached to chamber music, Lea Desandre also gives recitals with her accomplice the lutist Thomas Dunford (Konzerthaus Wien, Opéra de Bordeaux, Salle Cortot) or else French song with the pianist Sarah Ristorcelli.
Damien Guillon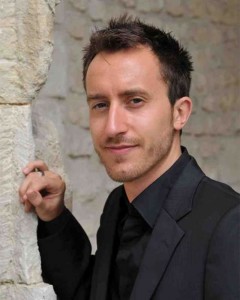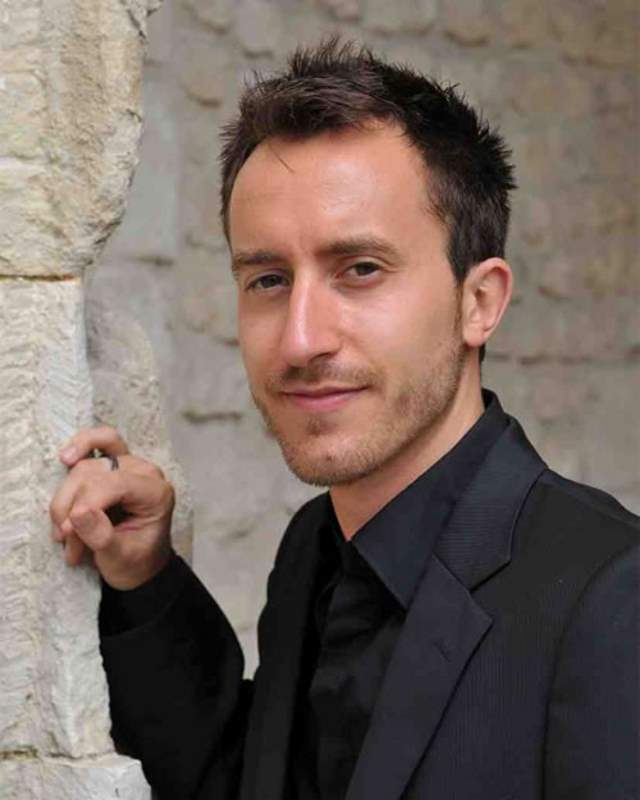 Damien Guillon is a French countertenor. He has begun his musical education in 1989 at the Maîtrise de Bretagne supervised by Jean-Michel Noël. He received a full music education from his youngest age and quickly begun singing as a soprano soloist in many baroque oratorios as well as at the Rennes Opera in The Magic Flute by Mozart.
Between 1998 and 2001, he was a member of the Maîtrise du Centre de Musique Baroque de Versailles directed by Olivier Schneebeli, where he improved his vocal technique and deepened his research about early music interpretations with Howard Crook, Jérome Corréas, Alain Buet, Noëlle Barker. In 2004, he admitted at the Schola Cantorum Basiliensis to receive the teaching of Andreas Scholl. At the same time, he studied organ with Frédéric Desenclos and Véronique Le Guen and graduated in Boulogne-Billancourt Conservatory (continuo and harpsichord).
Guillon's repertoire ranges from songs of the English Renaissance to Baroque oratorios and operas by Monteverdi (L'Incoronazione di Poppea), Bach (Saint John Passion, Saint Matthew Passion, Mass in B minor, Lutheran masses, Christmas Oratorio and cantatas for solo alto), Händel (The Messiah), Purcell (King Arthur and Dido and Aeneas) etc…
He performed in several staged productions such as Händel's Athalie (Paul McCreesh in Ambronay), Teseo (Gilbert Bezzina, Nice Opera) and Giulio Cesare (François-Xavier Roth, Yannis Kokkos, Théâtre de Caen), Monteverdi's Il Ritorno d'Ulisse in Patria (Philippe Pierlot, Théâtre de La Monnaie, Brussels) or, recently, Landi's Il Sant' Alessio (William Christie and Les Arts Florissants).
Guillon is the leader of the early music ensemble "Le Banquet Celeste".
Patrick Grahl
German tenor Patrick Grahl was born in Leipzig and was initially a member of the St. Thomas Choir of Leipzig under Georg Christoph Biller; he then went on to complete his singing training at the Felix Mendelssohn-Bartholdy Academy of Music in Leipzig with Professor Berthold Schmid, graduating with distinction in the master-class examination. Patrick Grahl attended master-classes held by Peter Schreier, Gotthold Schwarz, Gerd Türk, Ileana Cotrubas and Prof. Karl-Peter Kammerlander which gave him decisive momentum for his artistic development. While still a student Patrick Grahl was able to work on and perform roles such as Alfred (in Die Fledermaus by Johann Strauß), Tamino (in Mozart's Die Zauber öte) and Albert (in Albert Herring by Britten). He was also to be heard as the Young Servant in Elektra by Richard Strauss, and as Shepherd / Voice of a Young Sailor in Richard Wagner's Tristan und Isolde at the Opéra National de Lyon. During the current season, Patrick Grahl gives guest appearances as Don Ottavio in Mozart's Don Giovanni at the Teatro La Fenice di Venezia. In 2016 the tenor won first prize at the XX International Johann Sebastian Bach Competition in Leipzig. He is already much in demand as an oratorio and concert singer and has been invited to perform as soloist with orchestras such as the Leipzig Gewandhausorchester, the Dresden Philharmonic, the NDR Radio Philharmonic, the Gürzenichorchester Cologne as well as the Accademia Nazionale di Santa Cecilia and the London Symphony Orchestra; he has worked with conductors such as Sir John Eliot Gardiner, Daniele Gatti, Hartmut Haenchen, Ludwig Güttler, Peter Schreier, Andrew Manze and Leopold Hager. Patrick Grahl still has close ties with the St. Thomas Choir of Leipzig and with the Dresdner Kreuzchor.
Victor Sicard
Victor Sicard was born in La Rochelle, France, in 1987. He arrived in London in 2007 at the Guildhall School of Music and Drama to study with Professor David Pollard, his current teacher. In 2010 he obtained a First Class Honours Bachelor of Music, being awarded the Concert Recital Prize and a Masters with Distinction. He studied in the Opera Course in the GSMD (2010-2012) with a full scholarship. While finishing his studies, he was employed by the Glyndebourne Festival Opera for the summer festival 2012. Victor was a trainee at the National Opera Studio supported by the Royal Opera House in 2012/2013. He also took part in the international tour of the Jardin des Voix, accompanied by the orchestra of Les Arts Florissants under the direction of William Christie in 2013. His collaboration with this ensemble is continuing as they will tour the world with French Actor Denis Podalydès until 2016 with a concert about Louis the XIVth. Victor also works regularly as a soloist with Hervé Niquet and le Concert Spirituel, Emmanuelle Haïm and Le Concert d'Astrée, Vincent Dumestre and Le Poème Harmonique, Mathieu Romano et l'Ensemble Aedes and Vox Luminis.
His operatic repertoire includes the roles of Adario from Les Indes Galantes by Rameau in Washington D.C and New York, Gunter from Wilde by H. Parra for the Schwetzinger Festpiele, Apollon from la Descente d'Orphée aux Enfers and Pan from Amor vince ogni cosa both by Charpentier with Emmanuelle Haïm at Lille Opera House and Dijon opera House, from Dr Falke from Die Fledermaus by Strauss for the Linz National Opera, Tom Cat and Grand Father's Clock from L'Enfant et les sortilèges by Ravel for Glyndebourne Festival Opera, Aeneas from Dido and Aeneas by Purcell with William Christie and Les Arts Florissants, Count Almaviva and Figaro from Le Nozze di Figaro by Mozart, Papageno from Die Zauberflöte by Mozart, Gasparo from Rita by Donizetti, Herr Fluth from Die Lustigen Weiber von Windsor by Nicolai and Demetrius from A Midsummer Night's Dream at the Barbican Theatre for the GSMD, excerpts from The Rape of Lucretia (Junius), Don Giovanni (Don Giovanni), Falstaff (Ford) and La Traviata (Germont) for the GSMD.
Recently, Victor won the First male prize, the Young singer prize and the Best French interpret prize at the 24th international Competition in Marmande (France). He has also won the first prize at the Mozart Singing Competition 2011, the first prize at the 23rd International competition FLAME in Paris, the first prize at the 23rd International competition Paper de Musica in Barcelona with pianist Anna Cardona, and the first prize at the International Mirabent i Magrans Competition 2011, the second prize at the Jackdaws Vocal Awards 2010 and the second prize winner with Anna Cardona in the Oxford Lieder Young Artist Platform. This award includes a series of sponsored recitals across the UK next year. He was also a finalist of the Guildhall Gold Medal in May 2011 in the Barbican Hall and of the Kathleen Ferrier Awards in April 2011 in the Wigmore Hall.
His baritone soloist Oratorio repertoire includes Carmina Burana by Orff and the Belshazzar's Feast by Walton for the Worthing Philharmonic Orchestra, Ein Deutsches Requiem by Brahms, Requiem by Fauré, Dixit Dominus by Vivaldi, Theresa Mass by Haydn and the Mass in E flat Major by Schubert for the Orchestra of the West of France, La Petite Messe solennelle by Rossini for the Conquest Oratorio Festival, Magnificat in D and St Matthew's Passion by Bach for the Southampton Choral Society.
Victor was awarded a scholarship from the Lionel Anthony charitable trust, an award from SAFRAN, an INDEPENDENT OPERA Vocal Scholarship at the Guildhall School of Music and Drama in 2011 and an award from the TANA Charitable trust to study next year at the National Opera Studio. He is also very grateful for the support of the Guildhall School Trust, the Vandervell Foundation, the Music Students' Hostel Trust, Karl Grossfield and would like to thank Anna Cardona for her unimaginable help.
Sources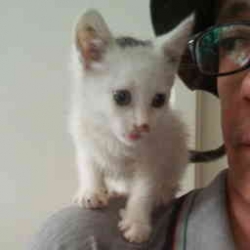 Latest posts by M. Özgür Nevres
(see all)