Accompanied by the Dallas Symphony Orchestra, Italian-German-American Grammy-winning classical violinist Augustin Hadelich performs Pyotr Ilyich Tchaikovsky's Violin Concerto in D major, Op. 35. Conductor: Gemma New. Recorded live in Dallas on April 23, 2021.
Tchaikovsky's Violin Concerto in D major, Op. 35
Written in 1878, Tchaikovsky's Violin Concerto in D major, Op. 35 is one of the best-known violin concertos and is considered one of the most technically difficult works for the violin.
It is scored for two flutes, two oboes, two clarinets in A and B-flat, two bassoons, four horns in F, two trumpets in D, timpani, and strings. The first performance of the concerto was scheduled for 10/22 March 1879 at a concert of the Russian Musical Society in Saint Petersburg, to be performed by Leopold Auer, the Hungarian violinist, teacher, and composer (b. 7 June 1845 in Veszprém, Austria-Hungary; d. 15 July 1930 in Loschwitz, Germany).
The piece is in three movements (there is no break or pause between the second and third movements):
Allegro moderato (D major)
Canzonetta: Andante (G minor)
Finale: Allegro vivacissimo (D major)
The story of Tchaikovsky's Violin Concerto
Early in 1878, Tchaikovsky was staying at Clarens as a guest, with his former student, the violinist Iosif Kotek. Together with Kotek, he played through a large selection from the violin repertoire, and in particular the French composer Lalo's Symphonie Espagnole which seems inspired him to write a violin concerto.
On 5/17 March Tchaikovsky wrote to Nadezhda von Meck: "This evening I was seized… quite unexpectedly with a burning inspiration…". He set aside his Grand Sonata, on which he had been working at the time, and began composition of the Violin Concerto. In a letter to Nadezhda von Meck on 7/19 March, Tchaikovsky noted that for the first time in his life, he had begun a new composition before completing the previous one.
"On this occasion, I could not overcome my desire to make rough sketches for a concerto, and afterward became so carried away that I abandoned work on the sonata".
In all his letters from this period, the composer remarks that he is carried away with work on the concerto, which, notwithstanding its novelty of form, came very easily to him. On 10/22 March, i.e. after five days, Tchaikovsky finished the first movement of the violin concerto; on 11/23 March he began the second movement (Andante), and on 14/26 March he told Nadezhda von Meck that he had "reached the finale" and the concerto would soon be ready.
On 16/28 March 1878, Tchaikovsky wrote: "Today I finished the concerto. It still has to be copied out and played through a few times… and then orchestrated. I shall start the copying out and add the finishing touches". The following day he began to make the fair copy.
After playing through the concerto with Iosif Kotek, Tchaikovsky decided to write a new Andante, though the first movement and finale were considered satisfactory. On 24 March/5 April, Tchaikovsky wrote the new Andante, which in his words was: "better suited to the concerto's other two movements". He decided to add two other violin pieces to the original Andante (which was restyled Méditation) to form the cycle Souvenir d'un lieu cher, Op. 42).
Therefore, by 24 March/5 April, all the sketches were ready, including the new Andante, and the piano arrangement of the first movement. In a letter of 24 March/5 April, Tchaikovsky told Nadezhda von Meck: "Today my concerto might be called completely finished. Tomorrow I shall launch myself into the full score, and aim to finish this while the work is still fresh in my thoughts". On 30 March/11 April the full score was ready.
Tchaikovsky also arranged his violin concerto for violin with piano accompaniment, between 17/29 March and 24 March 1878.
Augustin Hadelich
Augustin Hadelich (born April 4, 1984) is an Italian-German-American Grammy-winning classical violinist.
He was born in Cecina, Italy, to German parents.
His 2 older brothers were already playing cello and piano when Augustin (age 5) began his studies on the violin with his father, an agriculturalist, and amateur cellist. In his early musical development, Hadelich progressed in his studies through irregular lessons and masterclasses from violinists traveling near the Hadelich farm in rural Tuscany, including Uto Ughi, Christoph Poppen, Igor Ozim, and Norbert Brainin. Hadelich enjoyed a blossoming career as a wunderkind violinist, pianist, and composer in Germany.
In 1999, Augustin Hadelich was injured in a fire on his family's farm in Italy and was airlifted to be treated in Germany. The accident left Hadelich unable to play for over a year.
After his recovery, Hadelich graduated summa cum laude from the Instituto Mascagni in Livorno, Italy, and successfully auditioned for admission to The Juilliard School.
From 2004 to 2007, Hadelich studied at Juilliard with Joel Smirnoff, graduating with a Graduate Diploma (2005) and an Artist Diploma (2007). After graduating, Hadelich continued to make his home in New York and became an American citizen in 2014.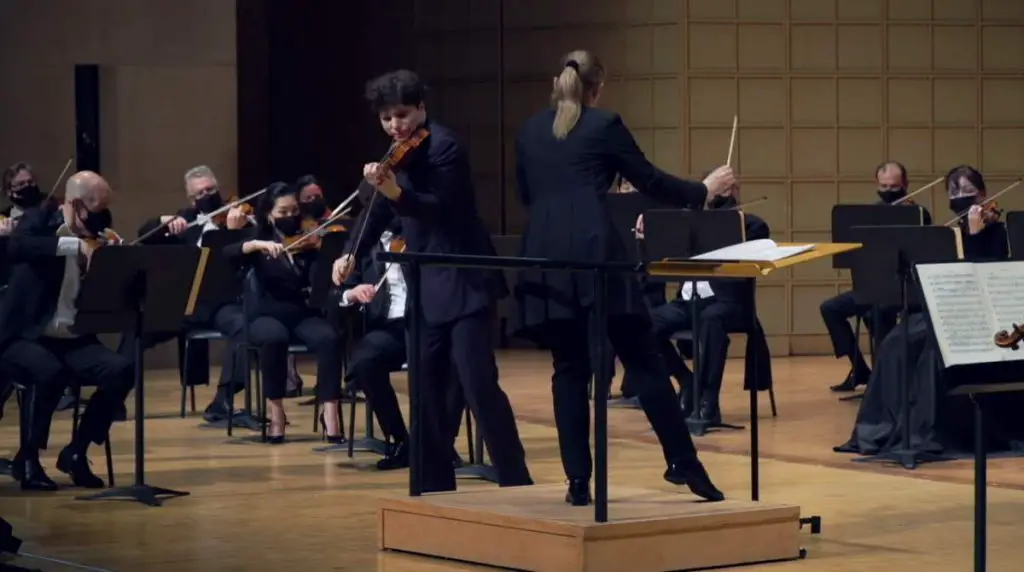 Shortly after winning first prize at the International Violin Competition of Indianapolis in 2006, Augustin Hadelich proved himself ready for the world stage through several short-notice substitutions with major orchestras. In 2008 he filled in for Julian Rachlin at the Hollywood Bowl, performing with the Los Angeles Philharmonic. In 2010, Hadelich made his New York Philharmonic debut at the Bravo! Vail Festival substituting for violinist Nikolaj Znaider.
In the ensuing decade, he returned to the Los Angeles Philharmonic and the New York Philharmonic numerous times and performed with all other major orchestras in North America
In 2019 he was named Artist in Association with the NDR Elbphilharmonie Orchestra in Hamburg, a title he will hold for 3 years.
Hadelich is known to perform a wide range of repertoire. Although he is often scheduled to perform from the standard violin concerto repertoire (Beethoven, Brahms, Sibelius, Tchaikovsky, etc.), he is also a champion of contemporary works, such as the violin concertos by Thomas Adès, Henri Dutilleux, and György Ligeti, and recital works by Brett Dean, David Lang, György Kurtag, Toru Takemitsu and Bernd Alois Zimmermann.
Awards and accolades
Augustin Hadelich was named the 2018 "Instrumentalist of the Year" by Musical America.
In December 2017, Hadelich was awarded an honorary doctorate from the University of Exeter in the UK.
In February 2016, he won his first Grammy Award for the Best Classical Instrumental Solo category at the 58th Grammy Awards in Los Angeles for his performance of Henri Dutilleux's Violin Concerto, 'L'arbre des songes', with the Seattle Symphony and music director Ludovic Morlot on the Seattle Symphony Media label.
In October 2015, Hadelich became the inaugural winner of the Warner Music Prize, which includes a grant of $100,000 and a recording opportunity with Warner Classics.
He won the gold medal at the 2006 International Violin Competition of Indianapolis, where he also received several additional accolades, including the best performance of a Romantic concerto, Classical concerto, Beethoven sonata, violin sonata other than Beethoven, Bach work, commissioned work, encore piece, and Paganini caprice.
He has also received an Avery Fisher Career Grant (2009), a Borletti-Buitoni Trust Fellowship (2011), and Lincoln Center's Martin E. Segal Award (2012).
Dallas Symphony Orchestra
The Dallas Symphony Orchestra (DSO) is an American orchestra based in Dallas, Texas. Its principal performing venue is the Morton H. Meyerson Symphony Center in the Arts District of downtown Dallas.
The orchestra traces its origins to a concert given by a group of forty musicians in 1900 with conductor Hans Kreissig. It continued to perform and grow in numbers and stature, so in 1945 it was in a position to appoint Antal Doráti as music director.
Under Doráti, the orchestra became fully professional. Several times during the history of the orchestra it has suspended operations, including periods during the First and Second World Wars from 1914 to 1918 and from 1942 to 1945, and more recently in 1974 due to fiscal restraints. Subsequent music directors have included Georg Solti, Anshel Brusilow, and Eduardo Mata.
Andrew Litton was music director from 1994 to 2006. During Litton's tenure, the orchestra recorded the four Rachmaninoff piano concerti and the Rhapsody on a Theme of Paganini with Stephen Hough for Hyperion Records.
In 2007, Jaap van Zweden was named the DSO's 15th music director and began his tenure in the 2008-2009 season with an initial contract of four years. In October 2009, the orchestra announced the extension of van Zweden's contract through the 2015-2016 season.
In November 2013, the orchestra announced a further extension of van Zweden's contract through 2019. In January 2016, the orchestra announced the rescheduled conclusion of van Zweden's tenure as music director after the 2017-2018 season, after which time he was scheduled to serve as the orchestra's conductor laureate from 2018 through 2021.
In 2002, Fabio Luisi first guest-conducted the orchestra. His next Dallas guest-conducting appearance was in March 2018. On the basis of this guest-conducting engagement, in June 2018, the orchestra named Luisi its next music director, effective with the 2020-2021 season. He held the title of music director-designate in the 2019-2020 season. In January 2021, the orchestra announced the extension of Luisi's contract as music director through 2029.
The current (as of 2022) president and chief executive officer of the orchestra is Kim Noltemy. In October 2018, the orchestra announced the appointment of Gemma New as its next principal guest conductor, the first female conductor to hold the title, effective with the 2019-2020 season. She was reappointed to this position for the 2022-2023 season.
Gemma New
Gemma New (born 27 December 1986) is a New Zealand-born conductor. In 2022 she was appointed principal conductor of the New Zealand Symphony Orchestra, becoming the first woman to hold the position in the orchestra's 75-year history.
Born into a musical family, New began violin studies at age 5, and piano lessons at age 8. By age 12, she was playing in a youth orchestra in Wellington. As a teenager, she conducted the Christchurch Youth Orchestra. New attended Samuel Marsden Collegiate School, in Karori, Wellington, from 1991-2004.
New read physics, mathematics, and music at the University of Canterbury, from which she graduated with a degree in music. She later earned a graduate degree in music from Baltimore, Maryland's Peabody Institute.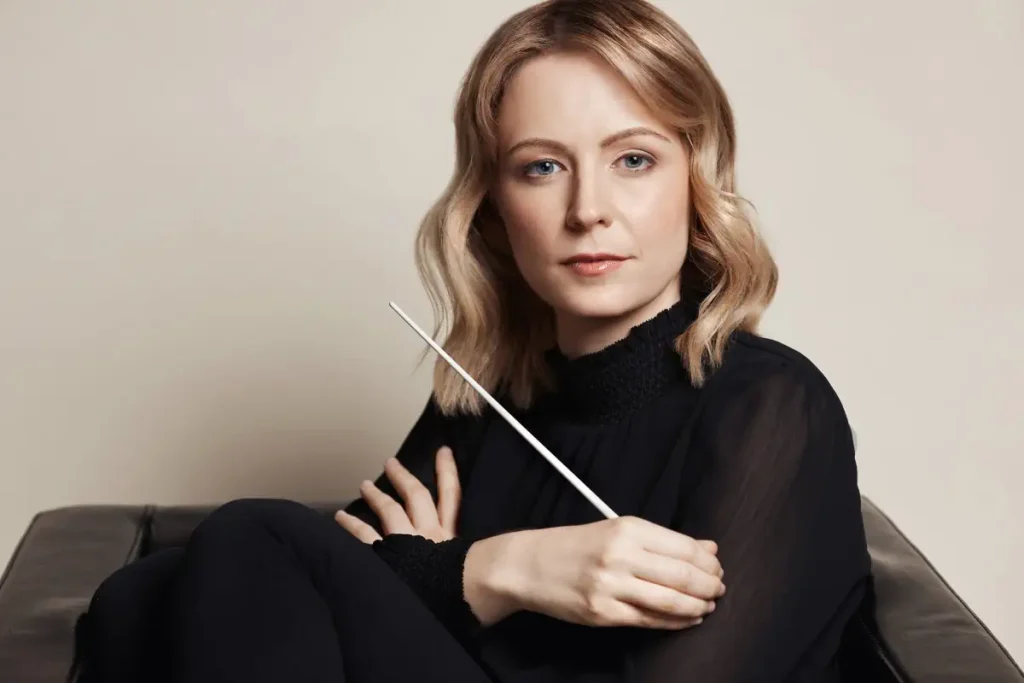 New founded and directed the Maryland music collective Lunar Ensemble, with which she has premiered 26 compositions. New was assistant conductor of the New Jersey Symphony Orchestra from 2011 to 2016. In the 2014-2015 season, she was a Dudamel Conducting Fellow with the Los Angeles Philharmonic Orchestra. In 2014, she was a Kurt Masur conducting fellow.
In May 2015, the Hamilton Philharmonic Orchestra (HPO) named New as its next music director, the first female conductor ever named to the post. This appointment marked New's first music directorship. Her first performance in the post was in February 2016. In May 2017, the HPO extended New's contract as music director through the 2020-2021 season.
In November 2020, the HPO announced a further extension of New's contract as music director through the 2023-2024 season.
In June 2016, New was appointed resident conductor of the St. Louis Symphony Orchestra (SLSO) and music director of the Saint Louis Symphony Youth Orchestra. In September 2018, New directed the opening concerts of the SLSO's 2018-2019 season, the first female conductor ever to do so. She stood down from her St. Louis posts at the close of the 2019-2020 season.
In October 2018, the Dallas Symphony Orchestra announced the appointment of New as its next principal guest conductor, the first female conductor to hold the title, effective with the 2019-2020 season. She was reappointed to this position for the 2022-2023 season.
The New Zealand Symphony Orchestra appointed her as their artistic adviser and principal conductor in 2022, the first woman to hold this position.
Gemma New is the recipient of the prestigious 2021 Sir Georg Solti Conducting Award.
Sources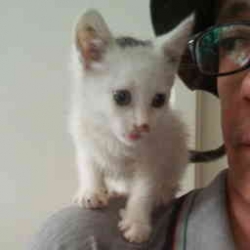 Latest posts by M. Özgür Nevres
(see all)