The Cossacks Ride Over the Danube is a famous Ukrainian folk song. Here it is played and sung by the Russian Alexandrov Ensemble (also known as the "Red Army Chorus"). The Alexandrov Ensemble has entertained audiences both in Russia and throughout the world, performing a range of music including folk tunes, hymns, operatic arias, and popular music.
In Ukrainian culture, the Danube is a mystical river that separates two worlds (our reality, life, and afterlife, life after death). If one says "to cross the Danube" means "to die", to "go to the other world". It is not the real river that is meant with the Danube in Ukrainian folk songs but this mystic river between that stands before life and death.
To drink water from this river (Danube) means to forget everything. There are many folk and love songs about this mystic Danube river in Ukrainian culture. So is the meaning in that song… Cossack was riding to face death in battle, with the risk to die and never returning.
Cossacks are a group of predominantly East Slavic people who became known as members of democratic, semi-military communities, predominantly located in Ukraine and in Southern Russia. They inhabited sparsely populated areas and islands in the lower Dnieper, Don, Terek, and Ural river basins and played an important role in the historical and cultural development of both Russia and Ukraine.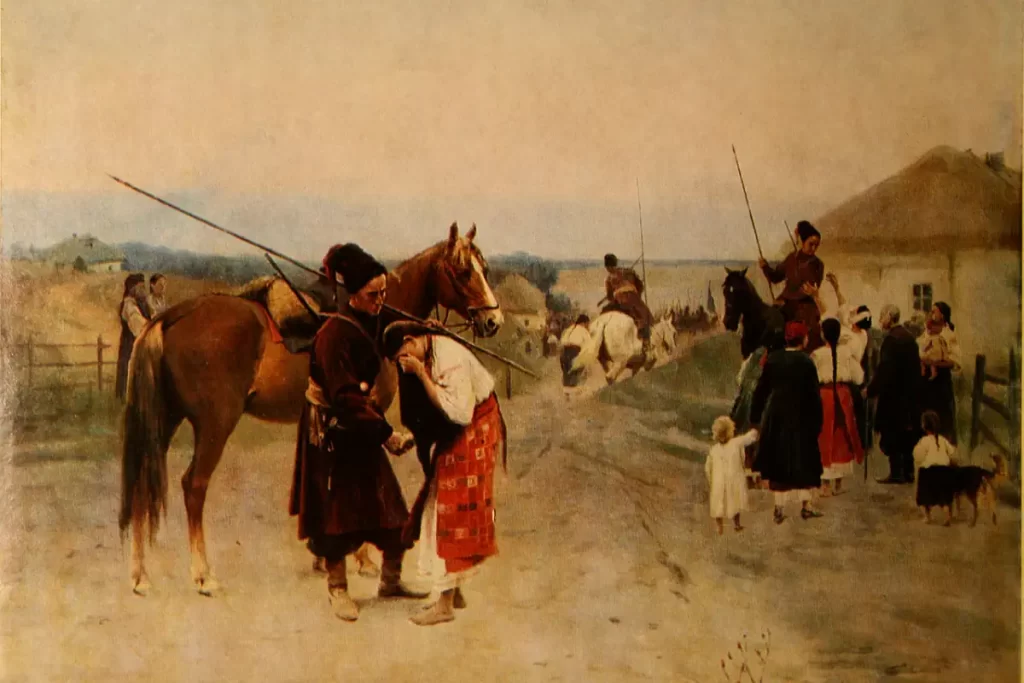 The Cossacks Ride Over the Danube, Live version – soloist: Anatoly Solovyanenko
Anatoliy Solovianenko (sometime transliterated as Anatolii Solovyanenko) (September 25, 1932 – 29 July 1999) was a Soviet operatic tenor, People's Artist of the USSR (before 1978), People's Artist of Ukraine, and State Taras Shevchenko prize-winner.
Conductor: Oleg Reshetkiin.
Principal conductor: Vladimir Gordeev.
Choirmaster: Grigori Novikov.
Choreographer: Lev Kulikov.
This was filmed in London in 1988. The video shows a choir of up to 36; orchestra and dance troupe are the usual size, though. This was originally planned as an Alexandrov Ensemble tour including a 28-piece orchestra, 27 dancers, a choir of 56*, and 12 excellent soloists, and a soundtrack of these was recorded at the Albert Hall, London, 24-26 March 1988.
However this may well have been a year of low morale for the Ensemble, between 1987 when their director B. A. Alexandrov retired, and 1989 when the Berlin Wall fell. Perhaps the Ensemble was suffering a funding crisis.
When the tour reached Leicester, the tiny but supportive audience talked of rumors of 20-25 defections by Ensemble members, and of V. Kuleshov and his own choristers stepping in to partially fill the gap. It was said that all of the Alexandrov Ensemble choir and soloists remaining after the defections had been recalled to the USSR.
* Some interesting names listed in the original choir (not seen here) were: Oleg Nikolaevich Vinogradov; Sergei Vladimirovich Nikitin; Nikolai Sergeevich Polozkov, but it is not known whether they were related to the famous soloists.
The Cossacks Ride Over the Danube Lyrics (English translation)
Cossack ride for the Danube
He said: "My Sweetheart, goodbye!"
Riding the horse,
And go forward."
"Wait, wait, cossack,
your girlfriend is crying,
How can you leave her,
Just think about it."
Refrain:
Maybe, maybe it's better not to leave,
Maybe, maybe it's better not to love,
Maybe, maybe it's better not to know each other
And now, and now is the time to forget each other. (x2)
She waves her hand
And tears begin to fall
"How can you leave me,
just think about it."
"Don't let your snowy hands get wet,
Don't rub your bright eyes,
From the glorious war
I shall return."
"I do not want anyone
But only you,
Take care, my sweetheart,
Wish you luck. "
Cossacks whistled from the horse:
"You must take care!
Wait for my triumph
In three years time! "
Ukrainian Lyrics
Їхав козак за Дунай,
сказав: "Дівчино, прощай!
Ти, конику вороненький,
неси та гуляй!
"Постій, постій мій козаче,
твоя дівчина плаче,
На кого ж ти покидаєш,
тільки подумай!".
Приспів:
Лучше було б, лучше було б не ходить,
Лучше було б, лучше було б не любить,
Лучше було б, лучше було б та й не знать,
Чим тепер, чим тепер забувать. (весь куплет 2)
Вийшла, руки заломивши
I тяженько заплакавши:
"Як ти ж мене покидаєш,
тільки подумай!"
"Білих ручок не ламай,
ясних очей не стирай,
Мене з війни із славою
к собі ожидай".
Приспів
"Не хочу я нікого,
тільки тебе одного,
Ти здоров будь, мій миленький,
а все пропадай".
Sources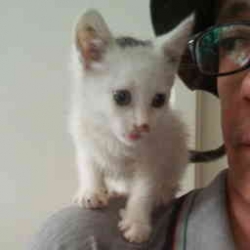 Latest posts by M. Özgür Nevres
(see all)