Dutch violin virtuosa Lisa Jacobs and Amsterdam-based ensemble The String Soloists perform "Winter" from Antonio Vivaldi's "The Four Seasons" (Concerto No. 4 in F minor, Op. 8, RV 297, "Winter", L'inverno). Recorded during The Sunday Morning Concert on Sunday the 7th of January 2018 in Het Concertgebouw, Amsterdam. Published by the AVROTROS Klassiek channel.
Movements:
Allegro non molto
Largo
Allegro
Poems for "Winter"
Unusually for the time, Vivaldi published the "four seasons" with accompanying poems (possibly written by Vivaldi himself).
Allegro non molto
"Aggiacciato tremar trà neri algenti
Al Severo Spirar d' orrido Vento,
Correr battendo i piedi ogni momento;
E pel Soverchio gel batter i denti;"
Shivering, frozen mid the frosty snow in biting, stinging winds;
running to and fro to stamp one's icy feet, teeth chattering in the bitter chill.
Largo
"Passar al foco i di quieti e contenti
Mentre la pioggia fuor bagna ben cento"
To rest contentedly beside the hearth, while those outside are drenched by pouring rain.
Allegro
"Caminar Sopra 'l giaccio, e à passo lento
Per timor di cader gersene intenti;
Gir forte Sdruzziolar, cader à terra
Di nuove ir Sopra 'l giaccio e correr forte
Sin ch' il giaccio si rompe, e si disserra;
Sentir uscir dalle ferrate porte
Sirocco Borea, e tutti i Venti in guerra
Quest' é 'l verno, mà tal, che gioja apporte."
We tread the icy path slowly and cautiously, for fear of tripping and falling.
Then turn abruptly, slip, crash on the ground and, rising, hasten on across the ice lest it cracks up.
We feel the chill north winds coarse through the home despite the locked and bolted doors…
this is winter, which nonetheless brings its own delights.
Lisa Jacobs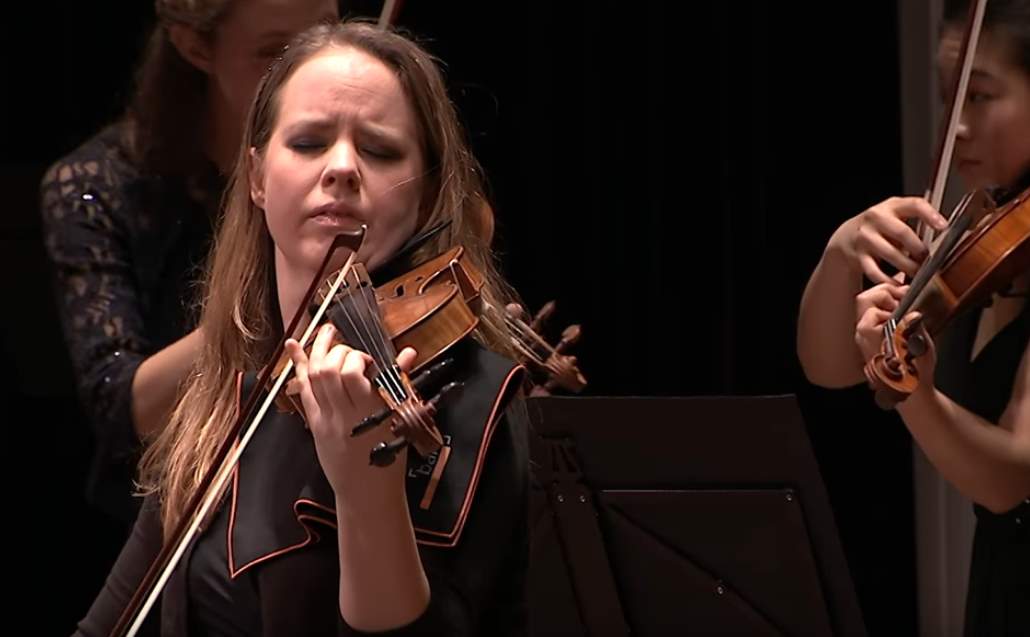 Dutch violin virtuosa Lisa Jacobs is known for her passionate performances, interesting programs and communicative qualities on stage. She is equally at home on the concert stage with concertos, chamber music, recitals and solo works.
At the age of only 17, Lisa made her successful debut with the Royal Concertgebouw Orchestra under the baton of Riccardo Chailly.
She has played several times in all the major concert halls of the Netherlands and all around the world ever since, both as a soloist with renowned orchestras and conductors, as a recitalist with her pianist Ksenia Kouzmenko and at chamber music festivals, always to highly critical acclaim, receiving brilliant reviews and finding ecstatic audiences. She receives much attention in both national and international media, with live radio concerts, television broadcasts and interviews. Lisa has won several top prizes in both national and international competitions, one of them being at the 2nd International Jascha Heifetz Violin Competition in Lithuania 2005, where she received the Audience prize as well.
She collaborated with amongst others Royal Concertgebouw Orchestra, Amsterdam Sinfonietta, Brussels Philharmonic, Bremer Philharmoniker, Lithuanian Chamber Orchestra, Joensuu City Orchestra, Kiev State Symphony Orchestra, Georgian Sinfonietta, Lithuanian National Symphony Orchestra, Orchestra Sinfonica Abruzesse, Orquestra Sinfonica de Juanaguato Mexico, Residentie Orchestra, Metropole Orchestra and respected conductors such as Neeme Järvi, Mariss Jansons, Riccardo Chailly, Jurjen Hempel, Massimo Quarta, Dirk Brossé, Juozas Domarkas, Carlos Miguel Prieto and Toby Hoffman.
Lisa plays a Rugieri violin from 1683, given to her on loan by a private person for which she is very grateful.
This years engagements include concerts with the Bruch, Mendelssohn, Tchaikovsky, Locatelli and Vivaldi concertos, including concert tours to France, Spain, Norway, Germany and of course The Netherlands.
November 2013, her debut cd with works by Franck and Ysaye was highly successfully released on Challenge Records International. Her Locatelli Violin Concertos album (2016) was not only awarded Cum Laude by Classic FM, but also chosen as Best Album by Luister magazine and highly praised by the international press.
Future recordings will include music by Paganini and Nielsen.
Miss Jacobs started playing the violin at the age of 6. She was accepted in the Young Talent class of the Utrecht Conservatory by Joyce Tan at only eight years old. She continued studying with Ilya Grubert at the Conservatory of Amsterdam, where she has graduated cum laude and with the highest distinction for both her bachelor and masterstudies, at which occasion the jury spoke that they 'were short on superlatives to praise her superb playing'. She also took lessons with Christoph Poppen at the Hochschule für Musik und Theater in Munich where she successfully finished her Konzertexam. This has been supported by the foundation Prins Bernhard Cultuurfonds.
Further musical enrichment was achieved in several lessons with Thomas Brandis, Herman Krebbers, David Takeno, Nelli Shkollnikova, Julian Rachlin, Philip Graffin and Maxim Vengerov.
Lisa Jacobs is very honored to be chosen as one of Pirastro's artists since September 2017.
The String Soloists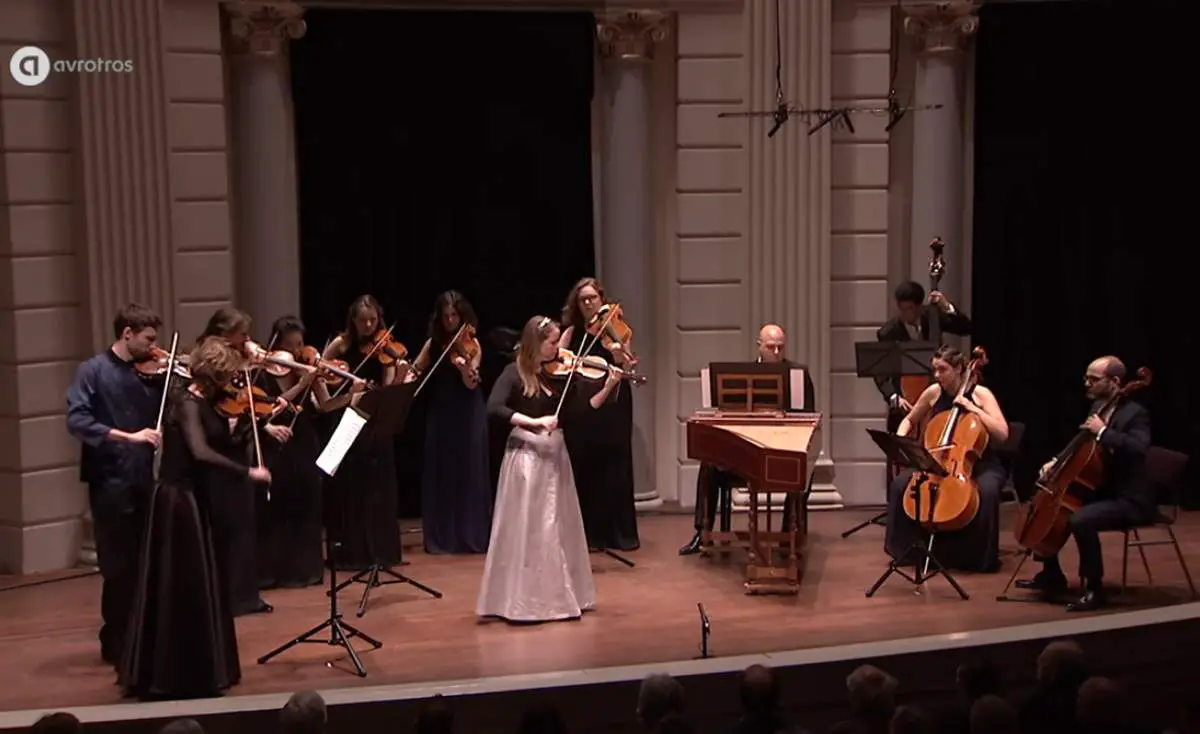 The String Soloists is an internationally appraised string ensemble with renowned musicians from all over Europe. It is an international dynamic string ensemble based in Amsterdam, comprising 14 string players who perform under the leadership of its concertmaster Janneke van Prooijen and artistic leader Lisa Jacobs. Their approach to music-making without a conductor is what distinguishes the group from the regular chamber orchestras. It demands intensive involvement from all the musicians.
Founded in 2015, The String Soloists have already performed at major venues in the Netherlands, Germany and Italy and were invited several times to perform live on Dutch radio and television.
Highlights of next season include their debut in the prestigious sunday morning series of the Amsterdam Concertgebouw and concert tours to Italy and Portugal.
The repertoire of The String Soloists encompasses a variety of styles, ranging from Baroque to contemporary works. Alongside performances of the main- stream repertoire, the ensemble focusses on performing unjustly neglected works.
The composition of the ensemble enables them to play both as ensemble member and a soloist within the group. Besides their involvement in the String Soloists, all musicians individually are active members of the international music scene, both as chamber musicians and solo players.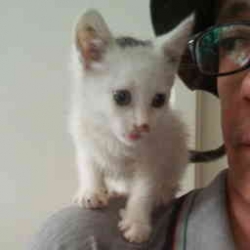 Latest posts by M. Özgür Nevres
(see all)