California-based early music ensemble Voices of Music performs a suite from the early baroque dance collection Terpsichore (1612) by the German composer Michael Praetorius, one of the most versatile composers of his age, being particularly significant in the development of musical forms based on Protestant hymns. Live, 4K UHD video recorded in December 2016.
Orchestration
The ensemble explains: "In the 1960s and 1970s, these works were heavily orchestrated and conducted in a neo-renaissance style. Although not grounded in historical performance, these orchestrations did, however, introduce a wider audience to the different kinds of instruments in the late Renaissance and early Baroque and helped popularize the music before Bach. In our performance, we used strings as the foundation, as this was one of the most popular ways to perform dance music, and added winds, continuo, and percussion."
Musicians (left to right)
Hanneke van Proosdij, recorder, organ & harpsichord
Carla Moore, Gabrielle Wunsch, Lisa Grodin, and Maxine Nemerovski, baroque violins
Maria Caswell, baroque viola
Peter Maund, percussion
Elisabeth Reed and Tanya Tomkins, baroque cellos
Farley Pearce, violone
David Tayler, archlute & percussion
Michael Praetorius' Terpsichore
Terpsichore, or Terpsichore, Musarum Aoniarum, is a compendium of more than 300 instrumental dances published in 1612 by the German composer Michael Praetorius (28 September 1571 – 15 February 1621). The collection takes its name from the muse of dance: in Greek mythology, Terpsichore (Greek: Τερψιχόρη, "delight in dancing") is one of the nine Muses and goddess of dance and chorus.
In his introduction, Praetorius takes credit for arranging the music rather than composing the tunes. The collection is based on the French dance repertoire of the time with dances such as the bourrée. However, some of the tunes have been identified as coming from elsewhere in Europe, for example, England and Spain.
The publication was rediscovered in the twentieth century during the early music revival.
Instrumentation
Terpsichore contains some notes which relate to the instrumentation but does not specify which instruments should play particular parts. A variety of instruments have been used to play Terpsichore.
Sometimes performers draw on another work by Praetorius, Syntagma Musicum, which is an important source of information regarding historical instruments. The Early Music Consort used this approach in the 1970s and the New London Consort in the 1980s.
However, Syntagma Musicum is not necessarily a guide to the instrumentation of Terpsichore. English conductor and musicologist Peter Holman suggests that the dances were conceived primarily for violin consorts, although "Praetorius was clearly aware that potential purchasers in Germany might want to play them on wind instruments".
Michael Praetorius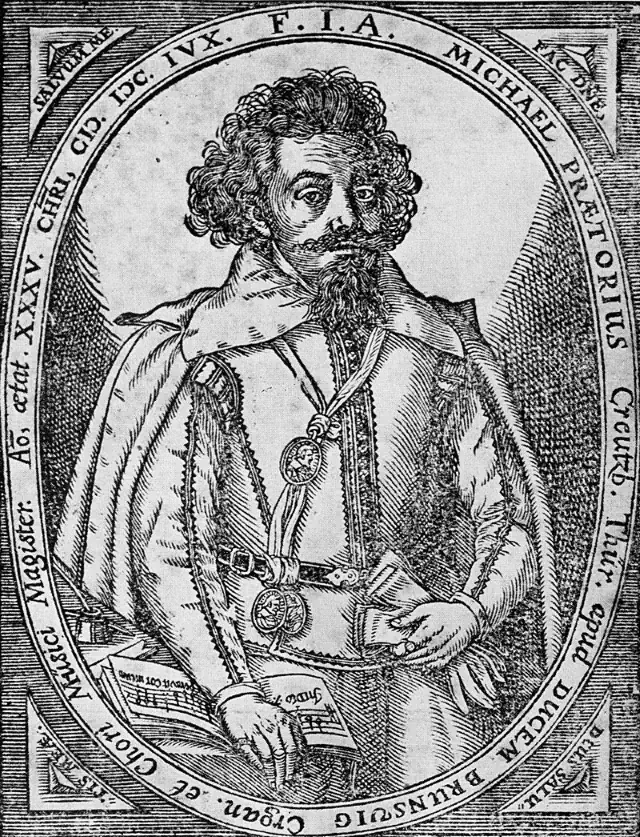 Michael Praetorius (28 September 1571 – 15 February 1621) was one of the most important composers and theorists of the late renaissance and early 17th century. His astonishing encyclopedia of music gives us an intriguing glimpse into the instruments and performance practices of the time, and his writing covers all aspects of music.
Works
Praetorius wrote popular hymn settings, as well as large-scale compositions that borrowed elements of the polychoral Italian tradition. Praetorius was a tune collector, just like the musicologists of the late 19th and early 20th centuries who collected songs and dances from different countries; he planned eight volumes of these secular works, but he only finished one: his book of French instrumental dances Terpsichore, named after the muse of dance (1612).
Praetorius was a prolific composer; his compositions show the influence of Italian composers and his younger contemporary Heinrich Schütz. His works include the 17 volumes of music published during his time as Kapellmeister to Duke Heinrich Julius of Wolfenbüttel, between 1605 and 1613.
His nine-part Musae Sioniae (1605-10) was a collection of chorales and vernacular music for the Lutheran service for 2 to 16 voices; he also published an extensive collection of Latin music for the church service (Liturgodiae Sioniae).
Terpsichore, a compendium of more than 300 instrumental dances is his most widely known and recorded work today; it is his sole surviving secular work from a projected multi-volume collection (Musae Aioniae).
Many of Praetorius' choral compositions were scored for several smaller choirs situated in several locations in the church, in the style of the Venetian polychoral music of Gabrieli.
Praetorius composed the familiar harmonization of Es ist ein Ros entsprungen (Lo, How a Rose E'er Blooming) in 1609.
Musical writings
Praetorius was the greatest musical academic of his day and the Germanic writer of music best known to other 17th-century musicians.
He wrote in a florid style, replete with long asides, polemics, and word puzzles – all typical of 17th-century scholarly prose. As a lifelong committed Christian, he often regretted not taking holy orders but did write several theological tracts, which are now lost. As a Lutheran from a militantly Protestant family, he contributed greatly to the development of the vernacular liturgy but also favored Italian compositional methods, performance practice, and figured-bass notation.
Sources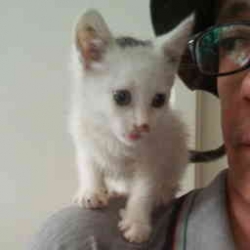 Latest posts by M. Özgür Nevres
(see all)