Accompanied by the PreCollege Orchestra Zürich, classical pianist Yulia Miloslavskaya performs Wolfgang Amadeus Mozart's Piano Concerto No. 20 in D minor, K. 466. Conductor: Hartmut Haenchen. Recorded on October 1, 2017, in Zurich, Switzerland.
Mozart's Piano Concerto No. 20
Mozart wrote this concerto in 1785. The first performance took place at the Mehlgrube Casino in Vienna on February 11, 1785, with Mozart himself as the soloist. It is considered Mozart's first symphonic concert and is an era-defining masterpiece.
It is only one of two piano concertos written by Mozart in a minor key (with No. 24 in C minor being the other), and the most overtly dark, dramatic, and impassioned.
Allegro: The orchestra begins the theme, and then the theme is taken up by the piano soloist and developed throughout the long movement. A slightly brighter mood exists in the second theme of F major (the relative major), but it never becomes jubilant. The timpani further heightens the tension in the coda before the cadenza. The movement ends on a quiet note.
Romanze (a five-part rondo -ABACA- with a coda): The Romanze second movement, in D minor's submediant key, B♭ major, is a five-part rondo (ABACA) with a coda. The trumpets and timpani are not used in this movement. The beginning features a solo piano playing the flamboyant and charming main B♭ major melody without accompaniment. This lyrical, passionate, tender, and romantic melody paints a picture of peace and a sense of harmony between the piano and the orchestra and has also inspired its title 'Romanze'. Halfway through, the piece moves on to the second episode (part C), where instead of the beautiful melody, a storm sets in. The new stormy material is a turbulent, agitated, and ominous theme, in the relative key of G minor, which greatly contrasts the peaceful mood at the beginning of the movement. Though the storm section begins abruptly and without transition, after a transition back to the tonic key of B♭ major, finally, we are greeted once again with the aforeheard melody which returns as the movement is nearing the end. The piece ends with an ascending arpeggio that is light and delicate, gradually until it becomes a faint whisper.
Allegro assai (a rondo): The finale of Mozart's Piano Concerto No. 20, a rondo, begins with the solo piano rippling upward in the home key before the full orchestra replies with a furious section. (This piano "rippling" is known as the Mannheim Rocket and is a string of eighth notes (D-F-A-D-F) followed by a quarter note (A). A second melody is touched upon by the piano where the mood is still dark but strangely restless. A contrasting cheerful melody in F major ushers in not soon after, introduced by the orchestra before the solo piano rounds off the lively theme. A series of sharp piano chords snaps the bright melody and then begins passages in D minor on solo piano again, taken up by the full orchestra. Several modulations of the second theme (in A minor and G minor) follow. Thereafter follows the same format as above, with a momentary pause for introducing the customary cadenza. After the cadenza, the mood clears considerably and the piece is now fully sunny in character, as we are now in the parallel key of D major, and the bright happy melody is taken up, this time by the oboes and then winds. The solo piano repeats the theme before a full orchestral passage develops the passage, thereby rounding up the concerto with a jubilant finish.
Yulia Miloslavskaya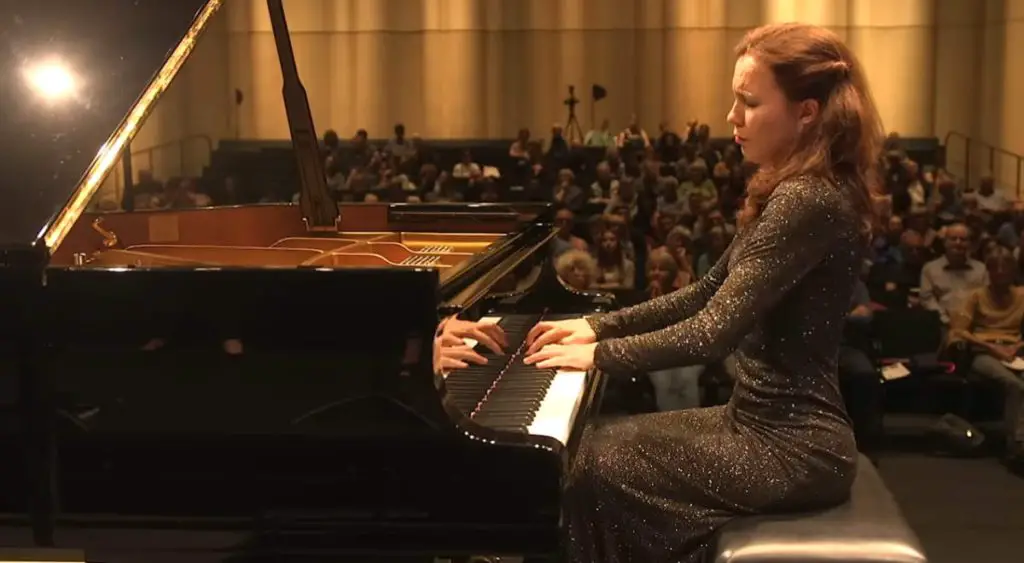 Yulia Miloslavskaya was born into a musical family, showing great interest in music from her earliest years. Upon graduating from music high school in 2004 (class of
Nelli Sokolova) entered the Moscow Conservatory where her professors included the notable pianists Naum Shtarkman and Ruvim Ostrovsky.
Resident in Switzerland since 2010, she continued her musical education as a student of Konstantin Scherbakov (Concert Diploma and Diploma in Music Pedagogy) and Peter Solomon (orchestra piano, harpsichord, and organ).
An extensive repertoire and outstanding skills have won her prizes and acclaim at several renowned international competitions (including the International Adilia Alieva Competition in Gaillard, France; Jean Francaix International Competition, Paris; Kiwanis Competition and Landolt Competition, Zurich; Kiefer Hablitzel Competition, Bern; IBLA Competition, Ragusa Ibla, Italy; Concours musical de France, Paris).
She has participated in numerous masterclasses (with Konstantin Scherbakov, Vera Gornostaeva, Liliya Zilberstein, Robert Levin, Dmitri Bashkirov, Homero Francesch, Ulrich Koella, Henri Sigfridsson, and David Zinman).
Miloslavskaya was also awarded scholarships by the Marguerite Meister and Rahn Foundations in Zurich.
Her pianistic activities are not confined to solo performances: she also plays in various ensembles, duos, trios, and other musical groups.
She has performed together with Konstantin Scherbakov and Emanuel Ax (piano), Martin Grubinger, and Rainer Seegers (percussion), Alexander Rudin and Thomas Grossenbacher (cello), Ilya Gringolts and Andreas Janke (violin).
As a soloist, chamber, and orchestral musician she performs at international festivals including Herbst in der Helferei, Musiksommer am Zurichsee, Pro Nota-Konzerte Nordhorn, Rainbow 21 in Suntory Hall Tokyo, Zurcher Festspiele, BSI Festival Engadin, and the Menuhin Festival in Gstaad and gives recitals in Switzerland, France, Germany, Italy, Brazil, Russia, and Japan.
Other engagements, for example as a church organist in Wildberg ZH and musical assistant, harpsichordist, and organist at the OperOderSpree Festival (Germany) testify to Yulia's versatility.
As an orchestra pianist, she has performed under conductors including David Zinman,
Franz Welser-Most, Karl-Heinz Steffens, Manfred Honeck, Esa-Pekka Salonen, Marc Kissoczy, Pierre-Andre Valade and Lionel Bringuier.
In 2015, Yulia has released her first Album "Novelettes" on Yartista, including the works by F. Chopin, F. Liszt, C. Debussy, S. Rachmaninow, and F. Poulenc.
In recent years she has formed a close relationship with Giraud Ensemble Chamber Orchestra. Recordings for Yartista include Piano Concerto by D. Schostakovich (Album "Primus", 2017).
More recently she has recorded Poulenc's Concerto for two pianos and orchestra for Solo Musica/ Sony Music.
Yulia is a lecturer and accompanist at the Zurich University of Arts.
Sources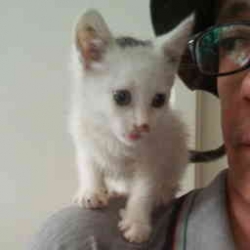 Latest posts by M. Özgür Nevres
(see all)