Accompanied by the New York Philharmonic, the British-born classical pianist Stephen Hough performs Ludwig van Beethoven's Piano Concerto No. 5 in E-flat major, Op. 73, popularly known as the "Emperor Concerto". Conductor: Alan Gilbert. Originally streamed live to Facebook on January 14, 2017, published by the New York Philharmonic channel.

https://www.youtube.com/watch?v=yvUlOezxsxE
Beethoven wrote this concerto, which is his last piano concerto between 1809 and 1811 in Vienna, dedicated it to Archduke Rudolf (8 January 1788 – 24 July 1831, a Cardinal, an Archbishop of Olmütz, and a member of the House of Habsburg-Lorraine), his patron and pupil.
The concerto is scored for a solo piano, two flutes, two oboes, two clarinets in B-flat (clarinet I playing clarinet in A in movement 2; flute II, clarinet II, both trumpets, and timpani are tacet during this movement), two bassoons, two horns, two trumpets, timpani in E-flat and B-flat, and strings.
There are three movements:
Allegro in E-flat major Despite its use of simple chords, including a second theme constructed almost entirely out of tonic and dominant notes and chords, the first movement is full of complex thematic transformations. When the piano enters with the first theme, the expository material is repeated with variations, virtuoso figurations, and modified harmonies. The second theme enters in the unusual key of B minor before moving to B major and at last to the expected key of B-flat major several bars later. Following the opening flourish, the movement follows Beethoven's trademark three-theme sonata structure for a concerto. The orchestral exposition is a typical two-theme sonata exposition, but the second exposition with the piano has a triumphant virtuoso third theme at the end that belongs solely to the solo instrument (Beethoven does this in many of his concertos). The coda at the end of the movement is quite long, and, again typical of Beethoven, uses the open-ended first theme and gives it closure to create a satisfying conclusion.
Adagio un poco mosso in B major The second movement in B major is calmly paced and delicate, being a standard contrast to the first movement. It moves into the third movement without interruption when a lone bassoon note B drops a semitone to B-flat, the dominant note to the tonic key E-flat.
Rondo. Allegro ma non troppo in E-flat major The final movement of the concerto is a seven-part rondo form (ABACABA), a typical concerto finale form. The piano begins the movement by playing its main theme, then followed by the full orchestra. The rondo's B-section begins with piano scales, before the orchestra again responds. The C-section is much longer, presenting the theme from the A-section in three different keys before the piano performs a cadenza. Rather than finishing with a strong entrance from the orchestra, however, the trill ending the cadenza dies away until the introductory theme reappears, played first by the piano and then the orchestra. In the last section, the theme undergoes variation before the concerto ends with a short cadenza and robust orchestral response.
Stephen Hough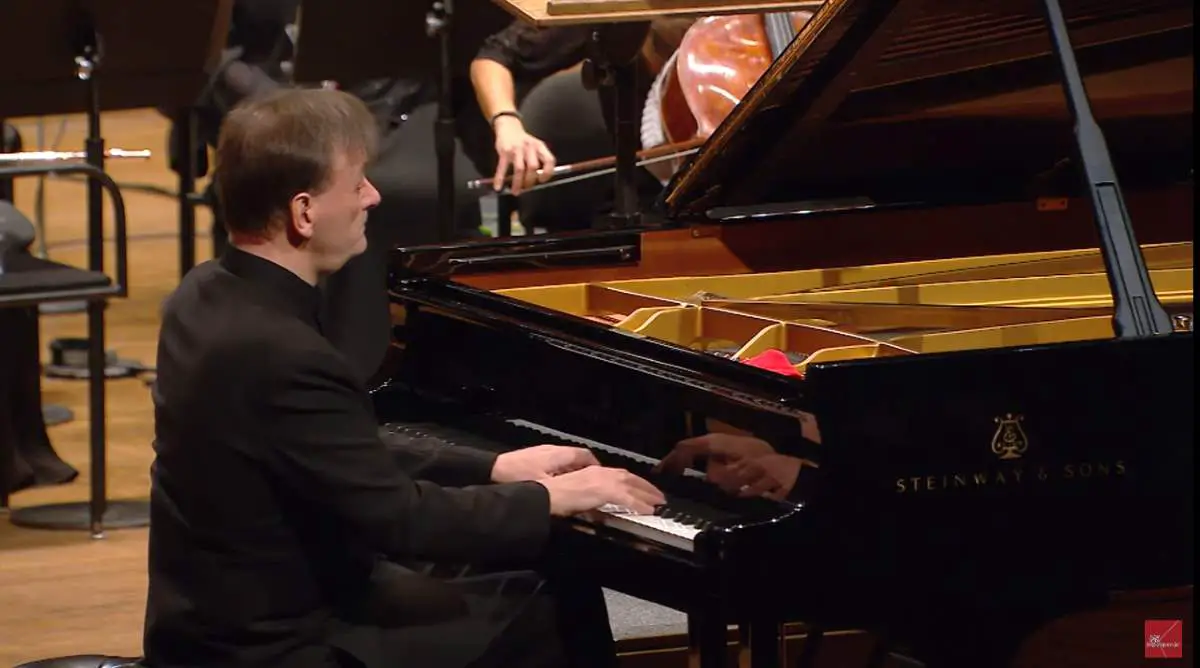 Stephen Andrew Gill Hough, CBE (born 22 November 1961) is a British-born classical pianist, composer and writer. He became an Australian citizen in 2005 and thus has dual nationality.
He was born in Heswall (then in Cheshire) on the Wirral Peninsula, and grew up in Thelwall, where he began piano lessons at the age of five. His father, who was born in Australia, worked as a technical representative for British Steel before his death at the age of 54. At a young age, Hough was able to memorise about 100 nursery rhymes and, after much pleading, his parents agreed to buy a second-hand piano, for £5 from a local antique shop, for the home. At the age of 12 he suffered what he has described as a "mini-nervous breakdown", triggered by a mugging incident, which resulted in him taking almost a year off school. He studied at Chetham's School of Music, which he later described as "not a wonderful place", and at the Royal Northern College of Music. In 1978, he was a finalist in the BBC Young Musician of the Year Competition and won the piano section. In 1982, he won the Terence Judd Award in England. In 1983, he took first prize at the Naumburg International Piano Competition in New York City.
Hough holds a master's degree from the Juilliard School where his studies were assisted by the receipt of the first ever Royal Philharmonic Society Julius Isserlis Scholarship for study abroad. He has studied with Heather Slade-Lipkin, Gordon Green, and Derrick Wyndham. He is also a composer and transcriber, and often includes his own works in his recitals. He has written over 30 published pieces. The premiere of his cello concerto, written for Steven Isserlis, took place in March 2007, and in the summer of the same year Westminster Abbey and Westminster Cathedral performed masses he wrote for them. In 2009, his trio for piccolo, contrabassoon and piano ('Was mit den Traenen Geschieht') was premiered at the Philharmonie in Berlin by members of the Berlin Philharmonic. His song cycles 'Herbstleider' (2007) and 'Other Love Songs' (2010) were premiered and recorded by members of The Prince Consort. His 'Sonata for Piano (broken branches)' was premiered by himself at the Wigmore Hall in 2011. In 2012 the Indianapolis Symphony Orchestra and Symphonic Choir gave the world premiere of the orchestrated version of his Missa Mirabilis.
He is an Honorary Member of the Royal Academy of Music in London, where he is a visiting Professor, and a Fellow of the Royal Northern College of Music in Manchester, where he is the International Chair of piano studies. He was given an honorary doctorate by the University of Liverpool in 2011.
He became the first classical music performer to be awarded a MacArthur Fellowship in 2001, joining prominent writers and scientists who have made significant contributions in their fields. In 2009 he was named by The Economist and Intelligent Life magazines as one of 20 living polymaths. In 2010 he was named Instrumentalist of the Year at the prestigious Royal Philharmonic Society Music Awards. He is a Governor of the Royal Ballet Companies (The Royal Ballet, Birmingham Royal Ballet and the Royal Ballet School). He is a patron of the charity The Nightingale Project, which takes music and art into hospitals and of Music in Prisons (Irene Taylor Trust). He was appointed a Commander of the Order of the British Empire (CBE) in the 2014 New Year Honours for services to music.
He had a solo exhibition of his paintings at the Broadbent Gallery in London in October 2012.
In October 2016 Hough was the guest for BBC Radio 4's Desert Island Discs. His choices were Cortot's recording of Prélude No. 17 in A-flat by Chopin, Rachmaninoff's recording of "Liebesleid" by Kreisler, "Stairway to Heaven" by Led Zeppelin, "Kyrie eleison" from the Mass in B minor by Bach, "Lyric Suite for String Quartet" (3rd movement) by Berg, Sonata for cello and piano left hand ("Les adieux") by Stephen Hough, and "Bird Songs at Eventide" by Eric Coates. His favourite was "Proficiscere, anima Christiana (Go Forth)" from The Dream of Gerontius by Elgar. His book choice was a bilingual edition of Proust's À la recherche du temps perdu and his luxury item was a panama hat. He made a special request for a copy of the Tyndale Bible.
Sources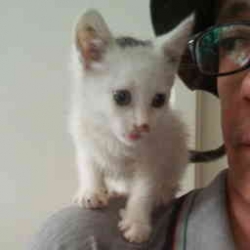 Latest posts by M. Özgür Nevres
(see all)