American operatic soprano Renée Fleming sings three Songs for Orchestra and Soprano by Franz Schubert. Lucerne Festival Orchestra conducted by Claudio Abbado. Live recording from the Lucerne Festival, 2005.

https://www.youtube.com/watch?v=k20qXLp-aS8
Programme
0:14 Nacht und Träume, D 827 (Franz Schubert, orchestrated by Max Reger) (1)
4:26 Die Forelle, D 550 (Franz Schubert, orchestrated by Benjamin Britten) (2)
7:00 Gretchen am Spinnrade, D 118 (Franz Schubert, orchestrated by Max Reger) (3)
Notes
Nacht und Träume (Night and Dreams) is a lied for voice and piano by the Austrian composer Franz Schubert, from a text by Matthäus von Collin, and published in 1825. In Otto Erich Deutsch's catalogue of Schubert's works, it is D. 827. The song, a meditation on night and dreams, is marked "Sehr langsam" (very slowly) and is in the key of B major (with a modulation to the flattened submediant, G major, in the middle). There is a single dynamic indication, "pianissimo" (very quietly), which does not change throughout the song.


German text

Heil'ge Nacht, du sinkest nieder;
Nieder wallen auch die Träume
Wie dein Mondlicht durch die Räume,
Durch der Menschen stille Brust.
Die belauschen sie mit Lust;
Rufen, wenn der Tag erwacht:
Kehre wieder, heil'ge Nacht!
Holde Träume, kehret wieder!

English translation

Holy night, you sink down;
The dreams flow down, too,
Like your moonlight through the rooms,
Through the people's silent chests.
They listen softly with desire;
They call, when day awakens:
Come back, holy night!
Sweet dreams, come back!

"Die Forelle" (German for "The Trout"), Op. 32, D 550. is a lied, or song, composed in early 1817 for solo voice and piano with music by Schubert. He chose to set the text of a poem by Christian Friedrich Daniel Schubart, first published in the Schwäbischer Musenalmanach in 1783. The full poem tells the story of a trout being caught by a fisherman, but in its final stanza reveals its purpose as a moral piece warning young women to guard against young men. When Schubert set the poem to music, he removed the last verse, which contained the moral, changing the song's focus and enabling it to be sung by male or female singers. Schubert produced six subsequent copies of the work, all with minor variations.


German text

Die ihr am goldnen Quelle
Der sichern Jugend weilt,
Denkt doch an die Forelle,
Seht ihr Gefahr, so eilt!
Meist fehlt ihr nur aus Mangel
Der Klugheit. Mädchen seht
Verführer mit der Angel!
Sonst blutet ihr zu spät.

English translation

You who tarry by the golden spring
Of secure youth,
Think still of the trout:
If you see danger, hurry by!
Most of you err only from lack
Of cleverness. Girls, see
Seducers with their tackle!
Or else, too late, you'll bleed.

Op. 2 in D minor, Gretchen am Spinnrade (Gretchen at the Spinning Wheel), was composed by the Austrian composer using the text from Part One, Scene 15 of Johann Wolfgang von Goethe's Faust. With Gretchen am Spinnrade and other works, Schubert reintroduced the Lied, a German art song from the 19th century written for one voice and accompaniment. Schubert originally composed for soprano, however it has been transposed and performed to accommodate mezzo-soprano.


German text

Meine Ruh ist hin,
Mein Herz ist schwer,
Ich finde sie nimmer
Und nimmermehr.
Wo ich ihn nicht hab,
Ist mir das Grab,
Die ganze Welt
Ist mir vergällt.
Mein armer Kopf
Ist mir verrückt,
Mein aremer Sinn
Ist mir zerstückt.

Nach ihm nur schau ich
Zum Fenster hinaus,
Nach ihm nur geh ich
Aus dem Haus.

Sein hoher Gang,
Sein' edle Gestalt,
Seines Mundes Lächeln,
Seiner Augen Gewalt,

Und seiner Rede
Zauberfluss,
Sein Händedruck,
Und ach, sein Kuss.

Mein Busen drängt
Sich nach ihm hin.
Auch dürf ich fassen
Und halten ihn,

Und küssen ihn,
So wie ich wollt,
An seinen Küssen
Vergehen sollt!

English translation

My peace is gone,
My heart is heavy,
I will find it never
and never more.
Where I do not have him,
That is the grave,
The whole world
Is bitter to me.

My poor head
Is crazy to me,
My poor mind
Is torn apart.

For him only, I look
Out the window
Only for him do I go
Out of the house.

His tall walk,
His noble figure,
His mouth's smile,
His eyes' power,

And his mouth's
Magic flow,
His handclasp,
and ah! his kiss!

My peace is gone,
My heart is heavy,
I will find it never
and never more.

My bosom urges itself
toward him.
Ah, might I grasp
And hold him!

And kiss him,
As I would wish,
At his kisses
I should die!
Sources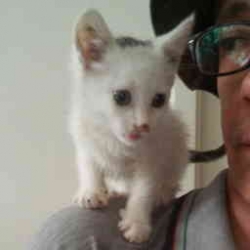 Latest posts by M. Özgür Nevres
(see all)