Italian guitarist, theorbist, and lutenist Simone Vallerotonda performs Santiago de Murcia's Prelude por la E, a piece dated 1714. A beautiful performance on baroque guitar.
Santiago de Murcia
Santiago de Murcia (25 July 1673 – 25 April 1739) was a Spanish guitarist and composer.
Until recent years, few details about the life and the works of Santiago de Murcia were known. But on 18 September 2006, it was reported in the newspaper El Mercurio that the manuscript of music by Santiago de Murcia Cifras Selectas de Guitarra dating from 1722 had been discovered in Chile. The discovery was made by the musicologist Alejandro Vera from the Music Institute at Pontificia Universidad Catolica de Chile. The music consists of French and Spanish dances.
In his printed collection of guitar music, Resumen de acompañar, Murcia describes himself as Master of Guitar to the Spanish Queen Maria Luisa of Savoy (Maria Luisa Gabriella; 17 September 1688 – 14 February 1714, a Savoyard princess and the first wife of Philip V of Spain, a grandson of Louis XIV of France who succeeded to the Spanish throne on the death of Carlos II in November 1700).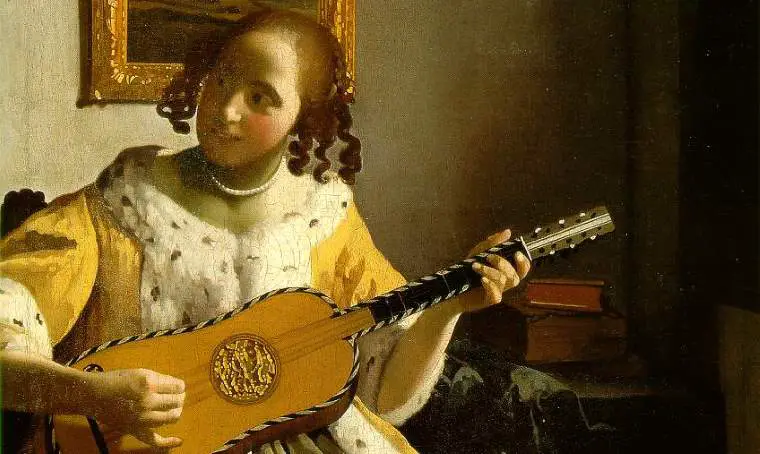 The marriage took place by proxy in Turin on 11 September 1701. On 3 November the marriage was re-celebrated in Figueras in Catalunya. In April 1702, Felipe V left on a tour of his Italian possessions appointing Maria Luisa as regent in his absence. There is no reason to suppose that Murcia traveled with him to Naples, Italy, or met the composers Arcangelo Corelli and Alessandro Scarlatti. Maria Luisa arrived in Madrid on 30 June and Murcia is not likely to have been appointed as her Master of Guitar before this date. It is assumed that he held the post until her death in 1714. Antonio de Murcia was appointed instrument maker to the Queen in 1704.
In 1714 Murcia dedicated a guitar treatise to Jácome Francisco Andriani, a special envoy to the Catholic cantons of the Netherlands for the King of Spain. (Andriani, born in northern Italy, moved to Spain where he was admitted to the Order of the Knights of Santiago in 1712.) Andriani made it possible for Murcia to publish his guitar treatise by sponsoring the engraving of the work on bronze plates.
Although two of the surviving manuscript collections of Murcia's music – "Passacalles y Obras" and "Codice Saldivar no. 4" – came to light in Mexico in modern times, they were most probably taken there at a later date by subsequent owners. It now seems unlikely that Santiago de Murcia actually traveled to Mexico himself. "Passacalles y Obras" is dedicated to a certain Joseph Alvarez de Saavedra, but it is not known whether this is the same "Joseph Alvarez" who died in Puebla in 1737.
Apparently Andriani had trading links with Latin America, especially with Chile and Mexico. The most likely scenario is that Murcia made manuscript copies of his music for patrons which were exported to the New World.
Later in his life, in 1729, he signed a declaration of poverty. He died in Madrid in 1739.
One of the important aspects of the music of Murcia is his interest in a wide range of pre-existing music for guitar, including that by Spanish, French and Italian composers, and in popular dance forms which probably originated in Africa (rather than Mexico). Thus the collections offer works of different styles grouped next to one another, which certainly offers a rich and varied panorama of the baroque repertoire for guitar.
Simone Vallerotonda
Born in Rome in 1983, Vallerotonda began his musical studies on the modern guitar. Fascinated by the ancient music, he started studying the lute with Andrea Damiani at the "Santa Cecilia" in Rome, where he graduated with an honorary degree. He subsequently obtained a Master's degree on theorbo and baroque guitar with full marks at the "Staatliche Hochschule für Musik" in Trossingen, under Rolf Lislevand.
He also graduated in Philosophy with honors at the "Tor Vergata" University of Rome and specializes in Aesthetics with honors and praise, dedicated to the relationship between the music of the '700 and the Philosophes.
In 2011 he was ranked the best, in the soloists section, the Leatherback National Competition "Maurizio Pratola" and in the same year, he was the winner of the "Duo BLUE" contest REMA (Réseau Européen de Musique Ancienne).
He has performed in major festivals including International Festival of Ancient Music of Urbino, the Innsbruck Festival der Alten Musik, Sferisterio Opera Festival, Lufthansa Festival of Baroque Music in London, Stresa Festival, Ravenna Festival, Festival de Beaune, Ambronay Festival, Festival Ribeauvillé, Musikefestspiele Potsdam, Bruges, Utrecht Festival, Festival Festival Hactus Humanus Danzig, Festival OperaRara Kracow, Poznan Baroque Festival and in prestigious concert halls and theaters such as the Wigmore Hall in London, Vlamsee Opera of Ghent and Antwerp, the Theatre Municipal de Santiago de Chile, the National Academy "S. Cecilia "in Rome, Casa da Musica in Porto, the Herkulessal of Monaco, the Accademia Filarmonica Romana, the Aula Magna of the University "La Sapienza" of Rome, the Theater an der Wien.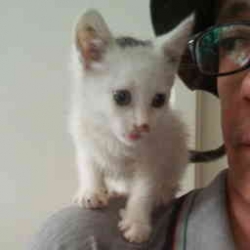 Latest posts by M. Özgür Nevres
(see all)