The Austrian string quartet "The Hagen Quartet" and the German classical clarinetist Sabine Meyer perform Wolfgang Amadeus Mozart's Quintet in A major for Clarinet and Strings, K. 581. Although originally written for basset clarinet, the work is almost always played on a clarinet in A (as in the video below) or B-flat.

The quintet (a clarinet quintet is a work for one clarinet and a string quartet (two violins, a viola and a cello).) was written in 1789 for the Austrian clarinet and basset horn player Anton Stadler (28 June 1753, Bruck an der Leitha – 15 June 1812, Vienna). The quintet is sometimes referred to as the Stadler Quintet; Mozart so described it in a letter of April 1790.
It was Mozart's only completed clarinet quintet, and is one of the earliest and best-known works written especially for the instrument. It remains to this day one of the most admired of the composer's works.
The quintet consists of four movements:
Allegro, 2/2
Larghetto, 3/4 in D major
Menuetto – Trio I – Trio II, 3/4 (Trio I in A minor)
Allegretto con Variazioni, 2/2
The Hagen Quartet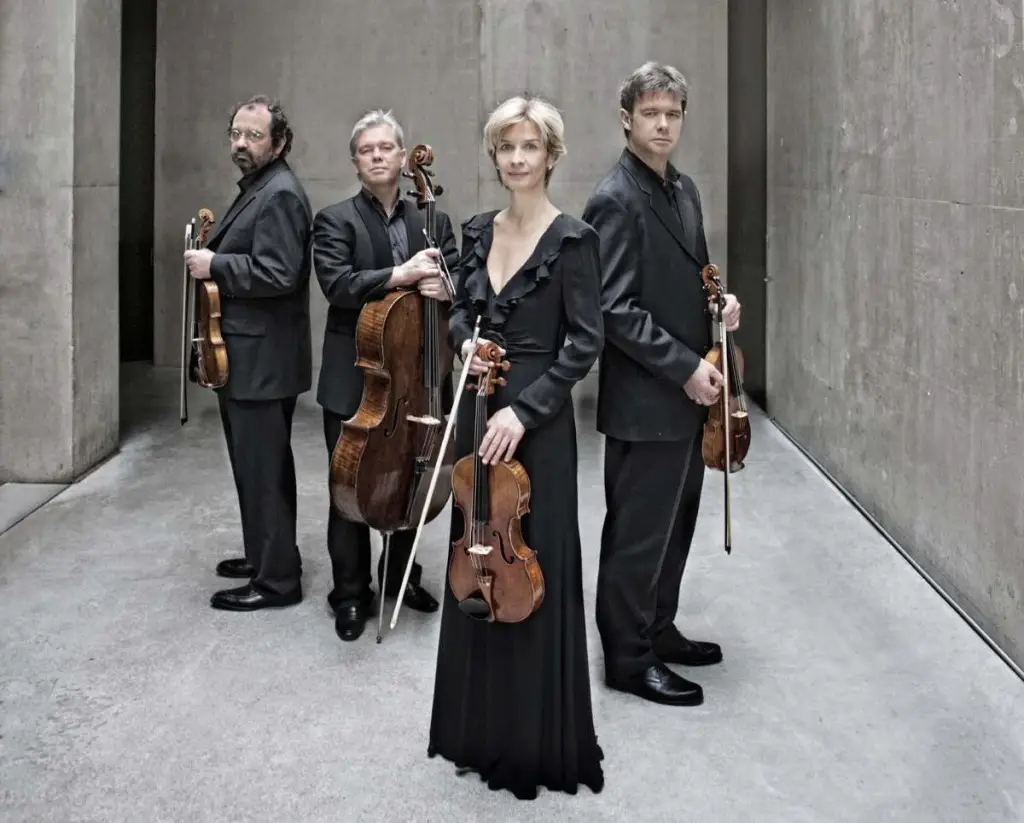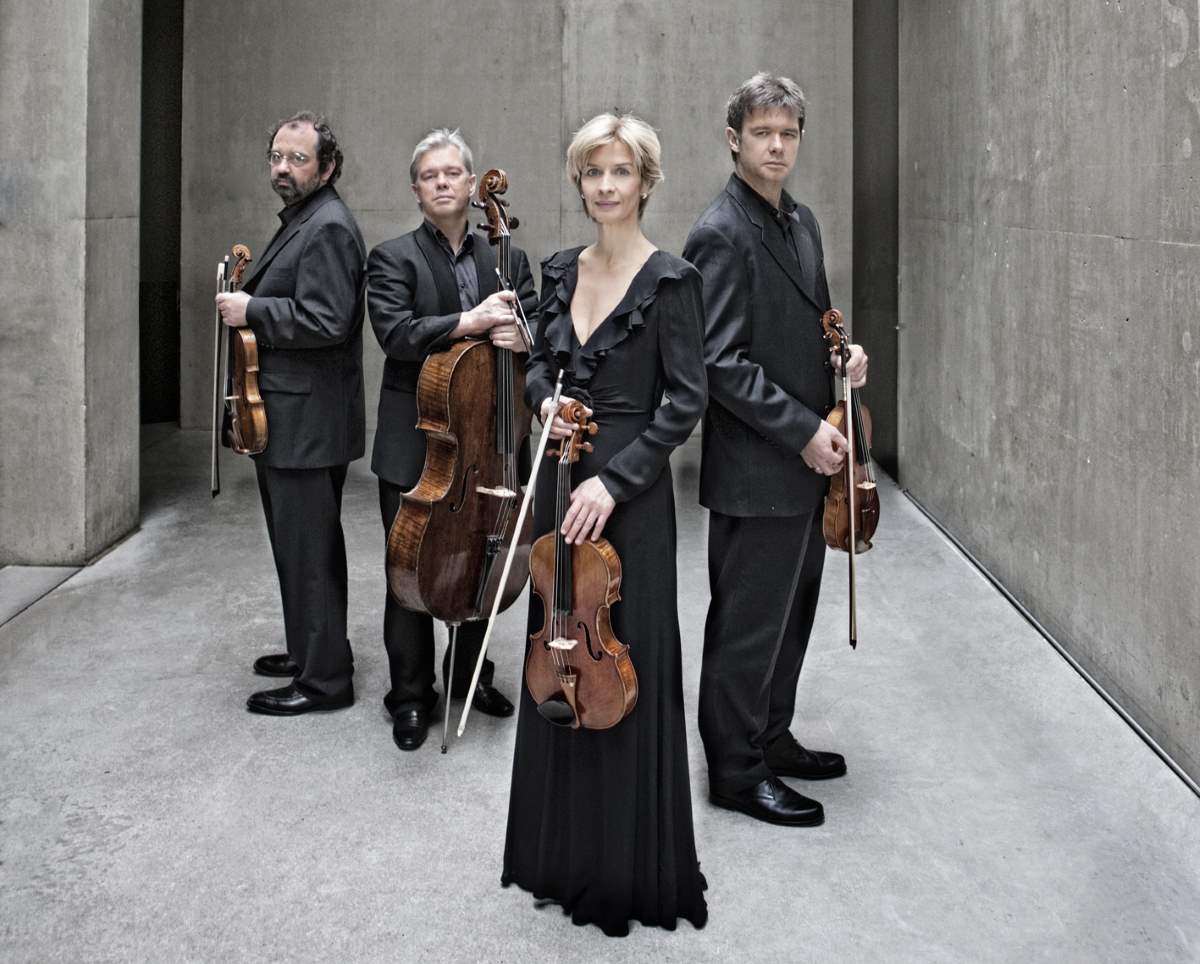 The Hagen String Quartet is one of the leading string quartets of its native Austria, known for its wide-ranging repertoire and its long association with Gidon Kremer and the Lockenhaus Festival.
The four original members of the Quartet were all members of the same family: Lukas, Angelika, Veronika, and Clemens Hagen of Salzburg, Austria. As members of a family of musicians, they played together in ensemble regularly. They stepped forward as aspiring professional quartet players around 1980.
Previously, they had studied at the Mozarteum in Salzburg, the Music Academies (Muskhoschschule) of both Basle, Switzerland and Hanover, Germany, and the University of Cincinnati. Their main teachers were Hatto Beyerle, Heinrich Schiff, and Walter Levin, and at Cincinnati they studied with the LaSalle Quartet.
They had an opportunity to meet the important early music specialist Nikolaus Harnoncourt, who interested then in earlier repertory, and with Latvian violinist Gidon Kremer, one of the world's leading exponents of newer music and unusual repertory. This resulted in the Hagen String Quartet's breadth of repertory, which extends from before Bach to the latest works of Witold Lutoslawski and György Ligeti.
Kremer invited the Hagens to participate in the Lockenhaus Chamber Music Festival where, in 1981, they won both the Jury Prize and the Audience Prize. In 1982 they won first prize at the Portsmouth String Quartet Competition. A part of this prize was a debut at London's prime chamber music and recital venue Wigmore Hall, which was a great success.
The quartet continued winning prizes, taking firsts at Evian, Bordeaux, and Banff. Soon their hometown invited them to perform at the Salzburg Festival and they became part of the busy musical scene in the city, participating regularly in the Festival, the Mozart-Week celebrations, and in regular concert series held in Salzburg. They also continue as regular participants in the Lockenhaus Chamber Music Festivals.
The Hagen String Quartet became an exclusive act with Deutsche Grammophon, which has issued a series of recordings of their performances at Lockenhaus as well as a many others.
The Quartet often performs with leading artists of the day, including pianists Paul Gulda and Oleg Maisenberg, violist Gerard Causée, and their teacher cellist Heinrich Schiff.
Angelika Hagen has retired from the quartet and been replaced as second violinist by Rainer Schmidt in 1987.
Sabine Meyer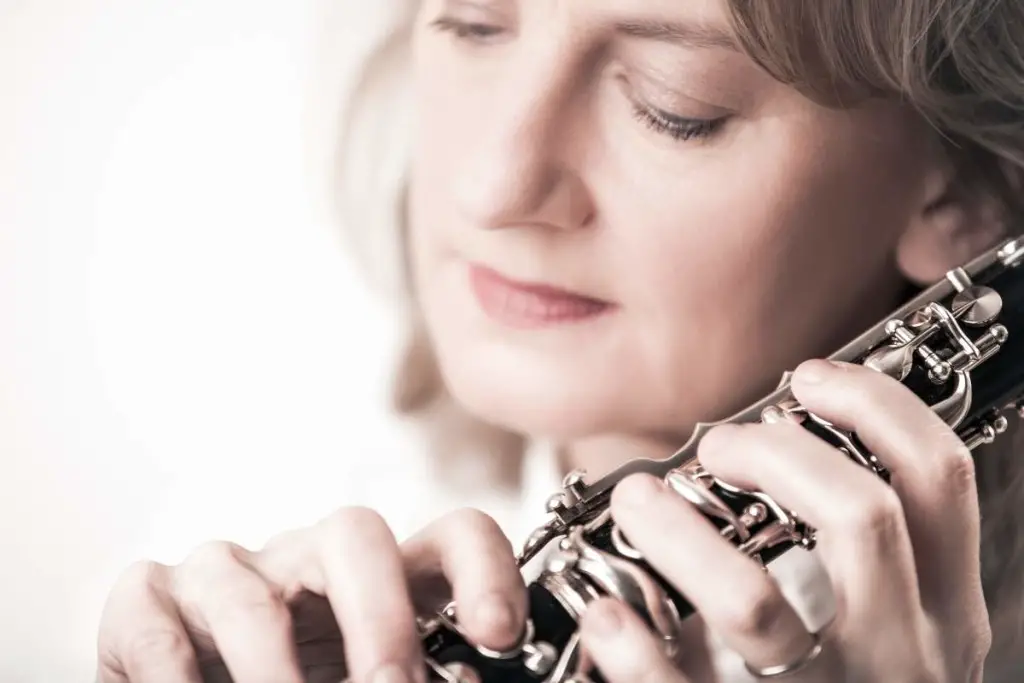 Sabine Meyer, born 30 March 1959, in Crailsheim (Baden-Württemberg – Germany), is a German classical clarinetist.
Meyer began playing the clarinet at an early age. Her first teacher was her father, also a clarinetist. She studied with Otto Hermann in Stuttgart and then with Hans Deinzer at the Hochschule für Musik und Theater, Hannover, along with her brother, clarinetist Wolfgang Meyer, and now-husband, clarinetist Reiner Wehle, who played later in the Munich Philharmonic. She began her career as a member of the Bayerische Rundfunk Symphony Orchestra and the Berlin Philharmonic, where her appointment as one of the orchestra's first female members caused controversy. Herbert von Karajan, the orchestra's music director, hired Meyer in September 1982, but the players voted against her at the conclusion of her probation period by a vote of 73 to 4. The orchestra insisted the reason was that her tone did not blend with the other members of the section, but other observers, including Karajan, believed that the true reason was her gender. In 1983, after nine months, Meyer left the orchestra to become a full-time solo clarinetist.
Orchestras with which she has performed include the Chicago Symphony Orchestra, the San Francisco Symphony Orchestra, the London Philharmonic Orchestra, the Tokyo NHK Symphony Orchestra, the Melbourne Symphony Orchestra, the Orchestre de la Suisse Romande, the Toronto Symphony Orchestra, the Saint Petersburg Philharmonic Orchestra, the Czech Philharmonic Chamber Orchestra, the Vienna Philharmonic and the Berlin Philharmonic. In addition, she performs regularly with the Radio Symphony Orchestras in Vienna, Basel, Warsaw, Prague, Turin, Budapest, Brussels and Copenhagen and with major orchestras in Spain, Italy, Holland, Japan and Switzerland.
In addition to her work as a soloist, Sabine Meyer is a committed player of chamber music and plays all styles of classical music. She finds great value in continued long-term collaboration with other musicians. She is a member of the Trio di Clarone along with her brother and husband who have recorded many CDs. In late 2006 she undertook a short tour with the Mozart Clarinet Concerto. A particularly notable performance in this tour was at Manchester's Bridgewater Hall with the BBC Philharmonic Orchestra on 5 December. Meyer and her wind quintet have worked as members of the Lucerne Festival Orchestra with Claudio Abbado.
By the 1990s, she had become a prominent solo clarinetist, recording regularly and exclusively for the EMI label. These include a CD of French music for Clarinet and Piano with Oleg Maisenberg, entitled French Recital. A disc of clarinet concertos by Ludwig Spohr and Franz Krommer was released in July 2007, for which she collaborated with her student Julian Bliss.
Meyer and her husband have two children and share a professorship at the Musikhochschule Lübeck, in Schleswig-Holstein, Germany, and live in Lübeck.
Sources
I am Özgür Nevres, a software engineer, an ex-road racing cyclist and also an amateur musician. I opened andantemoderato.com to share my favorite music.
Latest posts by M. Özgür Nevres (see all)