Peruvian operatic tenor Juan Diego Flórez sings Emmerich Kálmán's "Heut' Nacht hab' ich geträumt von Dir", The Violet of Montmartre – "This night I dreamed of you". This marvelous aria is a so-called filler. It'is often embedded in a concert performance of Die Csárdásfürstin (an operetta in 3 acts by Hungarian composer Emmerich Kálmán), because in absence of nice and great tenor arias. At Semperoper zu Dresden, 28.12.2014. Sächsischer Staatsopernchor Dresden conducted by Christian Thielemann.
Lyrics
German
Reizende Frau, im Wachen und Träumen,
mit glühenden Reimen besing ich dein Bild.
Süßeste Frau, in flammenden Bildern
vermag ich zu schildern, was ganz mich erfüllt
Ich war verliebt sofort als ich dich nur gesehen
Und was nun außerdem geschah, ach, wär' es nie geschehen.
Heut' Nacht hab' ich geträumt von dir, du heißgeliebte Frau
Du warst im Traum so lieb zu mir, du heißgeliebte Frau
Ich sah dein Bild ganz unverhüllt, so wie ich nie dich sah
Küsse mich, so flehte ich, und du, du sagtest ja.
Unter blühenden Bäumen möchte' ich immer so träumen,
Längst noch, als ich erwacht, sah ich dein Bild von heute Nacht
Und was ich nachts geträumt von dir,
ich kann's verraten kaum,
warum war's nur ein Traum?
warum war's nur ein Traum?
wenn du mir auch mit zärtlichem Bangen, trotz heißen Verlangen
dein Händchen entziehst
sagst du auch nein und willst mich nicht hören
willst nichts mir gewähren,
auch wenn du entfliehst
du kommst ja doch als süßes Traumbild abends wieder
am nächsten Tag sink' ich berauscht zu deinen Füssen nieder
Heut' nacht …
English translation
A charming woman, awake and in dreams,
with glowing rhymes, I sing about your image
Sweetest woman, inflaming pictures
I am able to paint what I am full of
I fell in love the moment I saw you
And what happened furthermore, oh, would it have never happened…
this night I dreamed of you, most passionately loved women
In my dreams you were so endearing to me, most passionately loved women
I saw your image totally unveiled like I never saw you before.
Kiss me, I plead, and you, you said yes
Under blooming trees, I'd like to dream like that forever.
Already awake I still saw your image tonight.
And what I have dreamt of you tonight
I can barely tell
Why was it only a dream?
Though you with tender trembling, in spite of a hot desire
Withdraw your little hand
although you say no and will not hear me
although you escape
you'll return as A sweet vision in the evening
on the next day, I'll sink besotted to your feet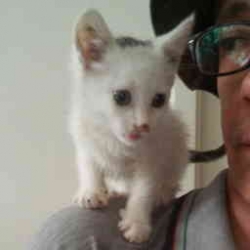 Latest posts by M. Özgür Nevres
(see all)