Moldovan-Austrian violinist Patricia Kopatchinskaja and Turkish pianist Fazıl Say perform Ludwig van Beethoven's Violin Sonata No. 9 Opus 47, commonly known as the "Kreutzer Sonata".
The sonata was originally dedicated to the Afro-European (born in Poland) violinist George Bridgetower (11 October 1778 – 29 February 1860), who performed it with Beethoven at the premiere on 24 May 1803 at the Augarten Theatre at a concert that started at the unusually early hour of 8:00 am. Bridgetower sight-read the sonata; he had never seen the work before, and there had been no time for any rehearsal.
However, research indicates that after the performance, while the two were drinking, Bridgetower insulted the morals of a woman whom Beethoven cherished. Enraged, Beethoven removed the piece's dedication, dedicating it to the French violinist Rodolphe Kreutzer (15 November 1766 – 6 January 1831), who was considered the finest violinist of the day.
However, Kreutzer never performed the piece, thinking it "outrageously unintelligible". He did not particularly care for any of Beethoven's music, and they only ever met once, briefly.
Sources suggest the work was originally titled "Sonata mulattica composta per il mulatto Brischdauer (Bridgetower), gran pazzo e compositore mulattico" (Mulatto Sonata composed for the mulatto Brischdauer, significant wild mulatto composer), and in the composer's 1803 sketchbook, as a "Sonata per il Pianoforte ed uno violino obligato in uno stile molto concertante come d'un concerto".
The piece is in three movements:
Adagio sostenuto – Presto (A major – A minor, sonata form)
Andante con variazioni (F major, variation form, with the third variation in F minor)
Presto (A major, sonata form)
Referring to Beethoven's composition, Leo Tolstoy's novella The Kreutzer Sonata was first published in 1889. That novella was adapted into various stage and film productions, contributing to Beethoven's composition becoming known to the general public.
Patricia Kopatchinskaja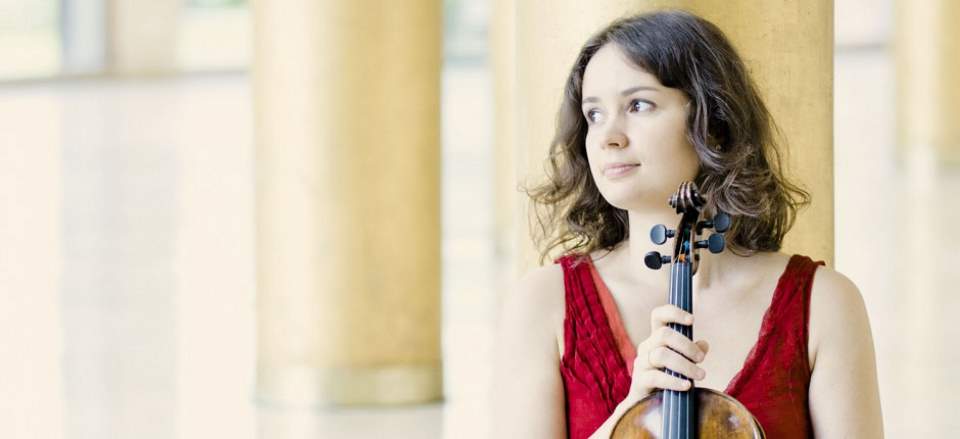 Patricia Kopatchinskaja (born 1977 in Chișinău, Republic of Moldova, former Soviet Union) is a Moldovan-Austrian violinist.
In the view of the Jury of the Royal Philharmonic Society Music Award, "Patricia Kopatchinskaja is not only one of the most imaginative violinists around today, she is also a musician capable of galvanizing colleagues and mesmerizing audiences. Whether she is digging into the dark emotions of 20th-century masterpieces or championing new works she is as irresistible as a force of nature: passionate, challenging and totally original in her approach."
El Pais (Madrid) summarizes her contribution like this: "To a world of empty perfection and aseptic orthodoxy which classical music has become, Kopatchinskaja brings flavors of the past, of the nineteenth century where soloists were not robots, but creators".
As soloist, she appeared with most of the leading orchestras of Europe, Russia, and Japan, including the Berlin Philharmonic, London Philharmonic Orchestra, Philharmonia Orchestra London, and Vienna Philharmonic as well as Vienna Symphony. Recently she extended her concert activity to the United States, Brazil, and China.
Kopatchinskaja worked with many of today's leading conductors and there is a long-term collaboration with the following conductors: Vladimir Ashkenazy, Teodor Currentzis, Peter Eötvös, Heinz Holliger, Vladimir Jurowski, Sir Roger Norrington, Sakari Oramo and Andres Orozco-Estrada.
Fazıl Say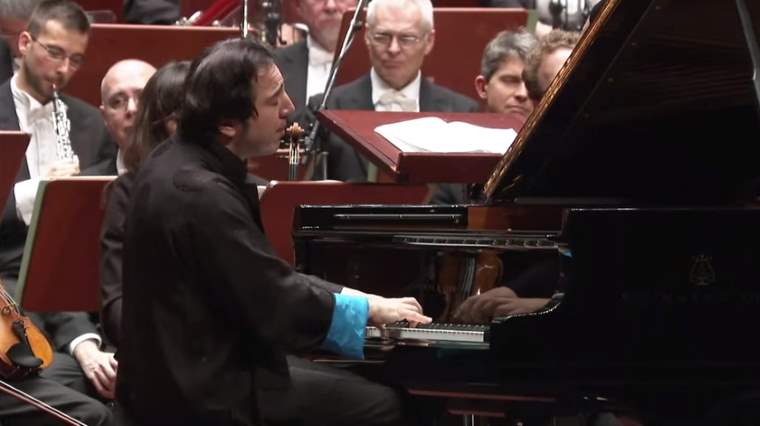 Fazıl Say (born January 14, 1970, Ankara) is a Turkish pianist and composer.
He wrote his first piece – a piano sonata – as early as 1984, at the age of fourteen, when he was a student at the Conservatory of his home town Ankara. It was followed, in this early phase of his development, by several chamber works without an opus number, including Schwarze Hymnen for violin and piano and a guitar concerto.
He subsequently designated as his opus 1 one of the works that he had played in the concert that won him the Young Concert Artists Auditions in New York: the Four Dances of Nasreddin Hodja. This work already displays in essence the significant features of his personal style: a rhapsodic, fantasia-like basic structure; a variable rhythm, often dance-like, though formed through syncopation; a continuous, vital driving pulse; and a wealth of melodic ideas that may often be traced back to themes from the folk music of Turkey and its neighbours.
In these respects, Fazıl Say stands to some extent in the tradition of composers like Béla Bartók, George Enescu, and György Ligeti, who also drew on the rich musical folklore of their countries. He attracted international attention with the piano piece Black Earth (1997), in which he employs techniques familiar to us from John Cage and his works for prepared piano.
Sources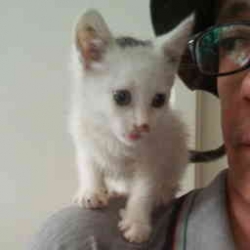 Latest posts by M. Özgür Nevres
(see all)